Here's a list of the sports venues around the world that use clean and sustainable energy
Photo by Carlos Hernandez/Unsplash
Two of last year's most debated sports-related news had to do with our country's upcoming stint as the host of the 2019 Southeast Asian Games. People lamented the deeply uninspired look of the games' official logo, prompting some local artists to come up with better versions. This was followed by heated discussions about the games' venue (currently under construction at the New Clark City in Tarlac), which unearthed questions on gentrification, sustainability, and the role of sports in national concerns.
Now that it's only a matter of months before the said event, it's as good a time as any to be reminded of these things. The latter issue, in particular, appears to be quite timely given the world's growing concern for the environment. Sustainability and environmentalism are no longer just buzzwords; they've become imperatives in how things should be done. In the world of sports, the application of these standards more or less boils down to venues—what it took to build them and what it takes to operate and maintain them. For instance, the sports venues being constructed at the New Clark City are said to have followed a sustainable management framework—one that places an emphasis on low carbon emission, among other things.
And so we ask: Can sports venues actually promote environmentalism? To answer that, here's a list of sports arenas and stadiums around the world that do just that by using clean and sustainable energy:
Mercedes-Benz Stadium
This Atlanta-based retractable roof stadium, which can house about 71,000 to 80,000, was recently awarded with a platinum Leadership in Energy and Environmental Design certificate. It was only opened in the summer of 2017, but it's already being touted by various environmental organizations as the most sustainable sports facility in the world. But what exactly makes it so good for the environment? The secret lies in the kind of energy it uses: The Mercedes-Benz Stadium is powered by solar energy, which, unlike coal-fired plants does not have greenhouse gas emissions. Moreover, it does not produce harmful byproducts, therefore reducing risks of respiratory and cardio health issues.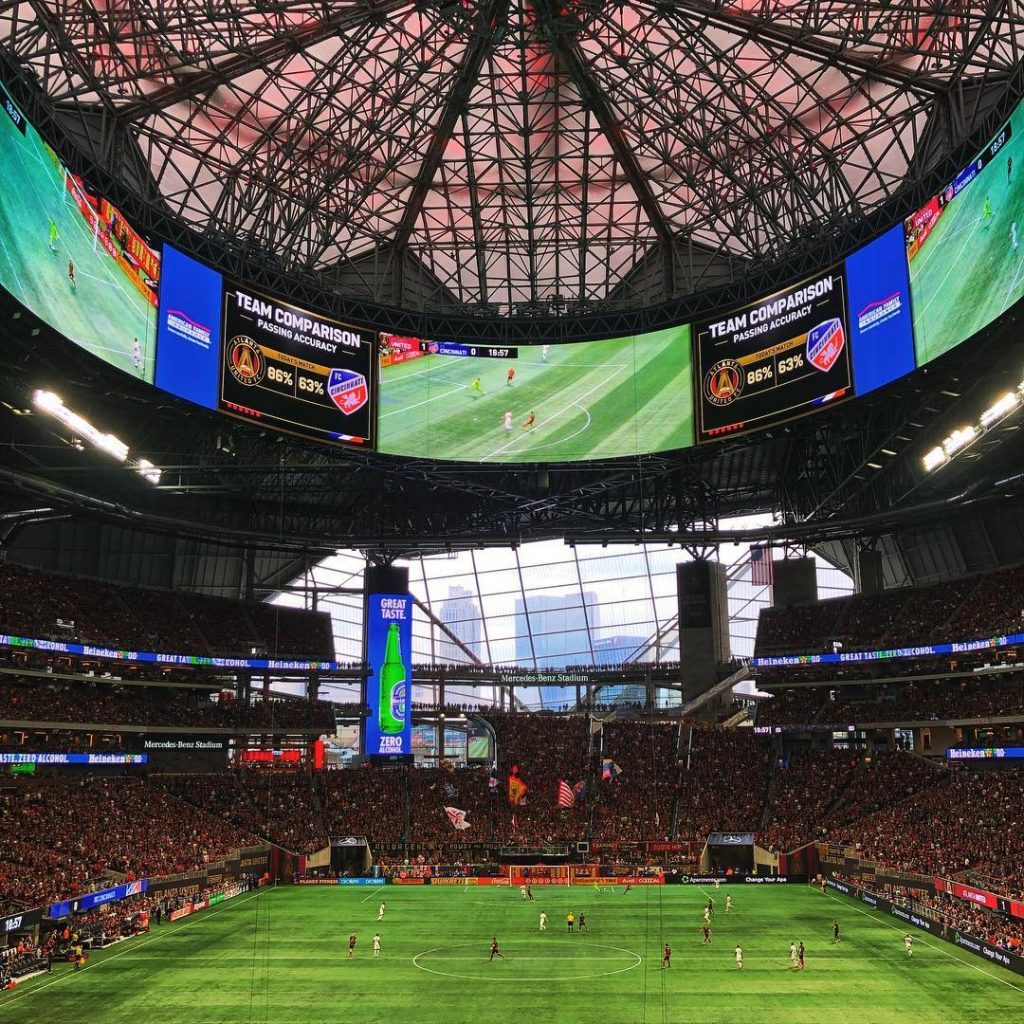 Estádio Nacional Mané Garrincha
Brazil's national stadium lives off a complex solar-panel energy system (which is installed around the parameter of its roof) that can generate, at most, about 2.5 megawatts of energy. To put that into perspective, take note that one megawatt of energy can power about 4,000 homes, assuming that an average household consumes 200 kilowatt hour per month.
Golden 1 Center
Located in Sacramento, California, this 17,608-seater indoor arena is 100 percent solar-powered; the venue is installed with an urban smart grid, an infrastructure that makes electricity distribution more efficient. But the venue's environment-centric initiative goes beyond its design, as the people who frequent it have also become climate action ambassadors: It's the home stadium of the Sacramento Kings, which, in 2017, was chosen as one of Green Sports Alliance's (an environment-friendly trade organization) 12 Environmental Innovators of the Year for their efforts in promoting eco-friendly practices.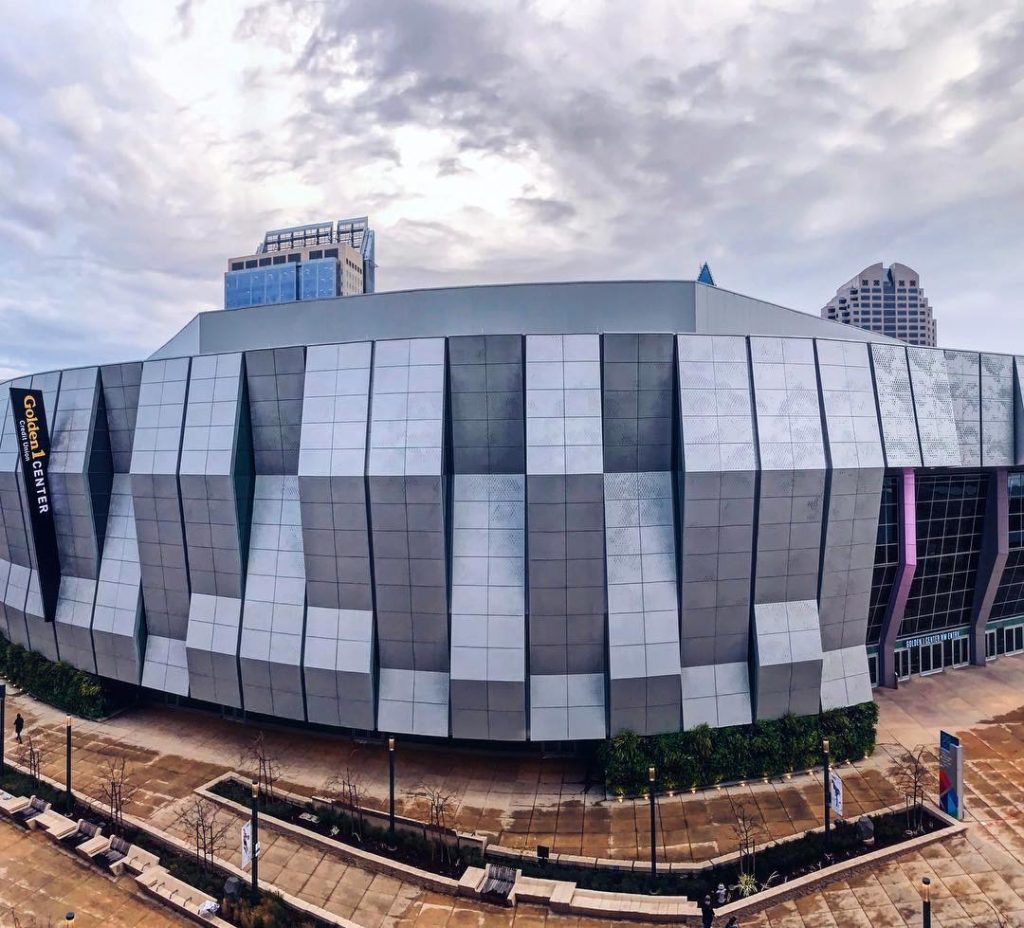 Kaohsiung Stadium
By its aesthetics alone, the national stadium of Taiwan can already be considered one of the best sports venues in the world. But what makes it a lot more interesting and valuable is the ingenious way with which it generates its own power: Because of its sheer size (it can house 55,000), it has been installed with as many as 8,844 solar panels. Also notable is the fact that the stadium is made of 100 percent recyclable raw materials.
A great supporting source? Natural gas
But as good as renewable energy sources like solar power is, it's worth noting that they face limitations like intermittency. That is, there are certain times when sources like solar power generate modest amounts of energy or do not produce energy at all. This can pose problems for venues that are heavily reliant on solar power, but the good news is that there are actually other energy sources that can serve as a kind of support to sustainable energy sources. Natural gas in particular is a great supporting source (in addition to being health-friendly), as it was found in a 2017 study conducted by the Brattle Group that natural gas plants can support the increase of renewable generation capacity. In other words, an increase in the number of natural gas plants can support the increase in generation of renewable energy sources like solar power.
Though the world may be facing the effects of climate change (and perhaps the limits of traditional energy sources as well), it's always encouraging to know that an industry as large and influential as the sports world is making conscious efforts to mitigate them.