Madeleine Argosino is currently funding her journey to the Ironman 70.3 World Championships by selling baked goods and making her voice heard on social media
By Nicole Ganglani | Photos courtesy of Madeleine Argosino and Ernest San Luis
"Honestly, I still can't believe that I'll be setting foot on the Ironman 70.3 World Champs stage in a few months."
Madeleine Jeanne Argosino is a 20-year-old college student currently taking up development communications at the University of the Philippines Los Banos (UPLB). As early as the age of 16, she was already consistently training for triathlons and competing at runs, duathlons, and Olympic distance races.
"Looking back, the race that became the reason why I wanted to pursue triathlon was the 2017 7-Eleven Run. It was my first time to join a half marathon and when I reached the finish line with a time of 1:55, it made me realize na kaya ko. As someone who, in 2015, couldn't run 800 meters without complaining, it surprised me to be able to finish 21 kilometers," says Argosino.
 Argosino has been into triathlon since she was 18
As soon as she turned 18, Argosino wasted no time in starting her Ironman 70.3 journey. Last year, she nabbed first place at Ironman 70.3 Davao and finished fourth in 70.3 Cebu. Her biggest achievement so far was finishing second in Ironman 70.3  Langkawi, which allowed her to qualify for the World Championships happening on Sept. 7 in Nice, France. Her win in Langkawi made her the youngest Filipina to qualify and represent the Philippines at the 70.3 World Championships.
"I wanted the slot to the World Champs so bad and I knew I had to work hard for it because it was my first time competing against different nationalities. Ironman 70.3 Langkawi was also my first triathlon race overseas and the first time my brother and I traveled abroad without our parents," said Argosino
Argosino admits that her experience in Langkawi was by far the most challenging. She still recalls the moment before the race when her fellow triathletes from across the globe wished her luck for the race. During the race itself, she couldn't help but feel a mix of anxiety and thrill. She stayed true to her mission and reminded herself why she came to Langkawi, which was to finish the race with flying colors. And she did, clocking in a personal best of 5:47.
"When I reached the front of the line in the swim start, I told myself 'You know what? You worked hard for this. So go get what you came here for,' and the siren went off. I clocked in a new personal record that day."
A Blessing in Disguise
After the race, Argosino wasn't sure she was going to accept the slot given to her to compete in Nice because she had no idea if she could afford it. The rule is that participants must pay on the spot or as soon as they get called. Argosino knew she needed a miracle to claim her achievement.
"My name was called. My brother and I looked at each other. Kunin ko ba? Paano natin babayaran? My name was called again. Huwag na ba? If they call me for the third time and I don't raise my hand, the slot will be given to someone else," recalls Argosino.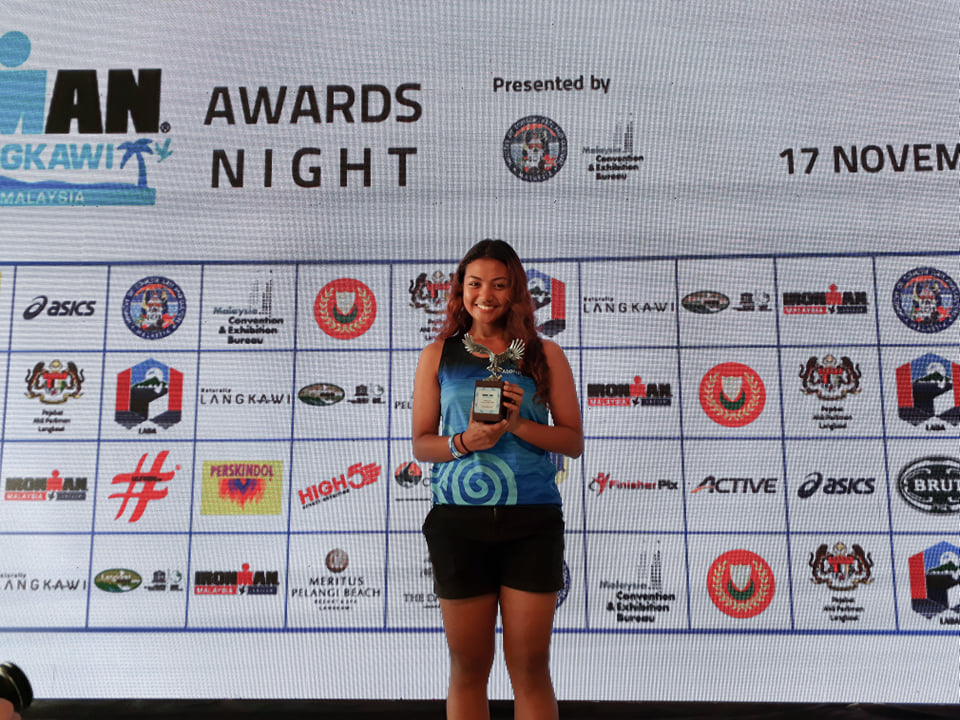 Argosino clocked in her personal best of 5:47 minutes in Ironman 70.3 Langkawi
Thankfully, Argosino's good friend Monching Romano was part of the media team during the race. When Argosino's name was called, Romano provided his credit card and pushed her to accept the once-in-a-lifetime opportunity to compete at the World Championships. Argosino's team SN AboitizPower also agreed to cover her registration fee and expenses.
"Monching talked to us through hand signals asking if I was going to accept it and [I then asked] if it was okay if we borrowed his [credit] card. He sent us a thumbs up. I stood from my chair and raised my hand up. I accepted the slot. I walked to the stage to receive my badge. I will never forget how it felt to hear the sweet words 'Madel, you're going to the Ironman 70.3 World Championships.' I can't thank Sir Monching enough for saving me that very moment."
A Call for Help
Argosino is still on a mission to fund her journey to compete at the World Championships. She does this by selling brownies, caramel bars, and other baked goods around UPLB. Aside from this, she's also resorted to the internet via Gogetfunding.com and Twitter. Doing so has helped her garner a lot of attention from netizens across the country.
https://twitter.com/DominicGalit/status/1107275862339018752
One of the reasons why Argosino also turned to social media was that she wanted to get the attention of the government, especially the Philippine Sports Commission (PSC). Not long ago, she attempted to ask for financial support for one of her triathlon races—only to get turned down by the local government in Los Baños.
https://twitter.com/madelhere/status/1140606409744105473
Based on her experience, Argosino mentions that triathlon still lacks government support. She hopes that her case can somehow open their eyes and get them to pay more attention to the growing sport, especially to the Philippine team who holds a big role in representing the country in international races.
Amid the lack of financial support, at the end of the day, Argosino remains thankful. "To be given the chance to compete against top female age groupers around the globe is already a dream come true, what more being the youngest Filipina to do so. I feel very grateful to be in a triathlon community that encourages athletes to work towards their goals and to have a family that supports me."
Subscribe to our newsletter to receive the latest sports news and active lifestyle and fitness features you need