Obsessed with washing your hands? You could be making your skin more prone to various illnesses and diseases
Art by Tricia Guevara | Photo by Cottonbro/Pexels
Hand washing is arguably one of the top health advice by doctors and medical professionals to help combat the spread of the coronavirus. But even before the pandemic, we've long been encouraged to wash our hands. As children, we've been told it kills germs and that it can keep us safe from viruses.
But while this is true, we also need to be aware that hand washing has its own set of health risks and side effects—if done excessively at least. So how much is too much? When our hands become dry and begin to crack, this may be a sign that we are washing our hands way too often.
Soaps and hand sanitizers are effective in killing bacteria, viruses, and other harmful pathogens but they also get rid of natural oils needed by the skin. So how can we avoid this while washing our hands? We consulted dermatologists Teresita D. Academia and Marie Judith S. Valdez-Eusebio about these side effects as well as the best ways to keep our hands clean.
Frequent washing removes the good oils and bacteria
The outermost layer of our skin acts as a barrier from outside particles, maintaining our skin's moisture through natural oils and wax. Excessive scrubbing with soap and water eliminates these oils and wax, leaving skin dry and prone to breakage, which in turn invites germs to enter our bodies. Dr. Academia says that this has recently become common among healthcare professionals.
"Most of the side effects of frequent hand washing nowadays can be seen mostly in healthcare workers. This comes about because frequent hand washing removes the oil and good bacteria that coat and defend against disease. It can present as itchy, dry, flaky, abraded skin as well as pain and redness."
Lack of moisture and natural oils could lead to discomfort and irritation. Other than that, people with preexisting skin conditions could experience much worse effects.
Dr. Valdez-Eusebio says that excessive hand scrubbing and using too much soap and alcohol can lead to skin conditions such as xerosis (due to overexposure to soap and water), irritant contact dermatitis (due to the concentration of the soap and the frequency of washing), and allergic contact dermatitis if the patient is allergic to the active ingredients of the soap.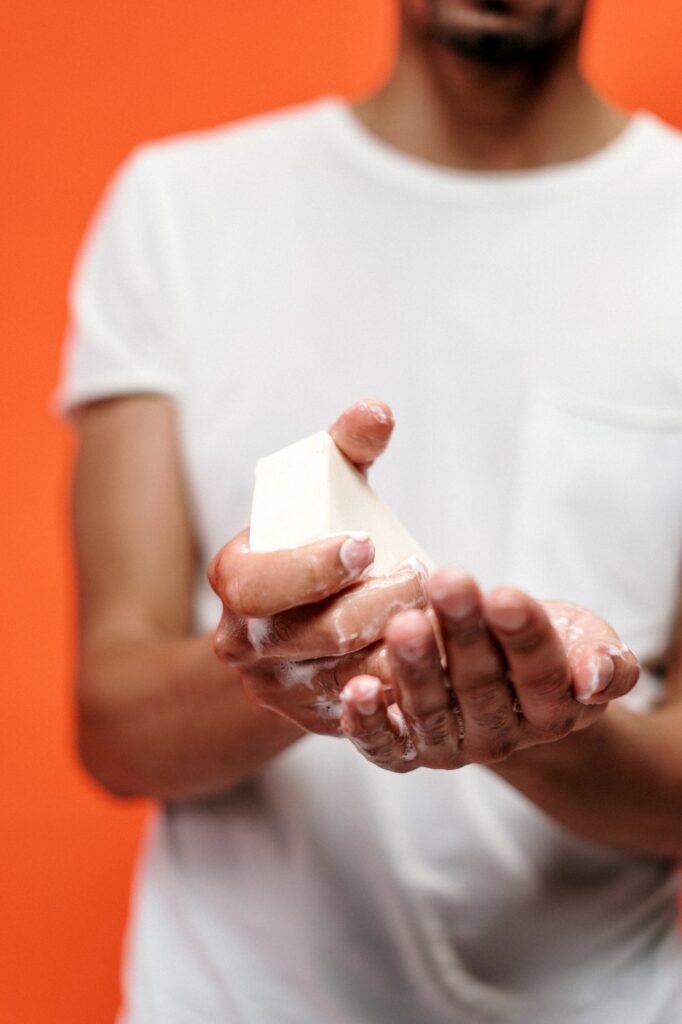 Regular soap and water are sufficient
When it comes to choosing what type of soap or hand sanitizer to use, Dr. Valdez-Eusebio recommends any soap and alcohol that is FDA-approved to prevent systemic absorption, which is toxic to the body.
So far, there hasn't been any study that proves the effectiveness of antibacterial soap in preventing illnesses over regular soap and water. Dr. Academia says that you can use either type of soap, however antibacterial versions may cost more.
"Antibacterial soaps are no more effective than regular soap and water for killing disease-causing germs. Regular soap also tends to be less expensive than antibacterial soaps and hand sanitizers. The more important thing is to focus on hand washing technique than what type of soap to use. Washing hands using either antibacterial or regular soap and water is one of the best ways to remove germs. When soap and water are unavailable, using alcohol-based hand sanitizers can be an effective alternative." 
Moisturize
Since we now know that frequent washing gets rid of essential oils that make our skin prone to breakage due to dryness, we need to moisturize our skin to restore its protective barrier.
Dr. Academia says that alcohol will only aggravate dryness; she advises emollients like moisturizing creams and lotions right after hand washing to soothe and hydrate the skin since they act like a protective film that locks in moisture. Dr. Valdez-Eusebio also prescribes the use of moisturizers between two to three times of hand washing or if you notice your skin getting dry. For those with sensitive skin and in case of other skin complications, consult a dermatologist to know what products would work best for you.
Dr. Teresita D. Academia is a fellow at Philippine Dermatological Society while Marie Judith S. Valdez-Eusebio is the managing director of V. E. Eusebio Skin Center; vice-chairman of the board in Healthserv Los Baños Medical Center, a Mount Grace Hospital; vice president, Philippine Academy of Dermatologic Surgery, Incorporated; and member of the board at the Philippine Dermatological Society Southern Luzon.