James Harden's jam-packed day gave him a glimpse of how basketball-crazy the Philippines is
By Nicole Ganglani | Photos by Javier Lobregat 
It's not surprising to know James Harden's most recent visit to the Philippines is already his fifth. He loves the country simply because the Filipinos' devotion for the game of basketball never fails to disappoint.
"The fan base is amazing and so supportive. They never disappoint and it's the reason why I keep coming back. Every time I come back, I enjoy myself," said Harden during a press conference for the Free to Harden Tour.
The Beard arrived in the country last June 25 (which is why he wasn't in attendance during the NBA awards), kicking off his visit by heading to the University of the Philippines where Adidas is refurbishing the College of Human Kinetics basketball court. During his time at the University, Harden spent a few hours with the National Wheelchair Basketball team and the UP Women's Basketball team who all welcomed him for a short exhibition game.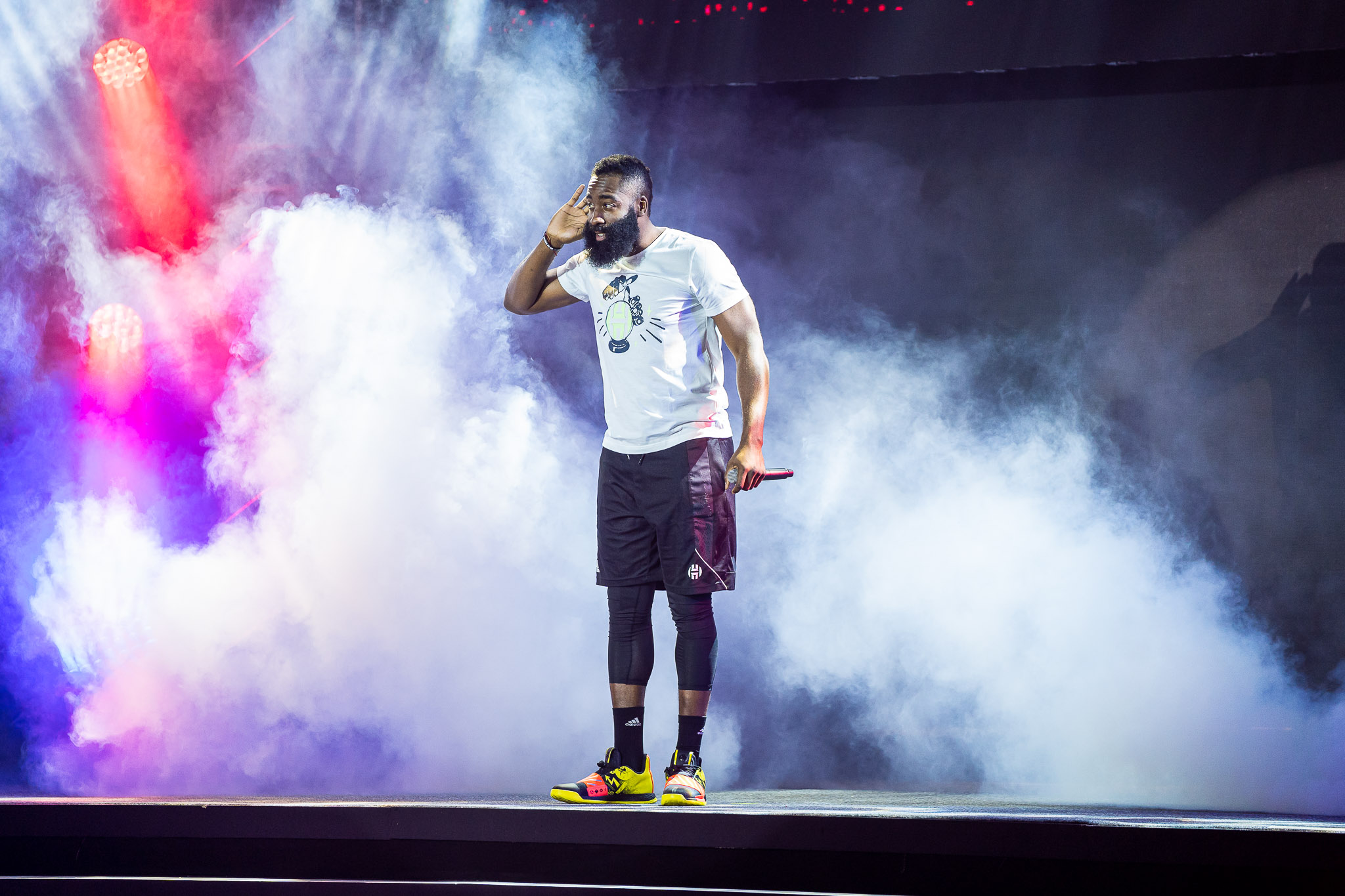 Fans were excited to see Harden at the SMX Convention Center
Harden was also greeted by hundreds of Filipino fans during the Free to Harden Freestyle Hub. Like many Houston Rockets fans around the world, the Filipinos in attendance thought that the MVP this year should have remained in the hands of The Beard. For Harden, it doesn't really matter though, with or without the MVP, he knows that he's currently at the highest point of his game and the Filipinos were sure to tell him so.
On his signature step back
Every basketball fan knows that James Harden's game is best associated with his signature step back move. It's what sets him apart in the NBA today and what probably millions of kids imitate. Harden's step back has not just become an iconic slick move but also a phenomenon that has changed the offensive scope of basketball.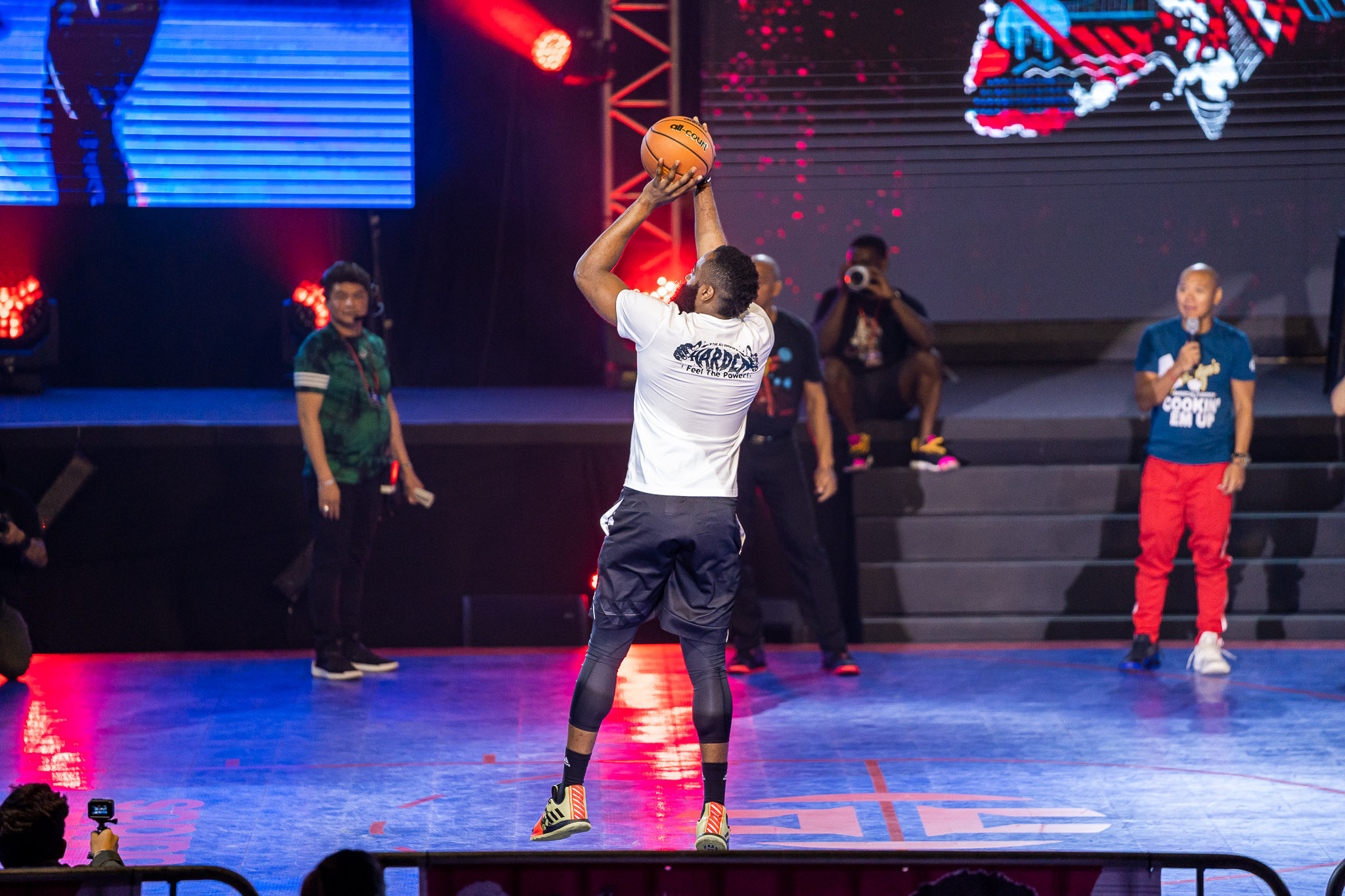 The Beard showed his fans a couple of his signature moves
"It just dawned on me recently. I look at my step back and the level that I've taken it to similar to the 'sky hook' or maybe the MJ fadeaway. That step back, you just see everywhere. Especially with kids. Kids are being more creative and they're exploring it in AAU basketball. It's just taking over. It's something that I enjoy and it allows me to get back to the gym and figure out more moves to keep impacting the game."
On haters
But Harden's step back has garnered a bunch of negative comments from naysayers last season. The iconic move has long been criticized as a violation rather than an offensive scheme. That's only one of the many criticisms he gets on a daily basis but it isn't something that's ever slowed his game down. In fact, the 2018 MVP mentioned it's what drives him every single time he holds a basketball.
"That's when you know you're doing something right. When you have the haters talk about "is that a travel? Is that too many steps? Why is he wearing this? It doesn't look right. That's the haters. That's when you know you're doing something right when you've got haters talking about you. So, it just drives me to keep doing what I'm doing. I just let the haters keep talking"
What he learned in the 2018-2019 season
The Houston Rockets guard had no excuses for the team's performance last season especially after their early second round exit. A bunch of injuries and lack of pieces in their roster were the reasons why the team did not get to where they hoped. This off season, Harden mentioned that the Rockets are set on bouncing back, getting the roster healthy, and hoping to recruit more right pieces to compete once again in the western conference.
"We gave ourselves a chance last year, we fell short so we gotta continue to get better and it doesn't stop. We lose games and failed the season but we have to make sure we come back better and stronger. We can't dwell on the past and be sad about it. We have to continue to work and push until we reach the ultimate goal. That's what's going to make it that more special," said Harden.
On being an Adidas a

thlete
Harden's favorite part about working with the Adidas is that he gets to be more than just the face of the prestigious brand. He's a creator and the voice of his own campaigns, which let him inspire basketball fans around the world.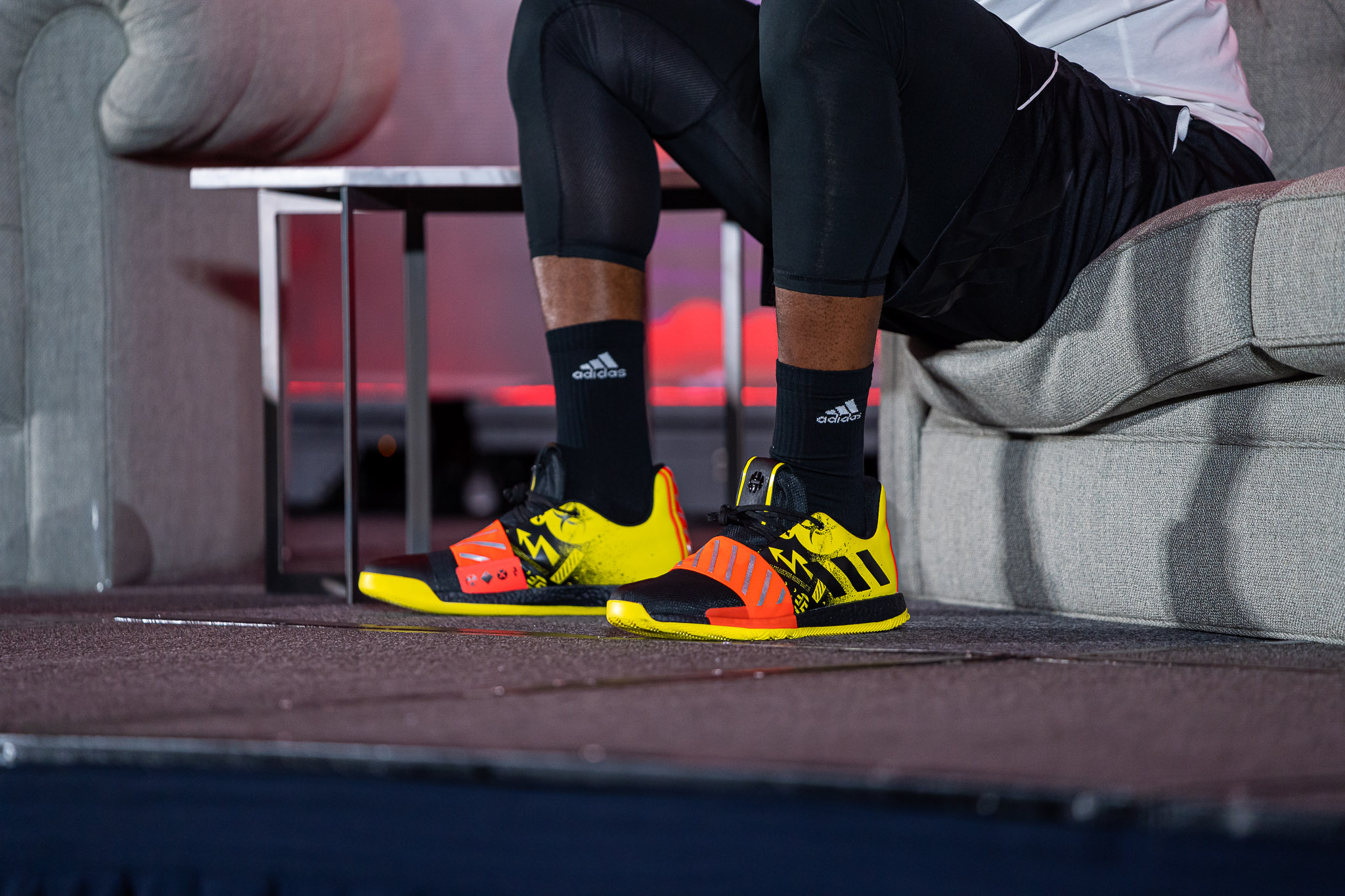 A preview of Harden's newest shoes
"[Adidas] always gives me the opportunity to be myself and I'm so appreciative of that. This last few years has been unbelievable. There's been a lot of work but it's worth it to be a designer of the volume four shoe whether in colorways, interiors or for the little things that you need in order for you to perform well. Those things are fun and when you get the opportunity to see the end result of the shoe and to actually play with the what you created it's a different feeling. The brand continues to grow and we're doing it together." 
Subscribe to our newsletter to receive the latest sports news and active lifestyle and fitness features you need