Owing to lockdowns or the hundreds of things competing for our time, getting out on a run is sometimes impossible. But, there are things we can do to improve from the comfort of home
Photos by ShotPot/Pexels and courtesy of Jaymes Shrimski
Instagram is a crystal ball through which we can somewhat democratically peer into concurrent realities. One such reality for me is that of Hellah Sidibe, who, on his bio, lists himself as the first Black man to run across the United States. The man has run every day since May 15, 2017.
Putting my phone down, staring at my apartment ceiling, pondering the fact that the Philippines logged its second highest COVID-19 daily case tally on Saturday, I grew an inch more worried about my reality. With the current lockdown regulations governing until Sept. 7 and my current inability to get out of bed and run between 6 a.m. and 9 a.m., I haven't run in about a week.
Again, I pick up my phone, tap the home button, the screen now blasting my pale skin with blue light, and instead of Instagram, I visit a news site. With a multitude of ongoing climate events, political and humanitarian crises, and a vast number of issues that I will fail to name, the fact that I'll miss a few runs is hardly a problem.
Perhaps this is a time to cultivate, from the comfort of my couch, a greater sense of gratitude—and maybe even work on improving my running by other means.
For runners caught in a similar bind, there are things within the walls of a home to keep us running strong when we do manage to get out again.
Take some time off your runs
Call this the sign you needed. Why not just call this your running holiday and return to it refreshed, rejuvenated, and more motivated than ever?
Down some caffeine and do HIIT
While I urge moderation on caffeine, it may take the steep edge off beginning a session of high intensity interval training (HIIT). Let's face the fact that jumping around indoors, between squats, lunges, and layman acrobatics in an effort to get the heart rate up to about 85 percent of its capacity isn't fun. Nor is it calming the way a long run is.
But in its own time-efficient way, HIIT has been shown to improve not just cardiovascular and metabolic health but mental health too. There are many ways to go about this.
One of my favorites in college was to take five exercises—say burpees, squat jumps, mountain climbers, leg raises, and lunges—and do each for 50 seconds, resting for 10 seconds between each exercise. That's one set. Then do the same but work for 40 seconds and rest for 20. You proceed this way until you have the last set of 10 seconds work and 50 seconds of rest.
Alternatively, just head over to BodyCoach TV and click away.
Foam roll and stretch
I've had the same—now rather smelly—foam roller since my college days. Typically, I'd spend a minute rolling my quadriceps and my iliotibial (IT) bands before heading into a hamstring and IT band stretch. This helped pull me out of a fight with runner's knee and so I've religiously kept it up.
Michael Conlon, a physical therapist, running coach, and the owner of Finish Line Physical Therapy in New York City tells Runner's World that we should use time off from running to focus on mobility and flexibility, which we tend to forget. He recommends focusing on mobility in the thoracic spine, hips, and ankles. Here are a few stretches to get you started.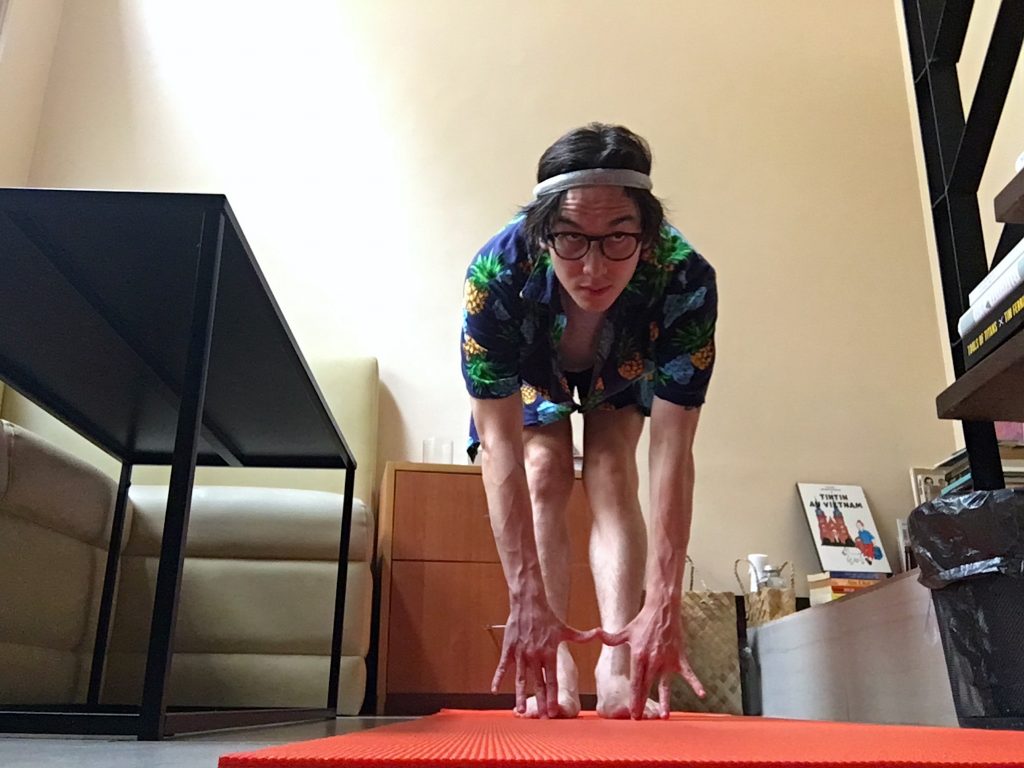 Strength train
Yes, this is nothing new to you. You've been told to do squats and push-ups innumerable times to improve your running times, but nonetheless I will echo the advice. A particular favorite of mine, though, is a routine created by online coach Ben Parkes. I tend to incorporate some sort of strength training into my weekly workouts—even just twice a week—to help reduce risks of injury.
Meditate and cultivate gratitude
I've previously written about the 10-minute breathing exercise I've incorporated into my running routine. It's a simple 10-breath counting technique that probably doesn't do anything in the way of chakras but does a whole lot by improving my sense of presence and adding consciousness to my five-kilometer run or even whatever book I'm reading.
Here, Mayo Health lists the following additional benefits of meditation:
Gaining a new perspective on stressful situations
Building skills to manage stress
Increasing self-awareness
Focusing on the present
Reducing negative emotions
Increasing imagination and creativity
Increasing patience and tolerance
Time off can be time for improvement
As patterns break, we are forced into conscious efforts to fill time with activity. In these moments, we can choose to feel the sharp sting of frustration (as I have many times) or we can wield the moment to improve ourselves in ways we wouldn't have otherwise been able to.
For runners, this means finding time to work on our strength and flexibility; for all of us, this means grasping harsh realities, accessing our attention with incredible ease, and finding a sense of gratitude.
And for goodness' sake, wear a mask when you're outside.