Visual artist Vin Quilop on rekindling an old hobby, finding a new way to channel his art through biking, and living his "riding-in-rural-Japan" fantasy
Photos courtesy of Vin Quilop
Before smartphones and compact cameras, explorers used to be accompanied by chroniclers, not just of words but also visuals. Artists onboard ships discovered what was once uncharted territory, meticulously drawing islands, new terrain, plants, animals, and people unknown to them previously.
Artist Vin Quilop's credo is not unlike that of those commissioned artists in voyager ships. Except in his case, he is both the explorer and the chronicler.
"Whenever I travel, I try to immortalize a memory in a realistic, and sometimes, idealized manner and write my feelings and what I'm seeing or doing in that moment," he says.
He's drawn Manila's old gems, from the streets of what was once the city's beating heart, Escolta, to the bustling religious hub that is Quiapo. Some of the heritage structures he painted are already gone with nothing more than Quilop's watercolor postcards to remind people they were once there.
While other travelers wield selfie sticks and self-timed camera phones, Quilop takes out his trusty notebook and sketches away what would minutes later be a portrait of the view before him, done in the French impressionist style. Before the great global disruption caused by COVID-19, his "field sketches" had included temples in Nepal, cultural landmarks in Thailand, and tourist spots in Malaysia.
With borders closed due to an ongoing pandemic, the 26-year-old visual artist and art director spends most of his time in Cavite. In lieu of plane trips, he rides on two wheels. Still, his old habits remain, with his oeuvre growing each passing day, the scenes he witnesses while pedaling encapsulated in paper: from the quiet fields of Cavite to the curious patches of wonder in urban Manila.
In this interview, we hear his thoughts on rediscovering his old love for cycling, his interest in retro bicycles, and finding uncanny similarities between his hometown and Japan.
You have taken on cycling as a hobby during the pandemic. How did that come about? I read in one of your posts that it is an old hobby of yours.
It was! I remember riding a lot during my high school years. I revisited that interest early this year when I badly wanted to go out and paint. Of course, living in the pandemic times, traveling abroad—even locally—is difficult so I tried riding my bike again to travel around and look for spots to paint within reach.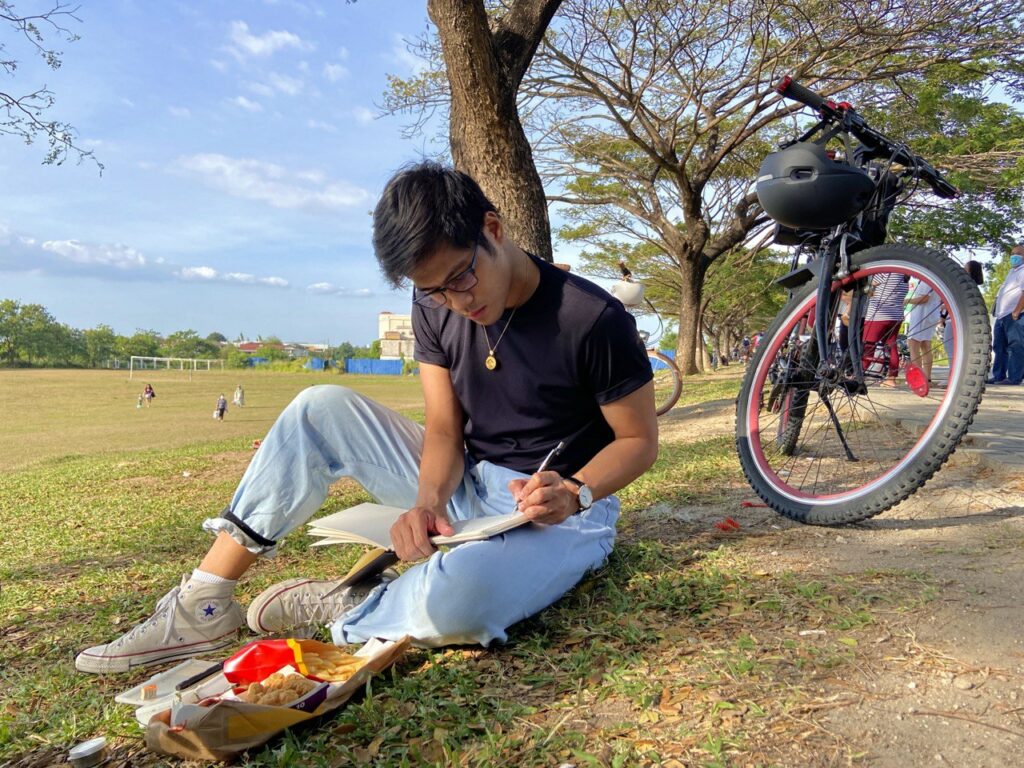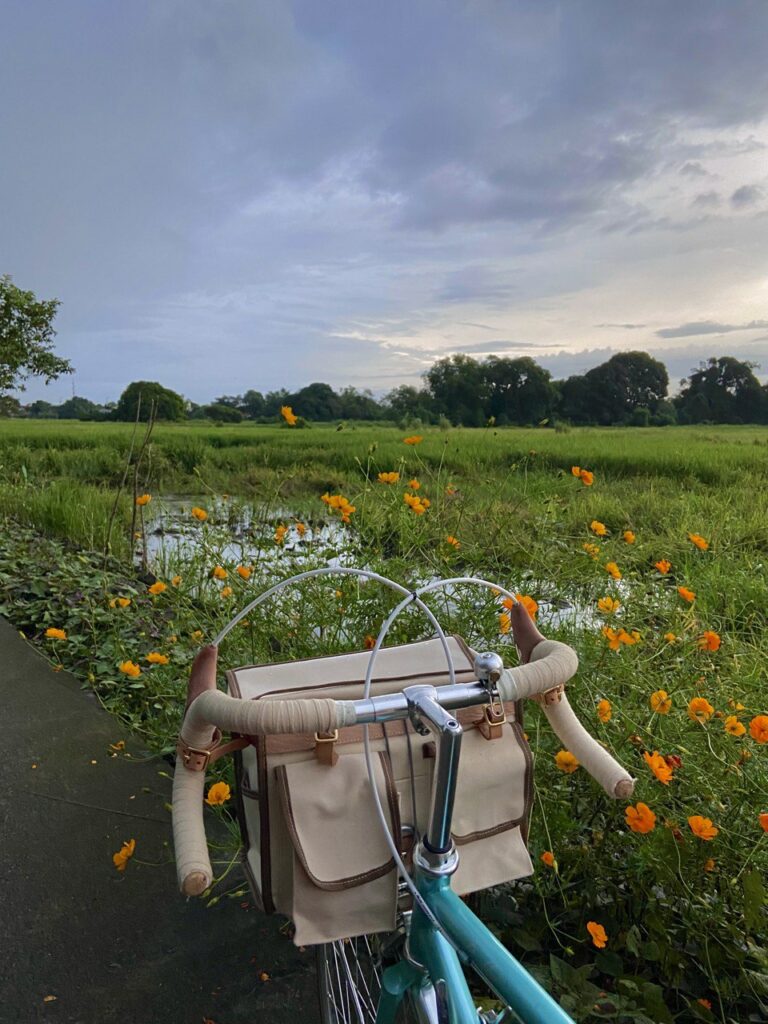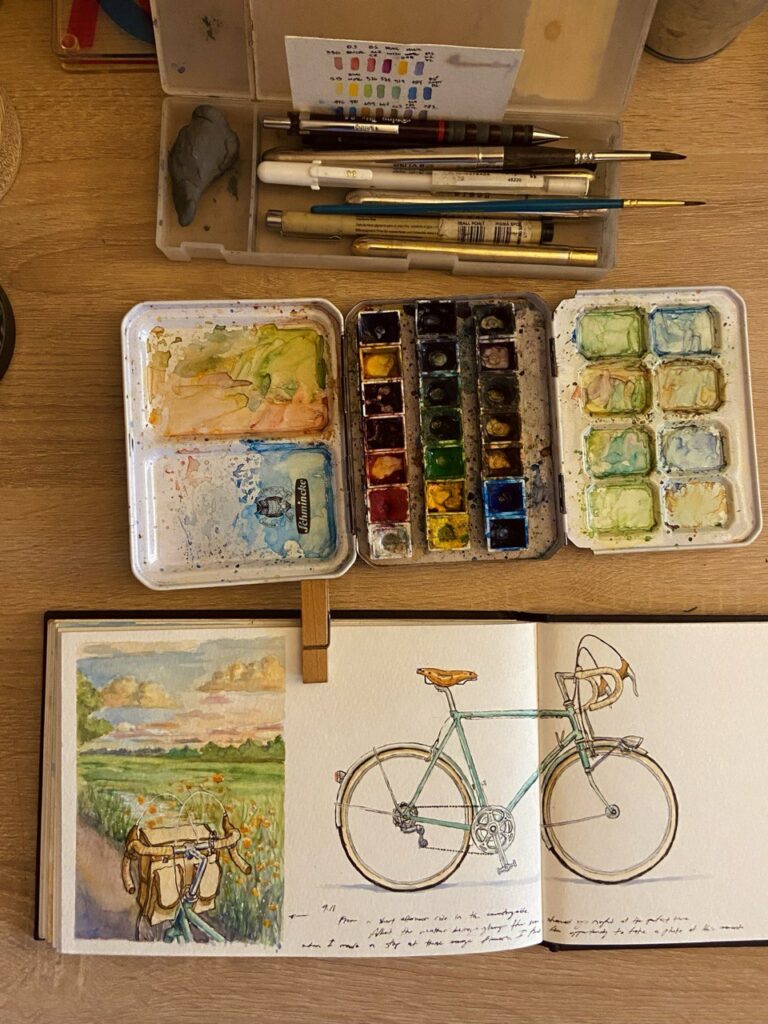 What kind of bike/s do you ride?
Early this year, I used to ride on my retro mountain bike (I still actually do!). It's a Raleigh Explore LX frame with Shimano non-series groupset that I use on quick rides. After mainly riding my Raleigh, I thought of investing in a retro road bike. Then comes the Tern Roji Rally.
The build is inspired by rinko randonneuring/touring bikes from Japan, from the likes of C.S. Hirose, Toei, and Cycles Grand Bois. I bought my Tern Rally as a built road bike, but I customized it to fit the build I had in mind—a neo-retro Japan touring/commuting bike. I'm currently running on a mix of Japanese, Taiwanese, and French components—Specialites TA, Shimano, MicroShift, and Sun XCD.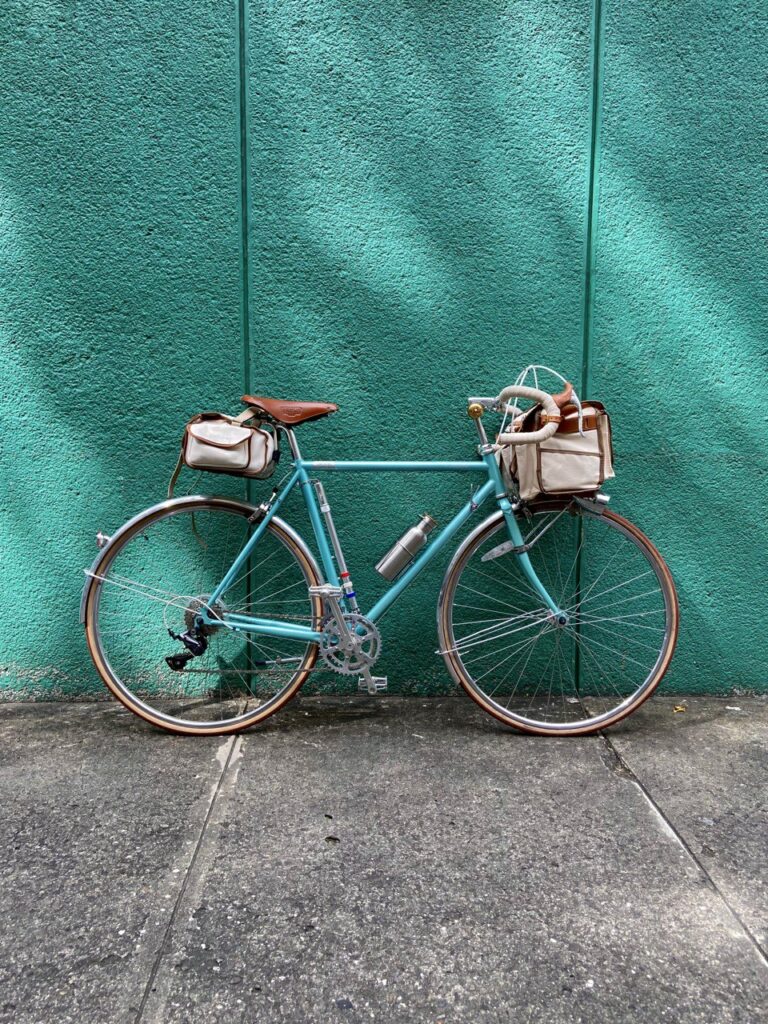 What is your biking routine like? Where do you usually go?
My routine is very chill. I mainly bike around to explore the suburban charm that is Cavite, my hometown, and discover hole-in-the-wall, bike-friendly cafés or eateries and paint.
My favorite spots and neighborhoods would be located near and going to Cavite City. I haven't explored beyond Imus, Bacoor, or Cavite City yet, so there's much left to explore, especially around Silang and Tagaytay.
What about being on two wheels do you like most? You come from Cavite and oftentimes visit Makati and nearby cities kilometers away—for coffee and chit-chat. What about it encourages you to go on despite the distance?
You know when there are days when you just miss the hustle and bustle of city life? It's the reason why I really take my time going to the city. I like how it makes it so easy to get from my home in Cavite to places I usually go to in Manila.
Pre-pandemic, I [would] commute or ride the bus often to go to meetings or see my friends, and never did it cross my mind that I can reach there riding my bike. While riding, it also helps me clear my mind and also be present in that exact moment.
As an artist, how does biking inspire you or aid in your craft?
As a visual artist, I mainly paint en plein air (outdoors) like the French impressionists, so riding my bike really helps out a lot in being able to paint outdoors again.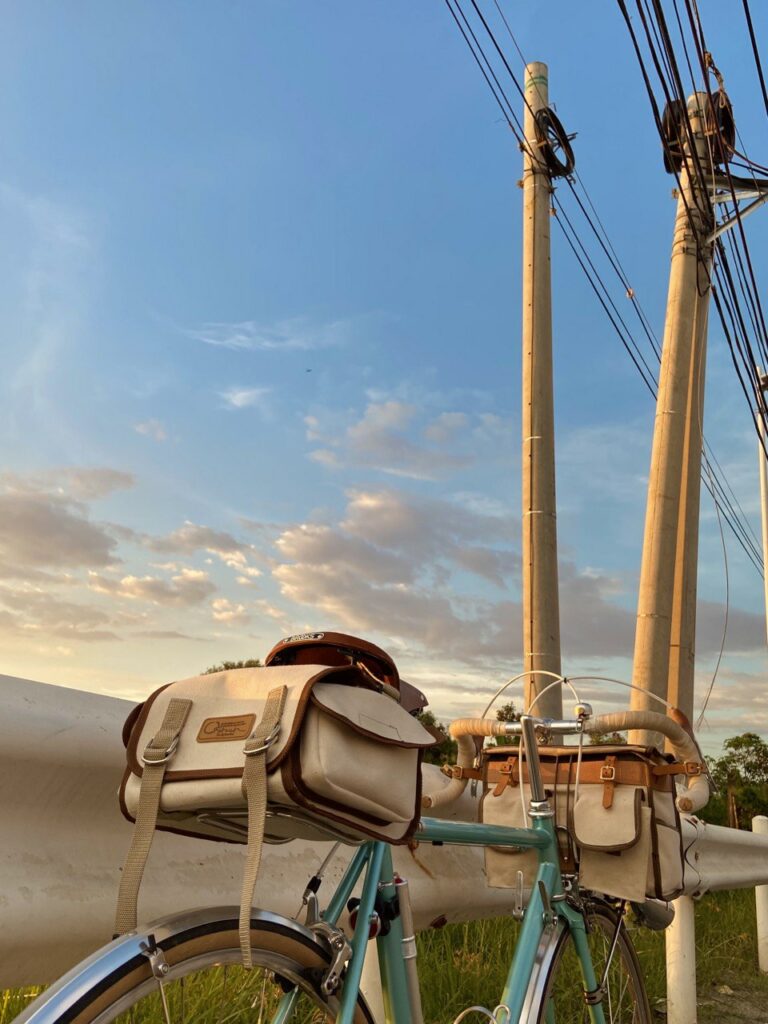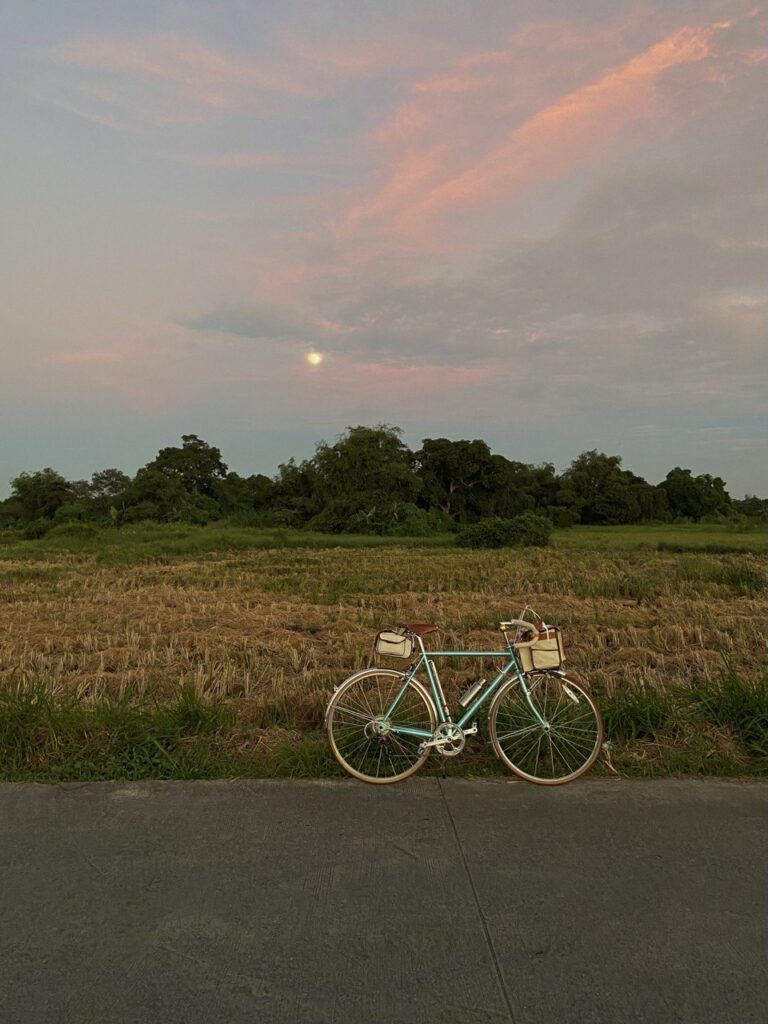 You paint or sketch the mise-en-scene from your rides. Why paint or sketch instead of other memory-keeping devices like taking photos?
I think taking your time sitting down, painting, observing, and looking at the details of your subject matter is a form of catharsis for me. It's the whole experience of absorbing what's in front of me and translating it into a painting.
Whenever I travel, I try to immortalize a memory in a realistic, and sometimes, idealized manner and write my feelings and what I'm seeing or doing in that moment.
I like how you still manage to dress up casually even for long rides. It's as if you can still effortlessly pedal through wearing regular clothes that would otherwise restrict movement for others. Talk about your considerations when dressing up to bike.
Hahaha thank you! As I've said, my inspirations in riding would be the bike and commuting community in Japan. And people in Japan dress however they want whenever they ride their bikes. In a way, it's sort of saying they or we ride for comfort, and comfort for me is just riding however I want while still, of course, staying safe and wearing my helmet.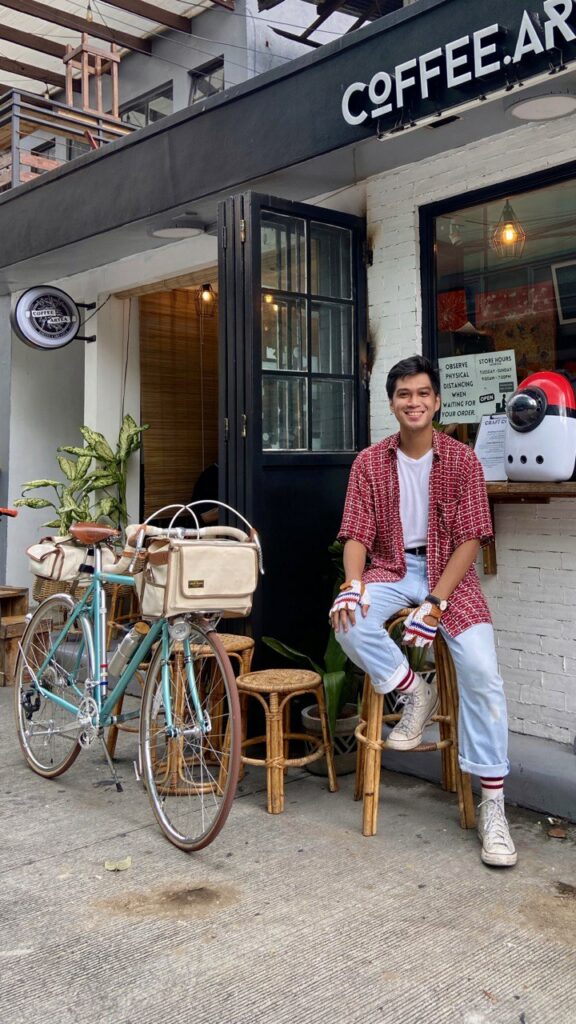 Your bike bags look so good! Where did you get them and what do you usually bring along in your rides that require a handlebar bag and a saddle bag?
Thank you! My front randonneur bag is from Manila's finest, Leon Denim, and my saddle bag is from Japan's finest, Ostrich Bicycle Bags.
My front bag usually houses my art materials, snacks, an extra shirt or two, and other essentials. My saddle bag is for my tools, an extra tire tube, power banks, and other stuff I might need especially on long rides.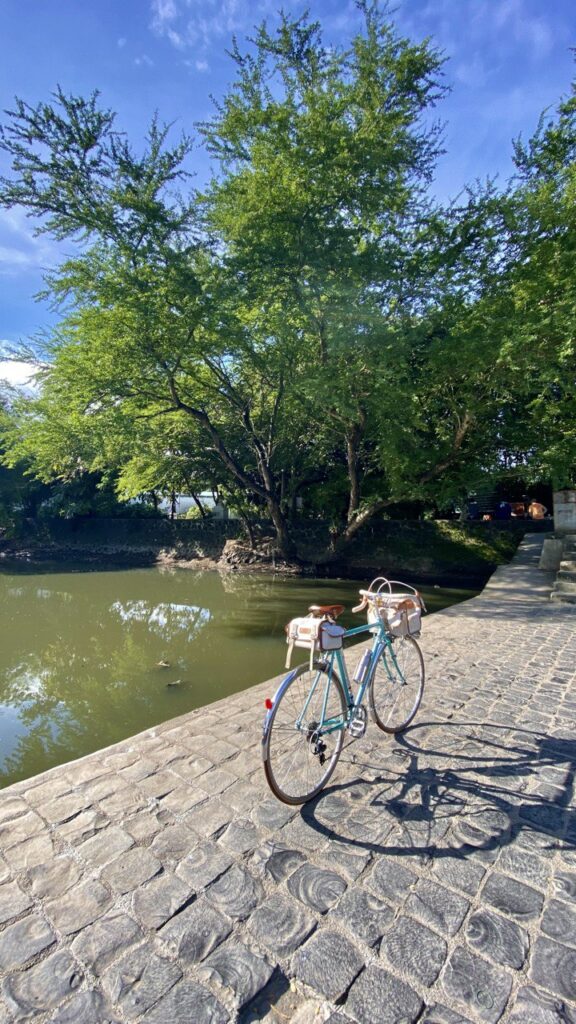 Not to get too "deep," but what are some of the learnings you have had since taking on biking?
I've learned that there's a need for improvement on our road infrastructures and improvement on the attitude towards cyclists. That, and I've learned to be more caring and mindful of my surroundings. Riding your bike really makes you see what you can't see whenever you ride on four wheels.
You often make comparisons between local rural views and Japan and I have to admit the similarities are uncanny! Where are those locations?
Hahaha! This came as a joke for me and people actually really see the similarities between the places I pass by or go to and rural Japan. It was taken from an Instagram account that I'm a huge fan of—@niigata0252. The account is an archive of vintage touring bicycle ads. He would go on rides around Niigata prefecture and I thought, "Hey, we have something similar here in Cavite!" so I'd usually ride my bike to those spots and just live my riding-in-rural-Japan fantasy.
And finally, you like to travel, yes? Which international destinations would you love to bike in when the borders are finally open and it is safe to travel?
Of course, Japan. And Taiwan is also definitely on the list.