Filipino-American media professional George Putong takes you on a tour of Singapore on two wheels—and drafts an itinerary on your next visit
Photos courtesy of George Putong
To tell the story of a place you've visited a few times or lived in for years, you must be open to tackling it from a new perspective.
In anyone's hands, this might be a challenge, but for this Filipino-American media professional who has called the Garden City home for 10 years, it's a full-throttle revelation.
George Putong and I go way back in 2002 when we first met and studied broadcast journalism together at De La Salle University-Dasmariñas. Unlike my laser-like penchant for print, he was committed to exploring all aspects of media. His strength lies in executing alluring blogs and videos at a constant pace. 
Since moving to Singapore in 2011, it was a no-brainer to get him to take us on a cycling tour of the city-state in 2022 amid the Philippines' own cycling boom in the pandemic.
For Putong, cycling isn't a stretch by any means given that he has played various athletic roles in his Singapore tenure such as dragon boat rower and runner. Lately, like most people, he rediscovered cycling, its significance, and its practicality at the height of the pandemic sustained by a city where your needs are addressed and your safety prioritized. 
Closer to home, the parallels couldn't even be farther (at least for now, hopefully). But perhaps the bike infrastructure and system of one of our Southeast Asian neighbors could spur and lead Manila to better biking experiences despite the uptick in bicycle road accidents beginning in 2020.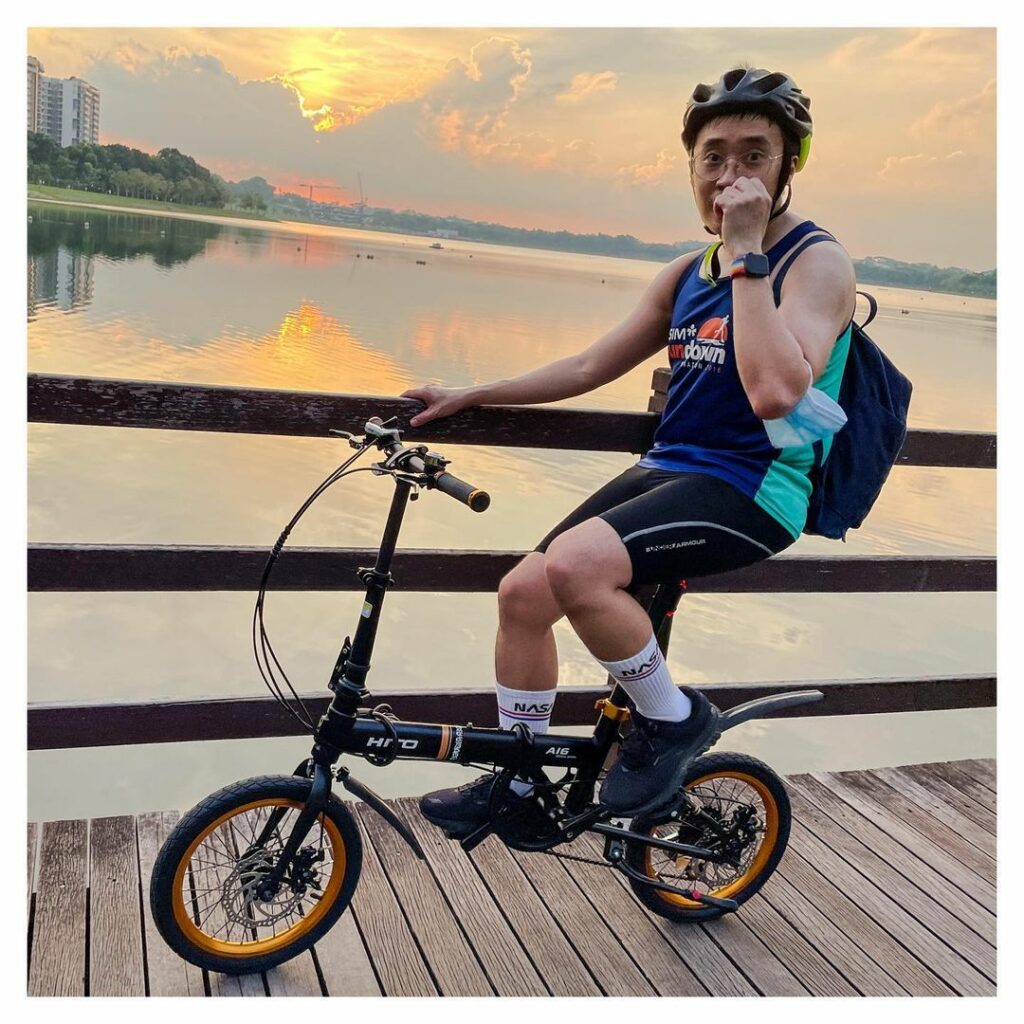 Sure, this talk of manifestation might signal a personal shortsightedness and a lack of understanding of Manila's urban planning (or lack thereof). But chasing at what's working overseas isn't simply a matter of being a second-rate carbon copy. At the end of the day, it's about hoping for a better urban landscape that has long been neglected—and seeing where a little TLC might lead us.
For now, stroll down the sentimental lane and read what it's like to bike (again) in Singapore in 2022.
Hi George, can you briefly introduce yourself to the Multisport audience?
I'm a 36-year-old Filipino-American media professional who has lived and worked in Singapore for the last 10 years. I fell in love with this "city in a garden" when I first laid eyes on it. Its cleanliness and efficiency helped prompt me to take up sports like running, dragon boating, and leisure biking.
Tell us about your first biking memory?
I remember biking around the naval base that my family lived on when I was in elementary school. My dad was in the US Navy and we were stationed at the now-defunct Treasure Island Naval Base, which sits right in the middle of San Francisco Bay.
It's a tiny island that you can explore within an hour by bike. But I remember biking to every corner and taking advantage of less car traffic since it was a military base. I also remember mapping out imaginary territories across the tiny island in my head. It's probably why I love maps up to now.
You've lived in Singapore for a decade. How often would you say you biked? Or is this something you picked up recently?
I can't say it's my primary sport, which would probably be running or paddling. I got into biking briefly in 2016 when Ofo, Mobike, and other bike-share services sprouted across the island. Those have since scaled back due to aggressive regulations. I'll say that I've recently restarted after purchasing my first bike last month. I'm committing to biking every weekend.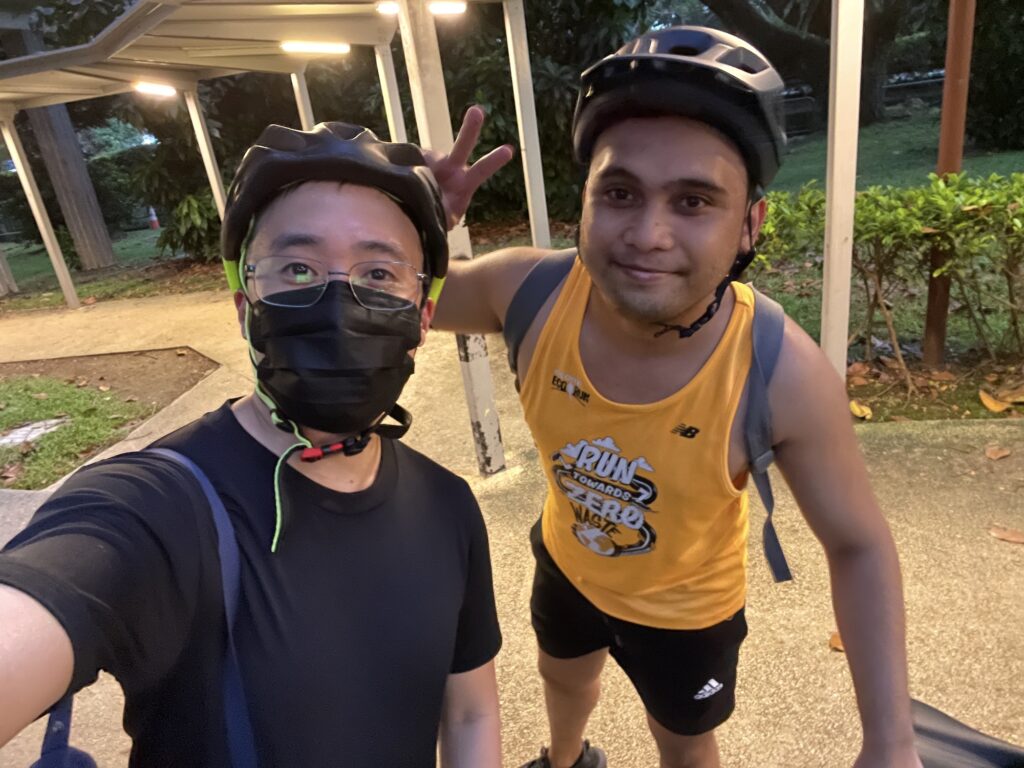 What do you love the most about biking?
It brings you closer to the locale. When you're in a bus or MRT train, you're commuting strictly from point A to point B. But when you're on a bike, you can enjoy the city's numerous parks, beaches, and urban paths. When you're pent up in the house all day, it's great to unfold a bike and head quickly to the parks to see people walking their dogs, uncles fishing, and people going on about their lives as normally as possible.
I've known you for a long time and you've always had an interest in photography, videography, filmmaking, and vlogging. How did biking play a role in your interests? Has it helped enhance your interests?
I'm flattered you think that way. I enjoy vlogging and videography but I've never reached the level of many established folks who do this and are able to earn money through it. I look at biking as a new activity that I can do more videos about for my YouTube channel.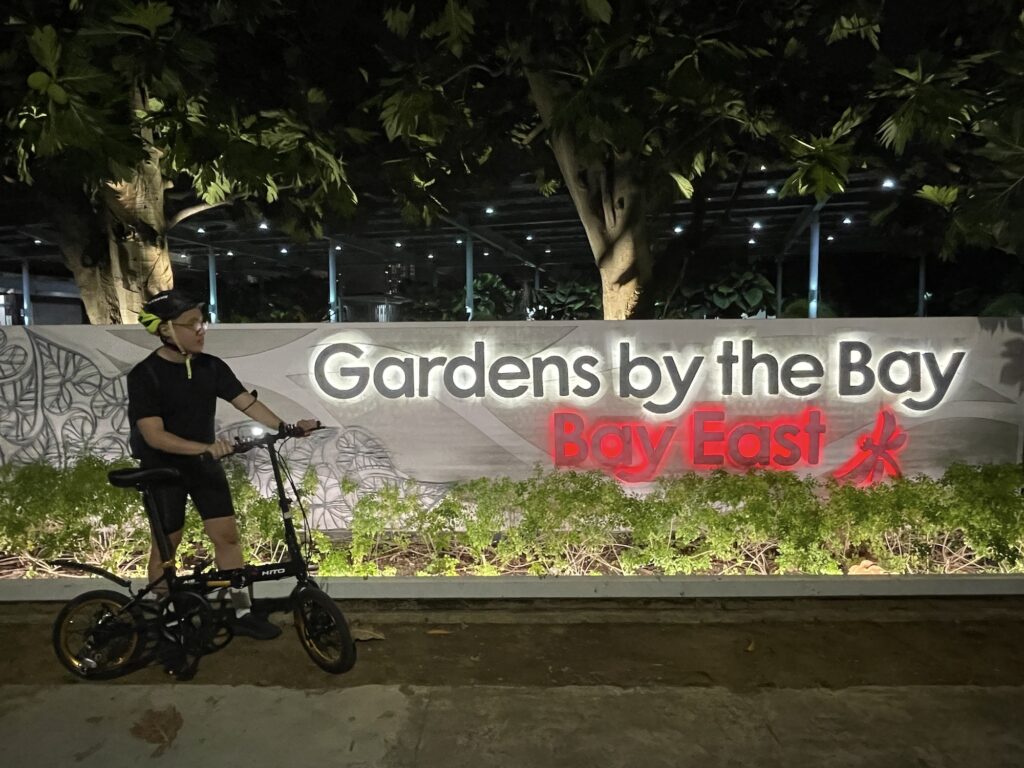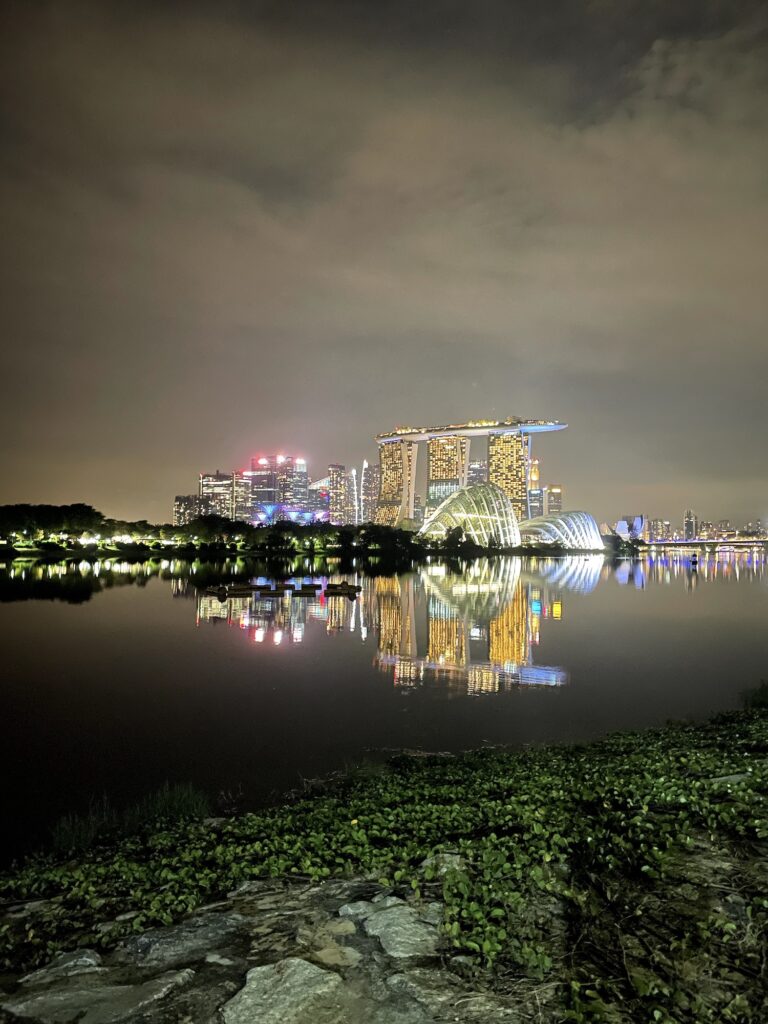 It's intimidating to follow in the footsteps of some people I enjoy watching such as Emjae Fotos. His videos are wonderful at capturing cycling paths in Singapore. But what I can say is that biking will definitely enhance my love for making videos. It might help me finally find my audience.
Did being on two wheels offer a different perspective or a way of seeing and documenting things?
It's already taught me to see sidewalks differently! As a pedestrian, I would only notice the pedestrian crossing and the bus stops. But now as a leisure cyclist, I can see patterns on sidewalks and park connectors (dedicated paths that connect the city's parks). 
I had no idea that they almost seamlessly connect and disconnect from pedestrian-only areas. I had no idea that underneath the above-ground MRT tracks near my house, there are cycling lanes that are entirely separate from pedestrian ones. I'm amazed.
What bike do you ride?
I picked a HITO Rifle A16 folding bike as my "return to cycling" bike. It's my first time riding a foldie. It meets what I'm looking for, which is something meant more for leisure and something that's very portable. Portability is important because I share a flat with five other people and I want to store the bike in my house. Portability also means I can take the foldie quickly onto a bus or MRT train, which can take me to the other side of the island.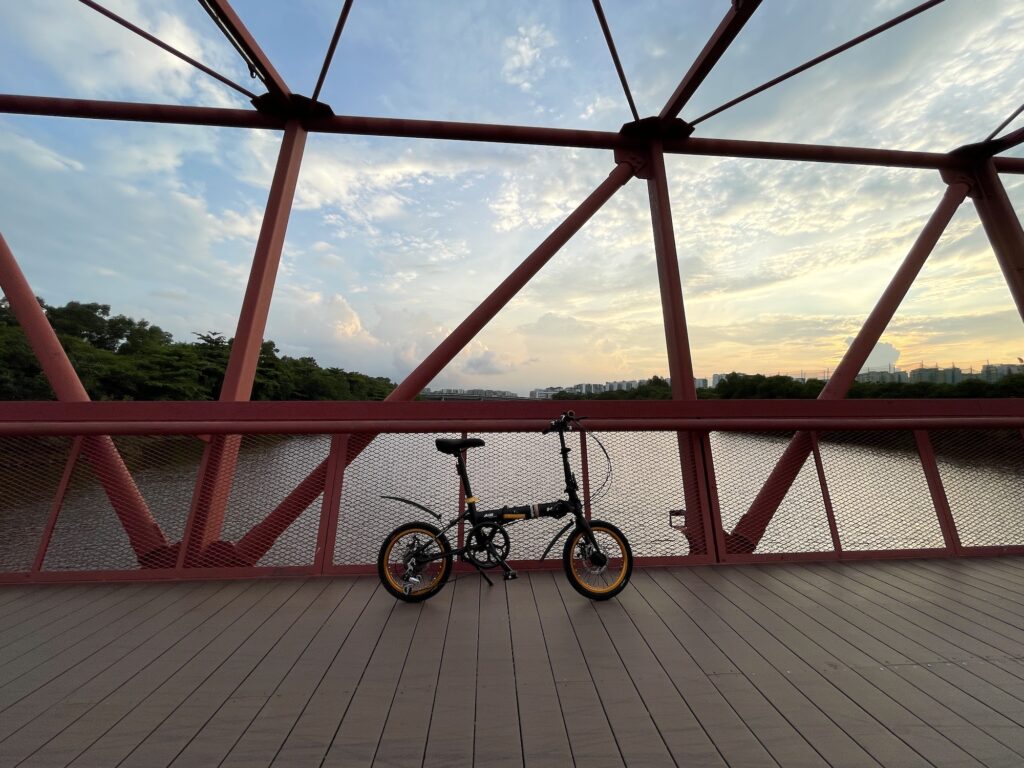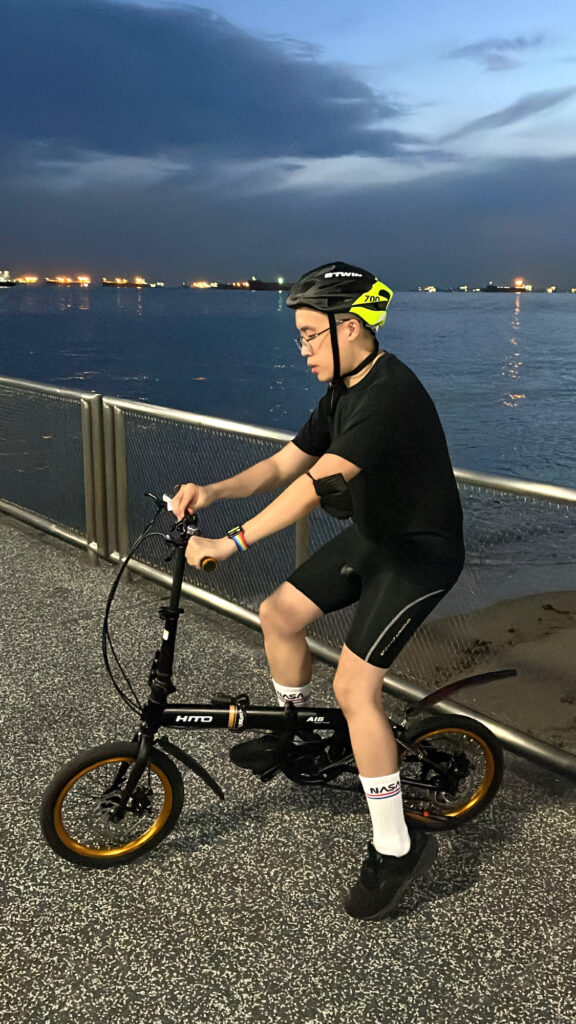 Where do you usually bike in Singapore? What's your biking routine?
With my foldie, I'm planning to conquer every park in the city. Some might find it funny as these parks might look the same after X visits. But I'm looking at exploring the city's numerous park connectors, which means I can find different cafes and hawkers for a nice pit stop.
There's also a famous "Round Island Route" or RIR that encircles the whole island. They are still building the park connector version of this as the current one involves biking on roads.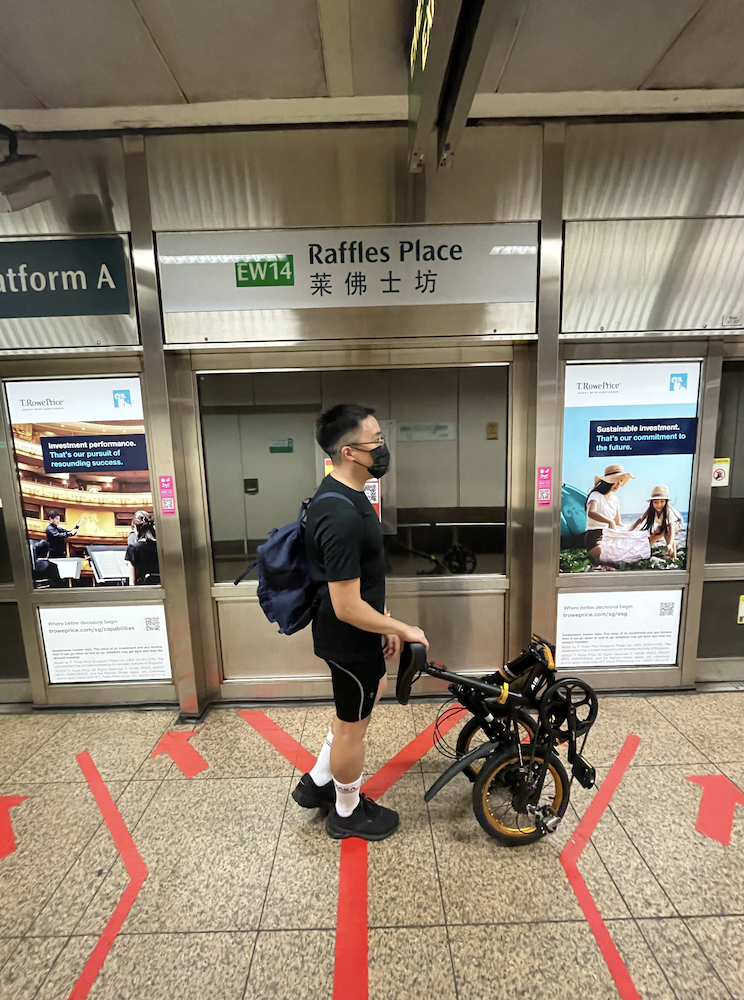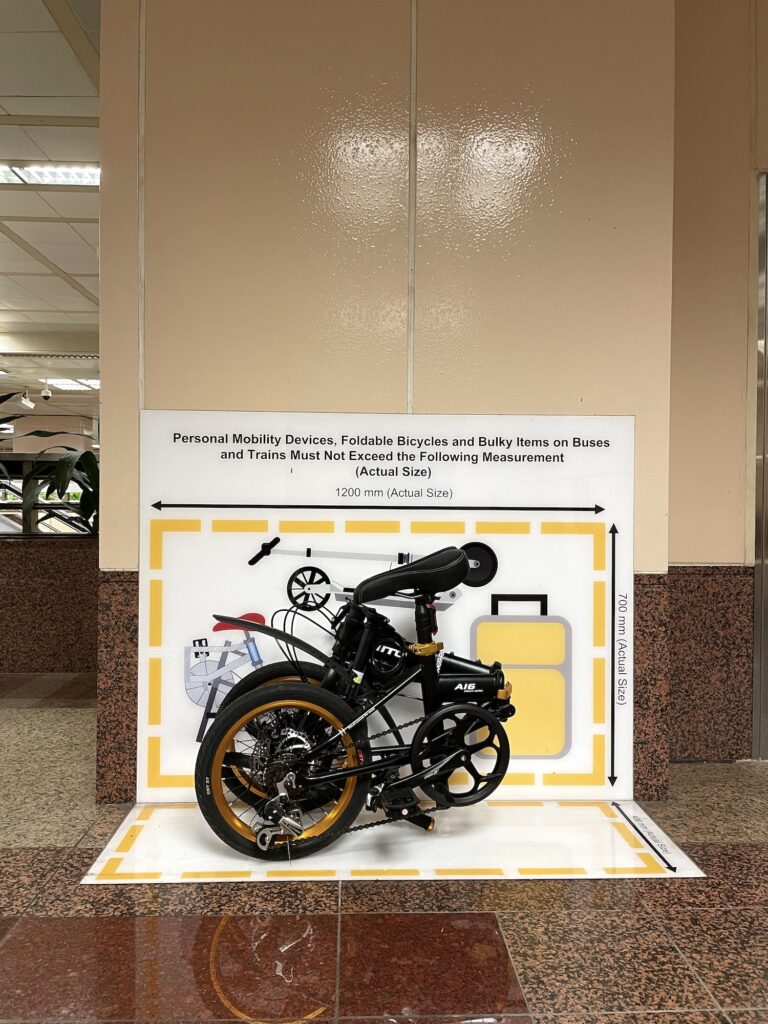 Do you prefer biking alone or with friends or with the local biking community in Singapore?
There's a Facebook group called Singapore Folding Bike and it's so cute. People share photos of their journeys across the island. People also share some tips and photos of their bikes. It's a positive community so there's no bashing.
I'm in touch with my ex-dragon boat teammates to join them for cycling. I prefer a mix, when it comes to biking alone or with friends. Biking alone means I can take a book with me and stop anywhere I want. Biking with friends means I can enjoy sugarcane juice with them at East Coast Park. 
The biking infrastructure in Singapore is more developed compared with the ones we have here in Manila. Can you give me an idea of what it's like there? And are there any Singapore-specific bike laws you have to follow?
I enjoy the biking infrastructure in Singapore. It's a very easy city to navigate. The integration of MRT stations, bus stops, parks, and park connectors are amazing. Plus, if you have a foldie, you can hop on and hop off the train and bike around a neighborhood on the other side of the island quite easily.
The downtown area might seem intimidating for the uninitiated, but it is paradise for joggers and cyclists alike. You can safely bike from home to the Merlion.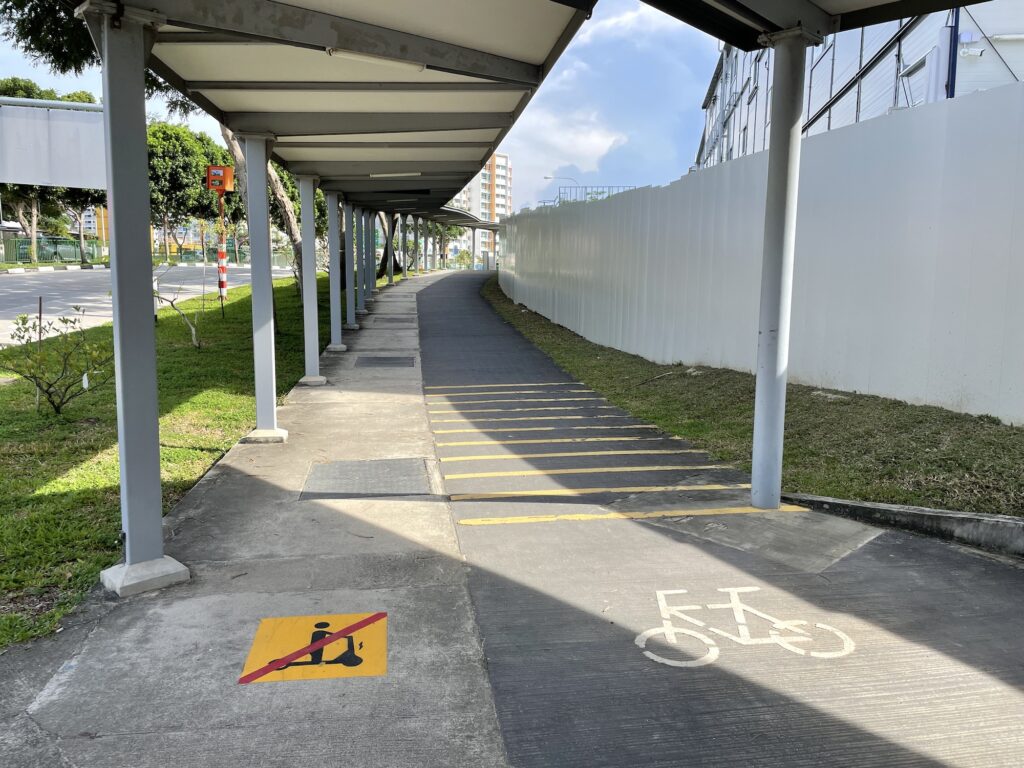 As for rules, you must wear a helmet if you're cycling on roads. You can't use a mobile phone while on a bike in motion. Front and rear lights must be installed and activated from 7 p.m. to 7 a.m. There are different speed limits like its 10km/h "jogging pace" on normal sidewalks versus up to 25 km/h on park connectors, which have clearly demarcated cycling paths. Cyclists must follow the Land Transport Authority's Active Mobility Act (AMA) or face fines.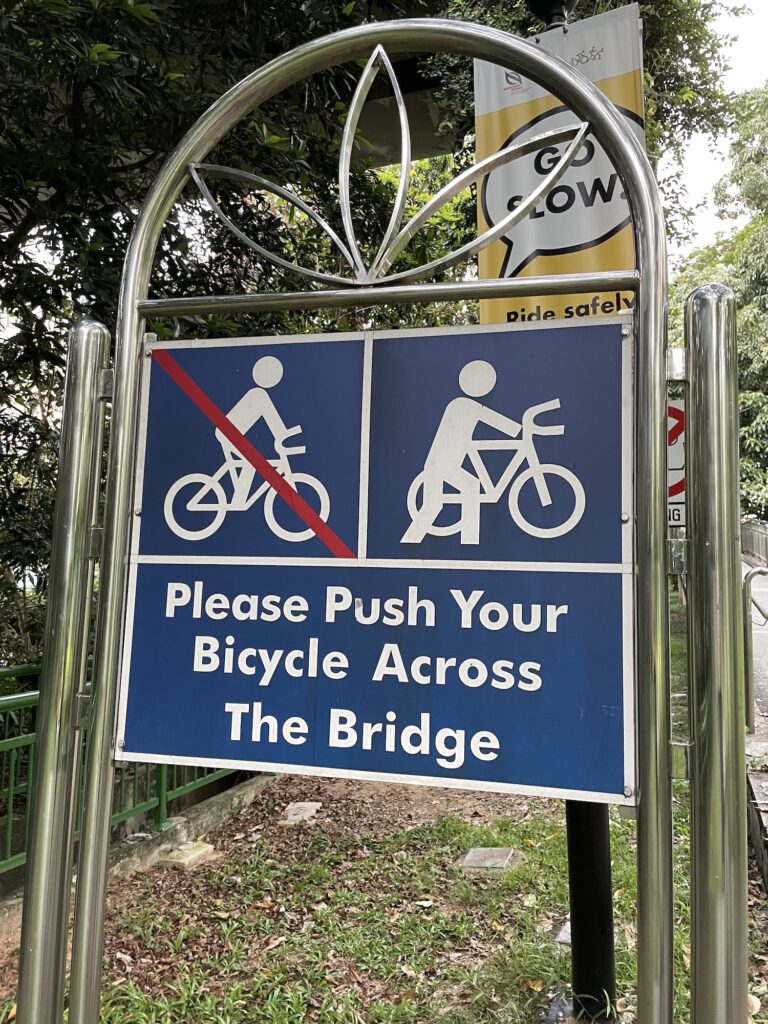 If you were to draft a bike itinerary for us, where would you take us around Singapore?
We'll start at Jurassic Mile just outside Changi Airport. We'll pass by dinosaurs and A380s to emerge at East Coast Park with a view of picnics, seafood restaurants, and cargo ships. Here you'll witness the city's park-loving vibe.
We'll enjoy a short pit stop for satays and lime juice at the East Coast Lagoon Food Village. We continue to ride west and chase the sunset. On the right side should be views of Singapore's HDB (Housing and Development Board) apartment blocks, which many Singaporeans live in. The Marina Bay Sands and downtown skyline will already be visible from here. 
The city lights only get bigger and brighter as we enter Gardens by the Bay East and loop around the Marina Barrage. This is what divides the open ocean from the calm water that fronts the city's landmarks. We pass by Gardens by the Bay, the ArtScience Museum, the "floating" Apple Store, The Promontory, The Fullerton Hotel, and conclude at the Merlion.
Congratulations, you've biked from the airport to the downtown area while seeing a great slice of the city.