The 2022 Ironman 70.3 Philippines is returning to Cebu with an all-new race course designed to challenge everyone
Photos by Samantha Ong and from Ironman 70.3 Philippines
Ironman 70.3 Philippines in Cebu is the longest running half Ironman distance race in the country. For almost a decade, it has been one of my favorite races and I've always tried to join every edition when I can. Not only is Cebu an attractive tourist destination where you can race then kick back and enjoy, the course itself is always something to remember.
In the past, we've seen various changes to the course. This year is no different; the new courses for the swim, bike, and run are the most radical changes yet in event history. In this race preview, we're going to discuss what to expect at the 2022 Ironman 70.3 Philippines.
Swim
For the first time, the swim will take place outside Shangri-La Mactan. However, don't expect any major changes as the new swim course is only a few hundred meters from the swim start we're familiar with. Taking place in Mactan Newtown, the swim will still traverse the same strait and we will probably experience the same conditions.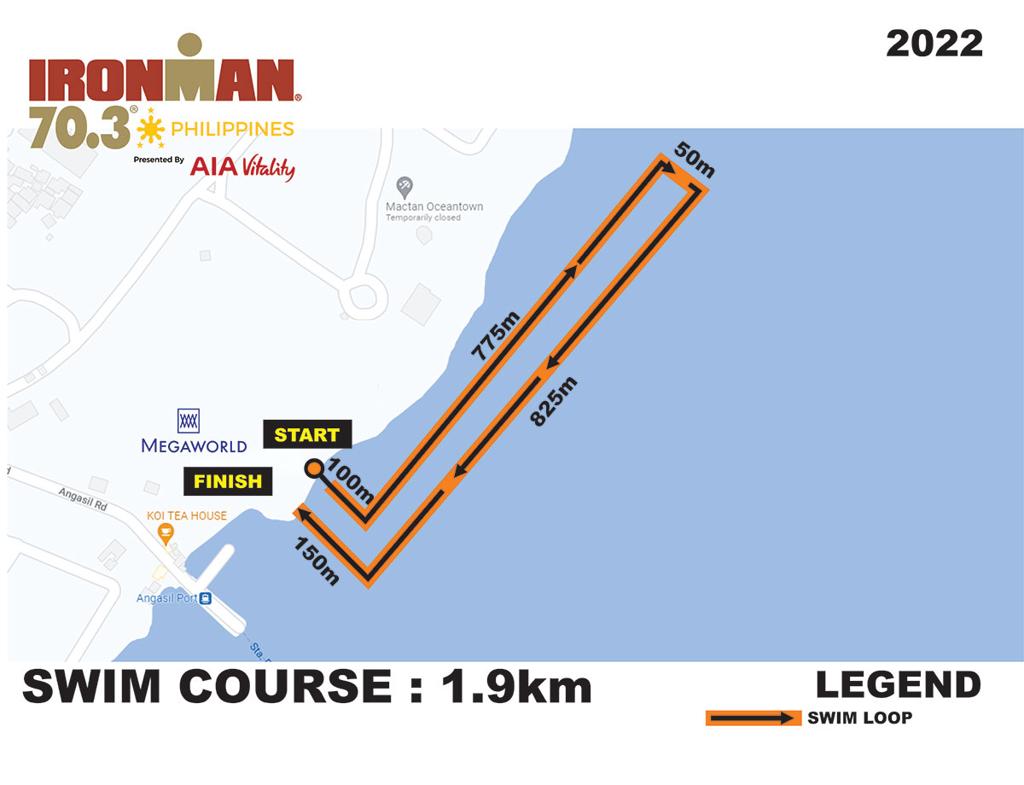 The swim course around this area is somewhat unpredictable. In the past, we've had instances in which everyone was blazingly fast because of the current. However, more often than not, we've had to swim against the current, which resulted in slower times than normal.
I've seen a lot of athletes try to squeeze themselves into earlier zones (even if they're not qualified yet) expecting to either have an easier time or more time to finish the race. I strongly advise against this for a number of reasons. First, you'll slow down faster swimmers and risk getting pummeled. Second, an earlier swim time doesn't automatically mean you'll be faster because of the current. We've had races where those positioned in the middle or end of the pack were helped by the current.
Lastly, your swim cut-off time is dependent on when you start the course. In fact, the cut-off time is based on when the last swimmer begins. This means you'll still be disqualified even if you start in Zone 1 but finish past the cut-off time of 1:10.
My tip for the swim course is to work on maintaining a steady yet strong effort for the long sections of the course. Don't go too hard too early and instead work on building up your pace as you traverse the course. Sighting isn't generally a problem (if you're a right side breather) as you'll swim in a clockwise route. Nonetheless, aim to sight every six to eight strokes as this will help you avoid zigzagging in the open water.
Bike
The bike route makes its way along the newly opened Cebu-Cordova Link Expressway (CCLEX) towards South Road Properties (SRP). This has a few repercussions for participants and non-participants alike. First, we will no longer need to pass through the main road going to the airport and this will largely decongest traffic on race day.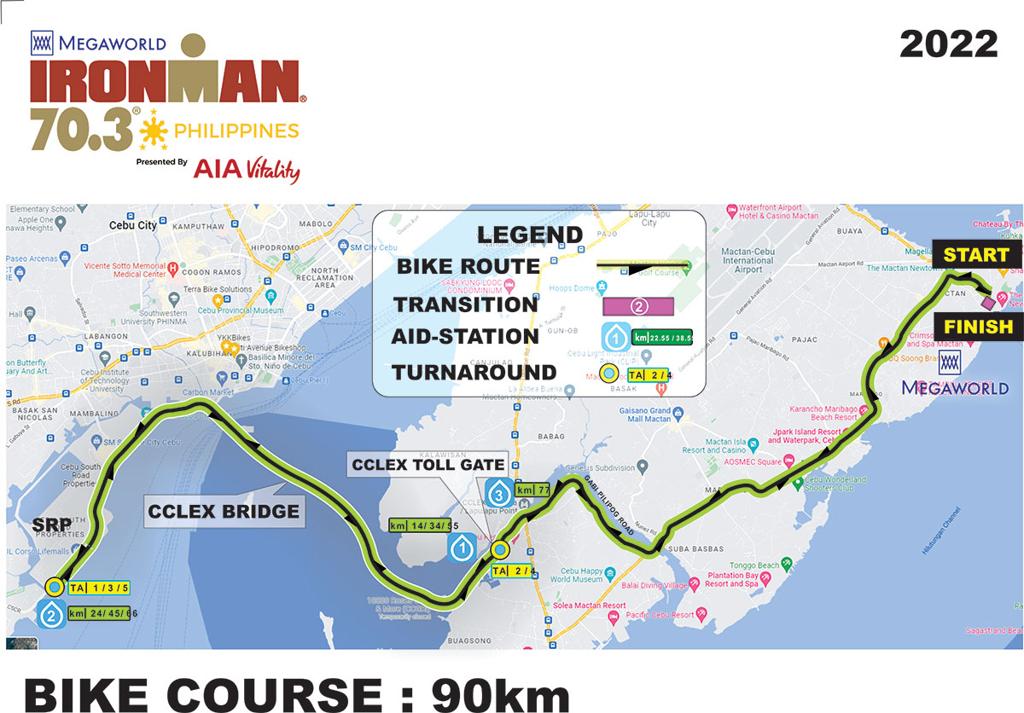 Second, we'll need to pass through smaller back roads towards CCLEX and this means more crowded areas with spectators. A few tips: Take extra caution especially with all the people lined up and don't forget to bring a flat repair kit as I've seen a lot of people suffer flats on similar roads.
Once you make your way to CCLEX, forget about the M-Loop of years past and instead remember that you'll have to do this part of the course three times. This is the first time CCLEX will be used in this race so I don't have any experience about it. However, talking to race organizers and a few local athletes, expect the following: lots of crosswinds, a steady ascent, and smooth paved roads.
The winds in Cebu are nothing new. The SRP has always been a "wind tunnel" and would surely test your calmness and handling skills. This year takes it up a few notches since the bridge is elevated and above water.
This means you'll experience stronger winds but is mitigated by the fact that roads are a bit wider than before. Stay on the right and don't hog the middle; this will prevent any untoward incidents.
The other obstacle we must overcome is the climb on the bridge. GPS data suggests it has an average gradient close to four percent and peaks at around seven to eight percent. This is by no means a difficult climb but it will definitely test your fitness and leg strength. Just make sure you're able to shift your front chainring properly as you'll probably need to use your "granny gear" more often this time around.
Lastly, since the roads are newly paved, the asphalt is said to be top-notch. This is definitely a welcome change as rough roads are slower and less friendly to our bottoms.
Run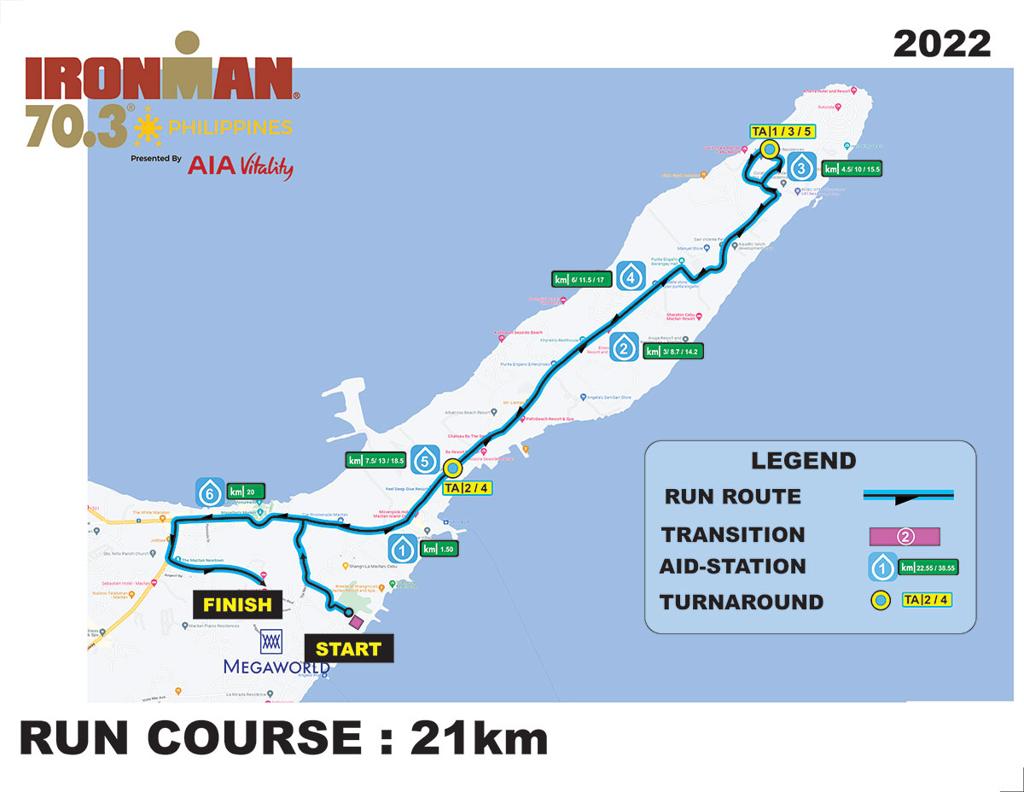 The run takes place along the familiar and spectator-friendly Punta Engaño Road. This year though, having crowds of spectators is not encouraged for health reasons. This route seems to be a bit easier as the "microwave" portion (the stretch of open road towards the end) of the run course has been omitted.
Most of the run will take place in relatively shaded parts with the exception of the Amisa run loop—a hot but manageable loop. Sunrise Events always does a great job of keeping the hydration stations well-prepared but don't forget that you should bring your own nutrition throughout the race. The run course consists of two loops and finishes in the heart of Mactan Newtown.
Once you cross the finish line, one thing will definitely resound with you: You just completed one of the best races in the Philippines—and maybe even Southeast Asia. Let me assure you, a few hours later (once you've recovered), you'll be itching to sign up for next year's edition.
Have some training questions, feedback or suggestions for future articles? Drop a note in the comments section below or on Facebook, Twitter or Instagram. You can also get in touch with Don directly here.