Record-breaking Filipino pole vaulter EJ Obiena reflects on the wild roller coaster of a year as he sets his sights for 2023
Photos by Pat Mateo | Grooming by Dorothy Mamalio | Creative direction by Nimu Muallam | Shot at PhilSports Complex
It's eight in the morning, and it doesn't feel like October.
The sun hasn't yet risen as high as it always does, but it's already stifling, and it's about to get worse. The setting for this morning is the manicured and warm track oval of the PhilSports Complex, where highly conditioned athletes are already doing their thing in the heat. It will rain later, but for now the skies are clear enough for the sun to fully shine. Meanwhile, we're here because we're about to meet record-breaking pole vaulter and Olympian Ernest John Obiena.
Yes, that EJ Obiena. The one you've heard so much about on the news—about both his pole vaulting and, more infamously, a bitter feud with the Philippine Athletics Track and Field Association (PATAFA) regarding a bogus case of embezzlement involving funds meant for his Ukrainian coach Vitaliy Petrov. The dispute has since been settled in Obiena's favor earlier this year, and since then he's been free to focus on his quests for glory.
Ironically, however, today is not a day in which Obiena is seeking glory. No, in fact he's back in the Philippines for some well-deserved rest following the end of his impressive 2022 season. You know, the year in which he became the first Filipino to medal in the World Athletics Championships in the US last July, and broke his own pole vault record by reaching 5.94 meters in the event.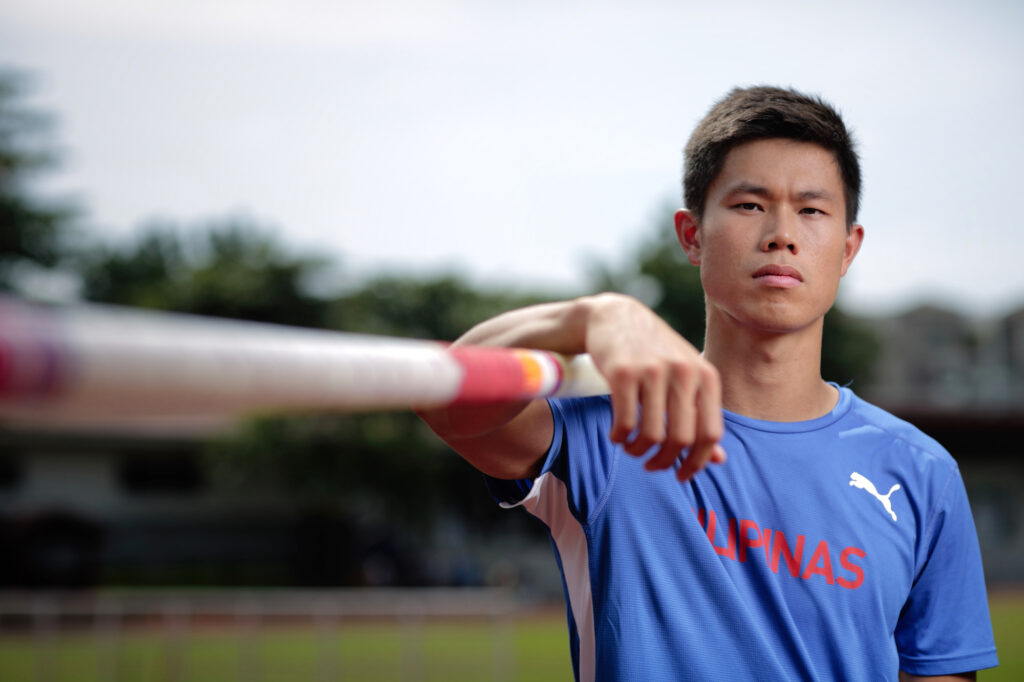 We're actually shooting him on the last day of his break here at home. He hasn't trained in a month, and he admits that tennis is all the physical activity he's been up to since his return. Even though we've made him do a few jumps for the camera, he needs to protect himself, for he will need all the good health he can muster for next year. The next day, he flies back to Italy to begin preparing for 2023.
"I'm exhausted," Obiena admits, after the shoot is done and we're finally relaxing in the shade. He's quiet and soft-spoken, but he speaks with certainty and a considerable amount of wisdom—after all, he has gone through and learned a lot.
Even though it seems the jumps he's doing today are just "casual" heights for him, it's downright amazing to see him do his thing up close and make the astounding, gravity-defying leaps that made him famous. To the untrained eye, the way he launches himself with the pole (which I found out is just a light and long stick of reinforced plastic) and pushes with his core to gain the extra height needed to clear the bar is indistinguishable from magic; because he makes it look so easy, it comes across like jaw-dropping acrobatics from a wuxia martial arts movie. It's enough to remind anyone witnessing it that oftentimes, sports truly are an art in itself, and the athletics are what get us hooked.
But it's not the exertion that's got Obiena tired today; rather, it's the change in his reality after the year he's just had.
"I'm still really trying to enjoy the past few weeks, because I already know I'm going to be dying in the next few days from the training my coach is preparing for me. I think I'm not yet used to all these—by that, I mean people who recognize me, people who ask for photos. It's not the same as before, when I just walked around.
"I'm not saying it's a bad thing, but at the same time, I need to learn how to prepare, adapt, and adjust," he says.
To be the best is all in the mind
Obiena has come quite far since his admittedly dismal performance at the Tokyo 2020 Olympics. He only managed to place 11th in the pole vault, and while he still made it to the finals, he was unable to place in the podium at all.
"I felt like I crumbled on the biggest stage," he says of that moment. His tone doesn't really change into anything dramatic or wistful when he talks about this; it remains the same level-headed, matter-of-fact voice. He's likely already processed it and put it behind him—it has been more than a year, after all. "And I didn't know what was happening. At the end of the day, I blamed myself for that failure. I needed to prove to myself that I can compete at the big stage, where everyone was there and everything was on the line."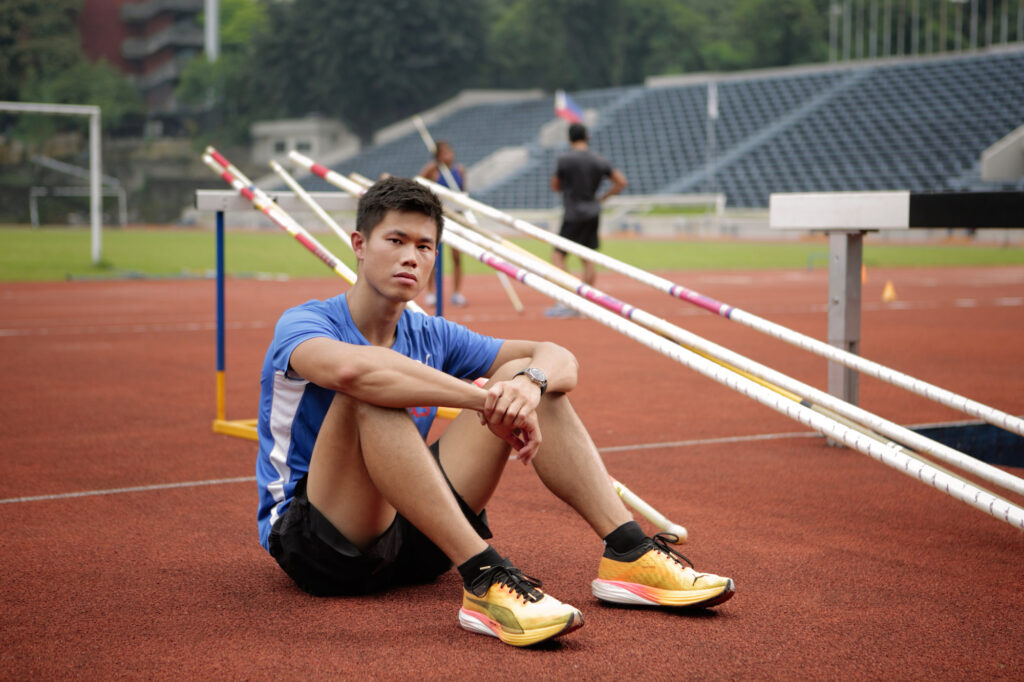 All of those doubts were washed away, however, when he medaled and set the record at the World Athletics Championships last July, which he called his sweetest win following the failed Olympics campaign. Not only was it vindication from the domestic issues with PATAFA that hampered his career in late 2021, but it was also vindication for the Olympics.
"Yeah, you can say it was vindication for myself, that I can compete with the best in the biggest stage in the world. And it's all a matter of having the right equipment, the right timing, and the right conditions," he continues.
Now, he and his coaching team are moving forward by figuring out the game plan for 2023 and beyond. There are still goals to finalize—they're currently deciding whether they want to gun for more wins, major championships, records, or simply build up for the Paris 2024 Olympics.
In order to carry out his campaigns, he gets world-class coaching and conditioning from the best in the world. But another big part of the support he gets is through working with a sports psychologist, who helps him get in tune with his mind before, during, and after gametime. Through therapy, Obiena is able to process everything he's feeling and use it to be as consistent as possible in the future.
"It's more on how I read myself during the competition," he says. "How am I reacting to the circumstance? How am I approaching the game? How am I before the competition? How did I feel, and what was the outcome? I think those things are important to better understand myself, and how I deal with pressure, with not having competition, with having terrible performance, feeling tired, and feeling good.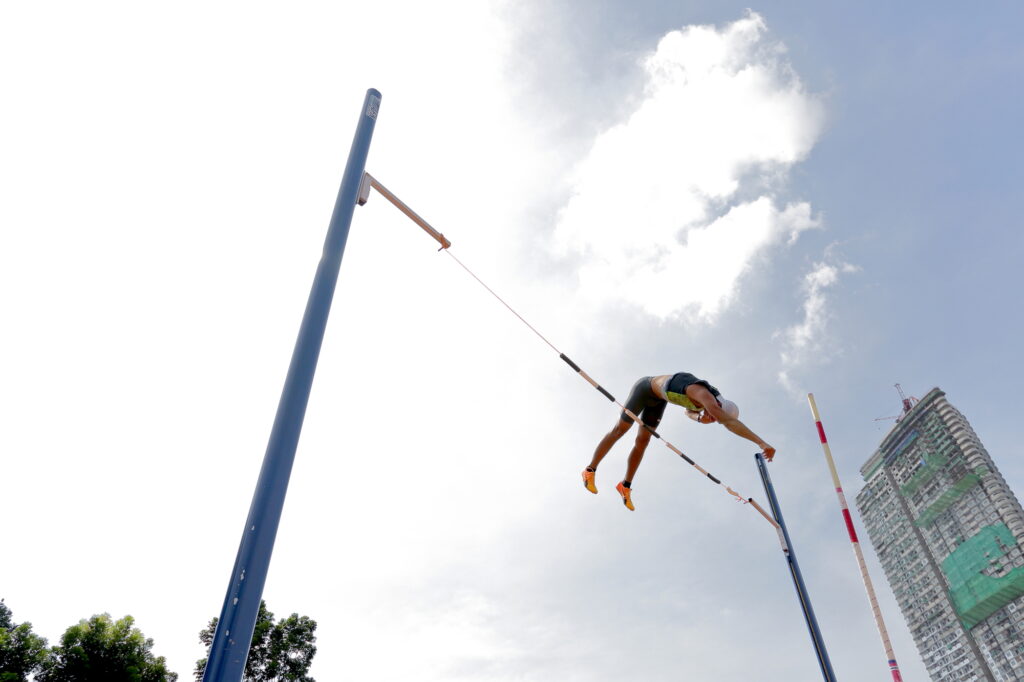 "My sports psychologist is not just a sports coach—he's also a clinical psychologist, so he told me that to be the best EJ Obiena as an athlete, I need to be the best EJ Obiena as a person," he says. "Therefore, I need to fill all my buckets: my energy, my emotional energy, my spiritual energy, mental energy, all of these things are important. And I should not be neglected."
Despite all of the mental and emotional care Obiena gives himself, he still allows himself to feel the pressure and wholeheartedly embrace it, as it eventually leads him to do great things. Even though it doesn't make anyone any less of an athlete, others could fold and choke under that kind of immense pressure.
"Feeling pressure is a privilege," he notes. "You only feel pressure when something great is expected of you. It's a privilege to be in a place where you're about to do something historic. It's an opportunity for you to make your mark in the world. It truly is a privilege to be representing the country, and with that comes the pressure."
For EJ Obiena, sport is not everything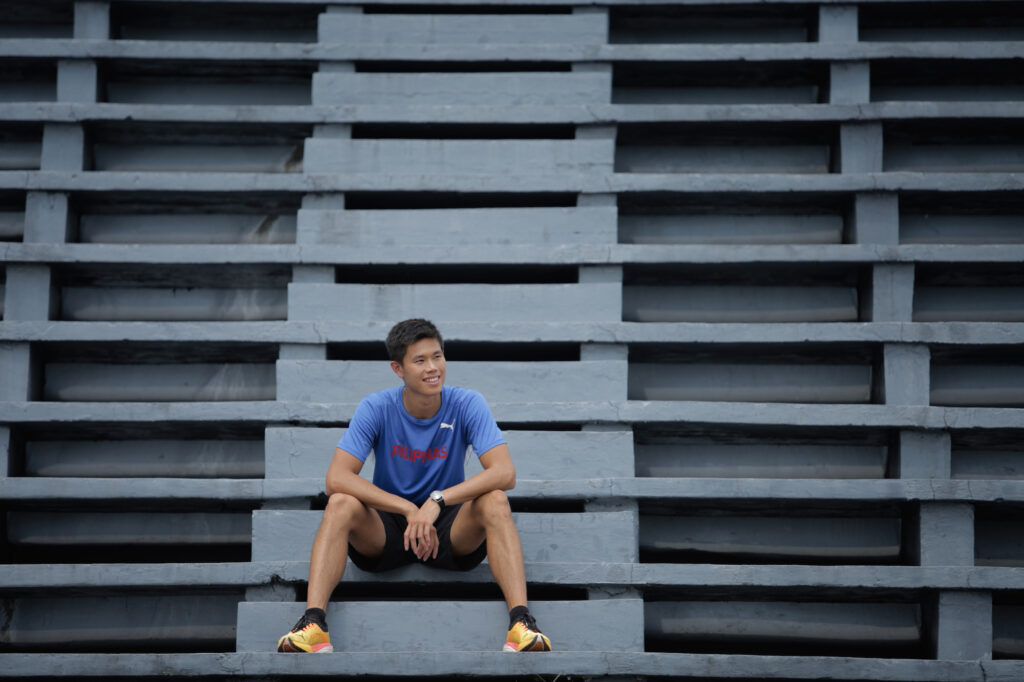 Obiena is 26 years old. That's young, but actual scientific research has measured the data and concluded that the peak years of track and field athletes are between 23 to 28 years old. If that science is at all accurate, then he has to be already thinking of an exit strategy once he's done everything he wants to do.
"I don't know [how many years I see myself competing at peak level]," he says. "I'm not here for the long run. I'm here while I can win, while I can represent the country to the best of my abilities. But the moment I feel like it's time to move on, I've faced that door before. I'll open it wide and welcome it. I think I'll be ready to move on when that time does come. But I can't say a timeline; I'm gonna be here until Paris, focusing on what I can do to hopefully bring a medal back home."
It turns out that there is already a Plan B. There's still an electronics engineering degree that Obiena has left unfinished in the University of Santo Tomas, and he'll go back to get it once he bows out of pole vaulting.
He admits that even though sport is his passion and what he wants to do, sports is not really a job. "I understand that sports are not everything. This is not my job. People will say, 'Oh, this is your job.' I need to get paid more, because I'm doing way more than I'm getting paid for," he says with a laugh that betrays a hint of disappointment and resignation.
"But this is my passion, and this is my opportunity to make history. This is my chance to impact the lives of future generations, and hopefully open the doors for kids as well. And that in itself is enough for me to do all the things that I do, right?"
Obiena's daring is the result of one of the things he's learned over his many experiences, which is to not be a pushover, even in the course of avoiding conflicts. It's better to be a warrior in the garden than to be a gardener in the war, he says, justifying how he stands up and speaks up—of course, in a respectful and well-mannered way.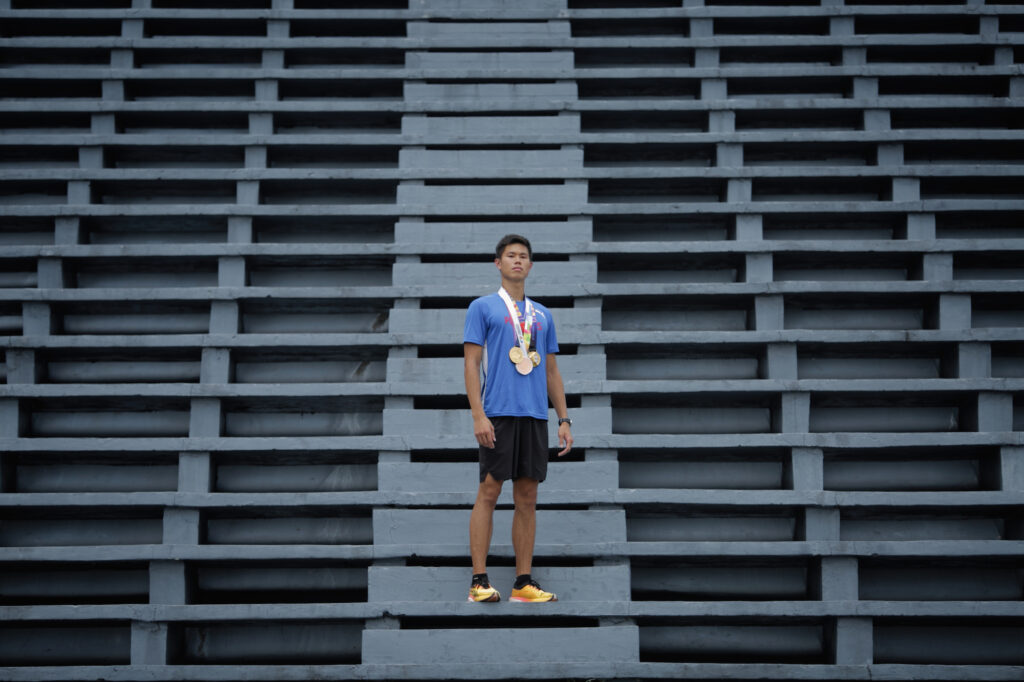 Our conversation is brief—the Olympian is in great demand, especially on the day before he's set to fly out—but I feel that he's gotten a remarkable load off his chest. He's respectful of the interview, though, and makes no motions, even subliminally, of hurrying it up. Totally awed at the things he's had to go through, I ask him if everything that's happened so far is anything he's ever dreamed of at all.
"I never dreamed to be known," Obiena admits. "It's not my thing. I just wanted to win, just wanted to be the best athlete I can be. And then, all of a sudden, my values and my traits were challenged. The whole thing, the whole being in the league for a really long time, not being with my family, all that kind of made me the man I am now. And I think I can stand on my own two feet."
"But I never thought about it in a million years. I think that seeing you guys, doing all of these shoots, inspiring kids, having that capacity to do what I do is truly daunting and scary because I can make mistakes—and at the same time, it's amazing where I'm at now."
Special thanks to Atty. Guillermo Iroy and Charlie Esquivel of the Philippine Sports Commission, Vania Padilla-Edralin, and Nikko Huelgas