Goodbye lazy weekends, hello Hilltop's rolling hills
By Jose Martin Punzalan
We normally feature cycling routes that run through primary transport roadways. This time we ride to a remote location that goes through a dense mountain woodland ending down a beautiful river valley. It involves some steep climbing and a bit of off-road riding. Nevertheless, mountain bikes are not required.
Generally referred to as "Hilltop," this area in Norzagaray, Bulacan is popular among bikers for its challenging climbs and bike-accessible natural attractions. The path through this remote area is fully paved, although there is an optional bit of dirt trail at the end.
To reach Hilltop, just ride the length of Quirino Highway from Quezon City to Norzagaray. Remember that this highway is a common passage for trucks and buses so always ride vigilantly.

Elevation Map
Using SM Fairview as a starting point, you will reach the Norzagaray welcome arch after 18 kilometers. Another kilometer and you will come upon a roundabout near the Norzagaray Municipal Hall. The main road turns left from there but we continue straight into the mountain and onto the first climb.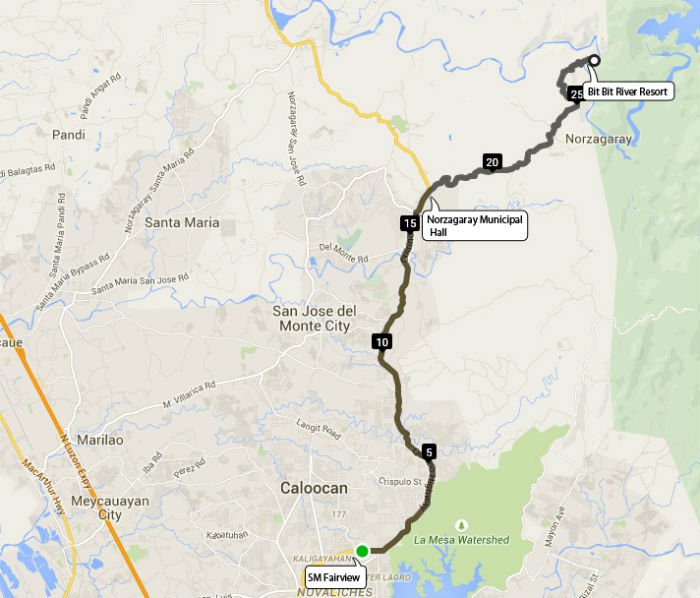 Route Map
Classified as a Category 4 climb, it stretches for three kilometers on a five percent average incline. Continuing on, the road eventually forks into two upon which we go left. The surroundings will noticeably change with thicker flora and less artificial structures. Soldier on through this undulating path until you come upon a military checkpoint. From here, the road drops down a steep and twisty descent.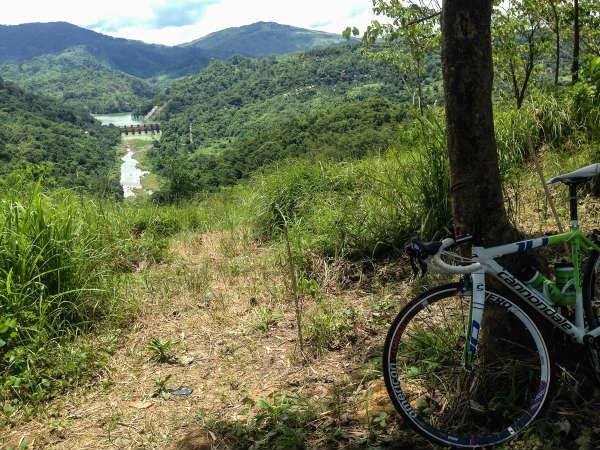 The Ipo Dam as seen from the roadside
Although the road is fully paved, it is not perfectly maintained so be wary of cracks, bumps, debris, and wet sections that may have slippery moss beneath.
Immediately at the end of the descent is the Bitbit River Bridge where you will find an astonishing view of the mountains and the river valley.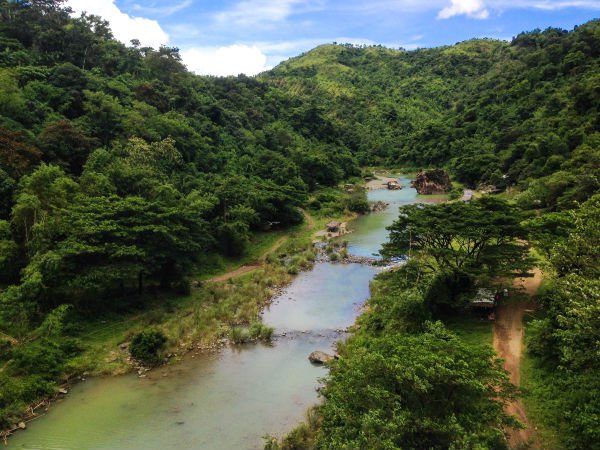 Rains the previous day caused the water to get murky
Before entering the bridge, you will notice a sign on the left pointing to a dirt trail leading down the river. When dry, this short trail is navigable even on skinny tires. Bitbit River is a popular swimming spot for tourists and bikers often go here to have a refreshing dip before riding back home.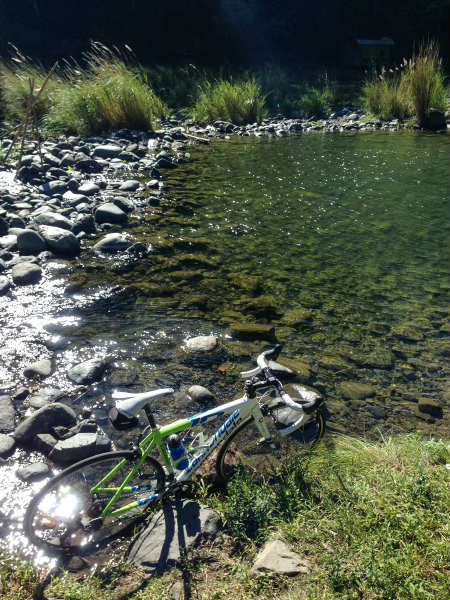 On warmer days, the water is as cool and clear as can be
The trail leading down the riverbank can be ridden on a road bike with careful handling. Don't fancy getting wet? Just stay on the bridge and recover as you enjoy the view. After the steep road you just descended from, there's no other way out but back up the same way. Although short at just 1.5 kilometers, it climbs at a painful 11 percent average gradient.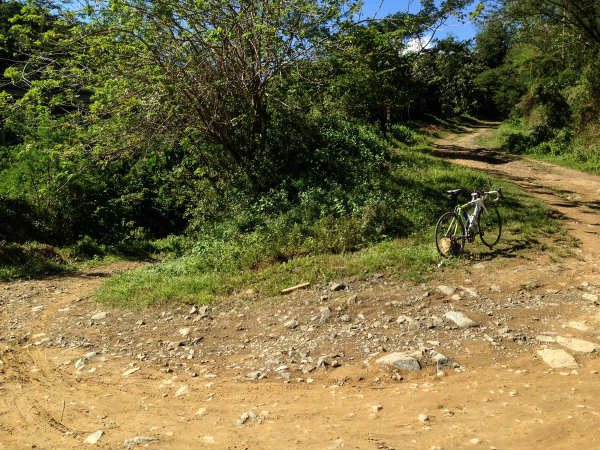 The only way out is back up through that forest
The total one-way distance for this ride from SM Fairview to Bitbit River is 29 kilometers with 498 meters of elevation gain.
The road still continues long but is blocked and gated across the bridge. According to the guard stationed at the gate, the area is off-limits to non-residents. I recently discovered that there are still some tourist attractions out there. I'll have to find out how to gain access and I'll be sure to share about it when I do.