Zwift is your indoor cycling paradise that has been changing the way we see and do indoor bike rides
Lead photo from Zwift
Where the hell is this place, you ask? Well, it's on a small island that is part of the Solomon Islands archipelago, located east of Papua New Guinea and northwest of Vanuatu.
Why feature a place on a remote island in the middle of the ocean? How are we even supposed to get there? We get there by playing Zwift, the revolutionary indoor cycling video game that may very well change the way we see and do indoor bike rides.
The gameplay experience
The Zwift gameplay is simple. Instead of pressing buttons on a keyboard or a joystick, players spin cranks on an indoor cycling system to get their avatar biking through a virtual cycling paradise. Just pedal your bike to get going.
Watopia is the game's fictional locale and it has a rolling bike course running through it, consisting of a 9.1-kilometer loop with appointed sprint and climb sections. There are two sprint sections: one is midway through the course and another at the start/finish banner of the loop.
The climb section is a steep 900-meter stretch on a five percent average gradient, reaching up to a maximum of 11 percent. The ride experience will vary depending on your indoor bike setup, but the game does its best to make it feel as real as possible.
You also accumulate points as you ride to eventually unlock more customization options for your game avatar. These include clothing kits, bike frames, and wheel sets. The game beautifully recreates real-world frames and components to make it not just feel but also look authentic.
Fancy riding the new Canyon Ultimate CF SLX or the Trek Madone 9? On full Campagnolo Record or Shimano Dura Ace components and Mavic Cosmic CXR60c or Bontrager Aeolus 5 wheels? If only it were this easy to acquire new bikes.
There are also various sorts of in-game achievements that offer more points or unlock even more content such as completing a century distance ride, sprinting past 800 or 1,000 watts, and drafting for 15 seconds. There are even sprint, KOM, and fastest overall course time jerseys up for grabs to make the experience more competitive.
What you need
Zwift can be played across a range of indoor cycling setups, from smart electronic trainers to classic manually controlled ones. Check the website for more details about their recommended equipment and accessories. Essentially though, the most immersive setup is with the use of smart trainers such as the Wahoo Kickr or the CompuTrainer because the game can automatically control these units' spinning resistance to simulate the changing road gradients or the effects of drafting and aerodynamics.
When using classic trainers, you will need to have either a power meter or a speed sensor. In-game speed is determined by power output over variables such as rider weight and virtual road gradients. Without a power meter, the game determines your virtual power, or zPower as they call it, through the speed sensor by calculating speed against the resistance profile of the trainer being used.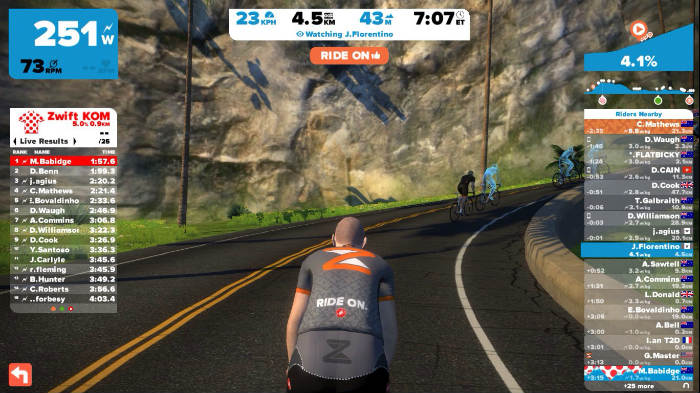 Even with a standard indoor trainer, you will still feel the weight of this steep incline on your legs because you will be forced to shift to a bigger, heavier gear in order to generate the power necessary to get up this climb
Note that all sensors and accessories have to be ANT+ capable. You will also need an ANT+ dongle in order to wirelessly link the sensors to the computer.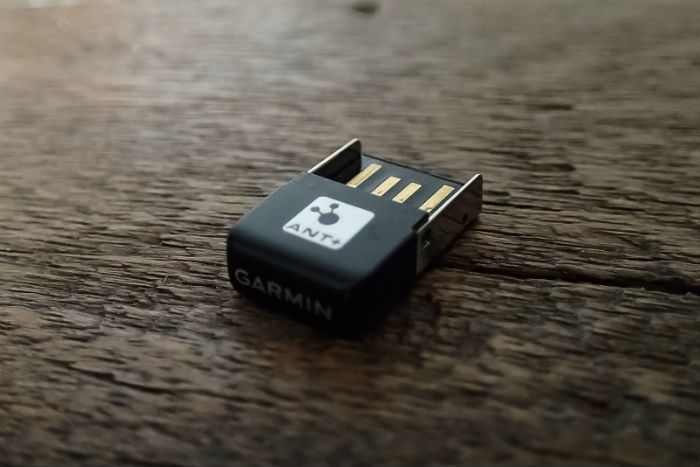 With all those in order, just download and install the game, sign up for an account, complete your rider profile, and pair your ANT+ devices to start pedaling away.
Strava integration
Like in real-world rides, your performance is tracked and can be set for automatic upload to Strava. Once uploaded, you'll notice on the map that the course is plotted on a small island in the middle of the Pacific Ocean. This is an actual existing island although it is improbable that it really looks the way it does in Watopia. There are also several Strava segments throughout the route to compete for KOMs and PRs.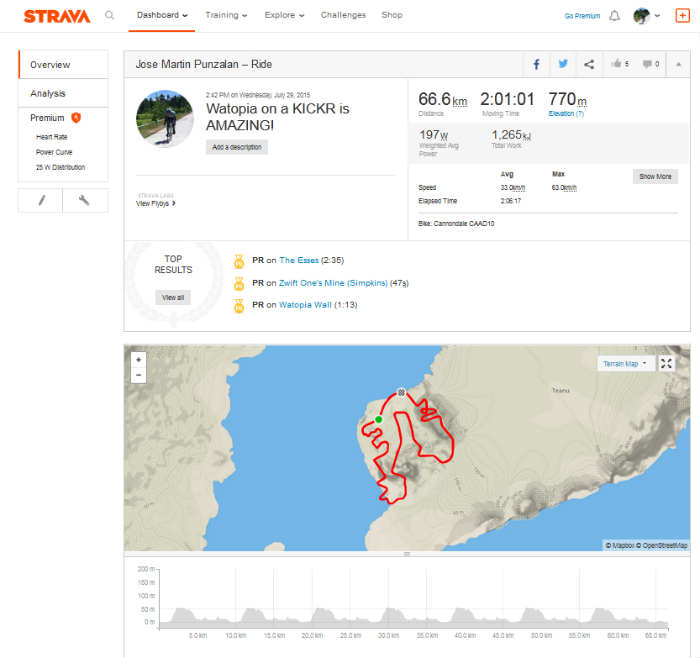 The game records ride metrics such as speed, distance, power, and elevation gain as well as heart rate and cadence with appropriate accessories. Its developers are still working on integrating similar performance tracking and analysis apps into the game but for now the ride performance files (in ".fit" format) can be found in the Zwift folder inside the Documents folder for manual uploading.
The social aspect
Zwift is basically a game that recreates the outdoor riding experience indoors. Except for Zwift being presented in modern computer gaming graphics, these features are not exactly new. Even without that sort of visual sophistication, there are other indoor training software such as Tour de Giro and Bkool that has long offered the same.
What truly sets the Zwift experience apart is its online multiplayer gaming aspect. When you log into the game, you simultaneously ride the course with people from all over the world who are also logged in. You might even chance upon professional world tour cyclists. Ride with them, race against them, or stay at your own pace–do whatever urges you to keep riding on.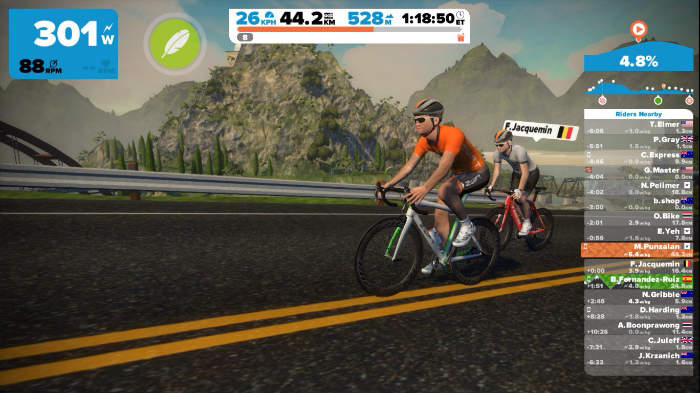 Further interaction is possible through the Zwift mobile app, which aside from serving as a secondary display unit for your performance metrics, is also a way to command your avatar to perform various cycling gestures and expressions.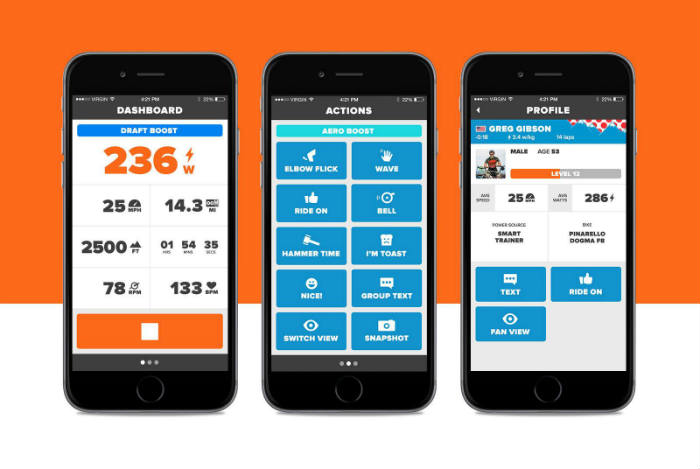 If keeping up with other players becomes either too difficult or too boring, look for Zwift bots riding at a pace you are comfortable with. These are game-generated ghost-like riders that ride at different speeds so players of different fitness levels can always have "someone" to ride with.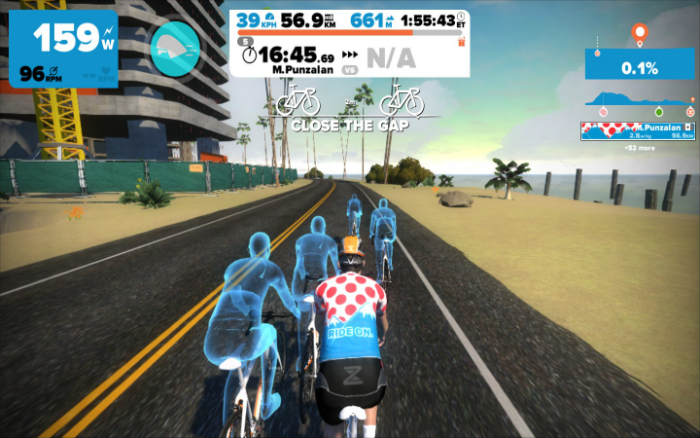 An active internet connection is also necessary for logging into your account and for riding with other players. Your ride will not get interrupted should you lose connection mid-ride. Other riders will just disappear temporarily and reappear as soon as your connection is restored. An option for offline riding is in the works nonetheless.
Training in Watopia
More than just for playing, Watopia is actually a great venue for quality training. Power through your pedals as hard as you can. Nothing will interrupt your ride and you don't even need to worry about crashing. With two ANT+ dongles, you can overlay other training programs such as Trainer Road or PerfPro with Zwift to turn your virtual ride into a structured training session.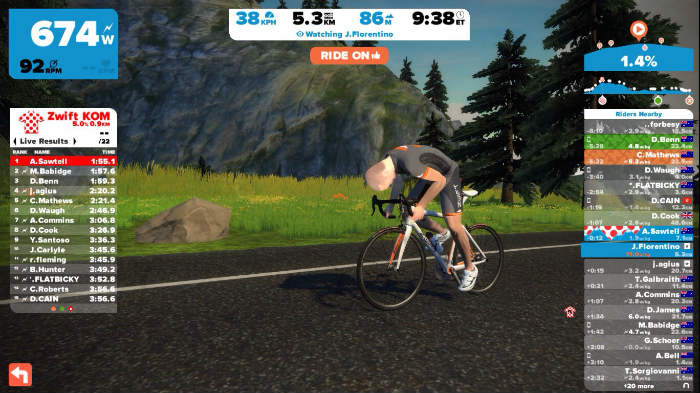 What more to expect
The game officially ended their PC beta phase in 2015 and the mobile beta phase in 2017. Initially, the game was free of cost but now, they have a $10 monthly membership fee. If you want to give it a try, the app is free to download with a 50 kilometer or two-week free trial (whichever ends first).
It comes with nine variations of the Watopia course that's customizeable, so you can change directions if you come across an intersection in the routes. There's also in-game training workouts and plans designed by professional cyclists Marco Pinotti and Chris Carmichael.
Have a ride-In
Outdoor riding is not always convenient for most people and indoor training easily becomes a chore. Zwift was introduced to make indoor cycling look and feel like an outdoor ride, thereby making it more enjoyable and appealing.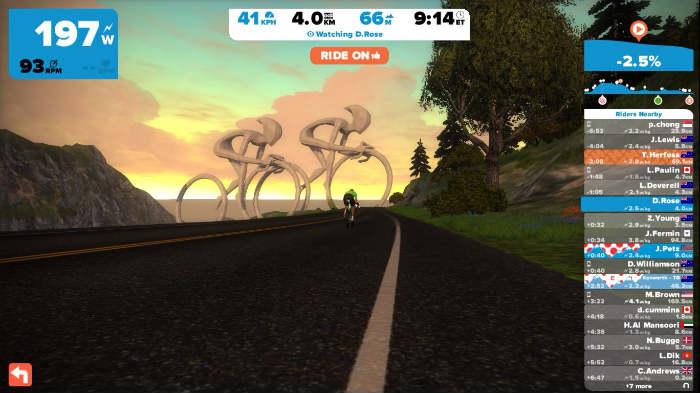 Eventually once the game's popularity fully kicks off, there could be moments in which we invite fellow riders to have a ride-in instead of going on a ride-out.
Learn more here: