Bukidnon's countryside turned government worker Lezette Albarote into a full-fledged triathlete. But, Albarote says, she's not keen on a pro career
Photos courtesy of Herbalife
Anyone who bikes or, at times, runs a hilly 40-kilometer trip to work every morning deserves a crack at triathlon.
"Minsan I'll get dropped off closer to my work sa bukid and then I'll run," says Lezette Albarote, a bubbly ball of spirit hailing from Cagayan de Oro. "My biggest advantage is my workplace because it's high altitude and it's near my home where there aren't any roads, allowing me to train anytime. Ang hirap dito sa Manila you have to travel two hours to train."
But it's not as if Manila traffic will be able to stop Albarote from going all-out in her training or races if ever she decides to relocate. For now, she's taking everything she can get from what the Mindanao countryside can afford her—including work colleagues in the Baungon, Bukidnon municipal hall who, despite their unfamiliarity with the sport, keeps this talented triathlete firmly rooted in the ground.
How did you get into triathlon?
It was by accident when I fell for this sport. Wala talaga akong plano. Gusto ko lang for fitness. I started playing badminton right after I got married. I liked it because I can do it after work and you can meet people. But when I started working in the government, badminton became a 'disadvantage' because people played late and you need three other people. That's when I started running.
All you need is yourself and your shoes. This was 2011. Lalabas ka lang ng bahay mo. You don't need any equipment. That's when I shifted to running. And I have this one friend who is also part of Team Herbalife who told me to try triathlon because it was the 'in' thing. Sabi ko nahihirapan ako mag-bike and hindi ako marunong mag-swim. And my friend was like 'Magpa-coach ka sa swim and 'yung sa bike sumabay ka lang sa'min.' They said you only need 10 straight sessions and you will learn to swim. But at the age of 35 parang nakakatakot 'yun. I'm not a good swimmer but I'm a confident swimmer.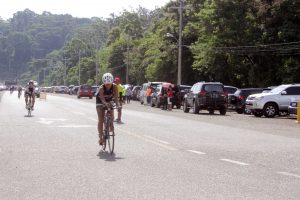 Coming from the countryside, will it be hard for you to relocate to Manila?
Yes, it will be. But I see the sacrifices of triathletes here who go to Nuvali and Subic to train.
What do your officemates say about what you do?
Sa work ko sobrang probinsya. Hindi nila alam 'yun. 'Nag-jogging ka na naman? Anong ginawa mo? Ang layo naman nun.' They're not really familiar with the sport and that actually keeps me grounded. Dun sa bukid where I work walang pressure unlike in the city. Sometimes it's good but there are days when you can't take too much pressure.
Do you have cheat days?
Yes after the race, usually junk food.
How did you prepare for Ironman 70.3 Cebu?
Races like this are considered A race for the year. All your trainings are directed to this one race of the season; preparation extends to months; loading your mileage of swim, bike, and run. This would only be possible if you take care of your body's nutrition. All your preparation will be put to waste if you get sick.
After being awarded as the Fastest Filipina Age Grouper for 2016 at Ironman 70.3 Cebu, what's next for you?
Ironman 70.3 Cebu races are always special to me because this is where I started to believe that I can compete. It also means extra pressure to perform and hope for a podium finish. Becoming a winner also demands that you develop the ability to handle pressure.
Triathlon is very challenging. It's an endurance sport as much as it is a mental sport. The strongest doesn't always win the race. It's the most clever who wins the race. Mental skills such as the ability to deal with setbacks and adversities during the race are important factors to win.
I am looking at joining races abroad, too. I would like to compete with the best in the world. The level of efficiency, strength, and competitiveness of foreign athletes are far better than what we have here in the local triathlon scene. I would like to be able to challenge myself and conquer international races. I intend to join triathlon races until I'm 80 years old. More than a sport, it's already part of my lifestyle.
Do you have plans of turning pro?
At my age, with my work and my son, I can't do that. You have to go full-time. The challenge is that I have a job. You can't do triathlon for the rest of your life. This is not really my life. I'm in love with the sport. I'm passionate about it but this is just part of my life. Iba ang challenge ng working full-time and competing at the same time.
So you could quit anytime?
[laughs] Yeah if my son is about to have a baby and he says bantayan mo 'yung apo mo!
What's your triathlon dream?
World championships in Kona of course.