Meet the promising youngster waiting to break through Manila's football scene
By Janica Balasolla | Photos by Patrick Segovia |Grooming by Pia Reyes of MAC Cosmetics
Much of 19-year-old Alfonso Gonzales' life revolves around football, but it doesn't mean he's missing out on anything at all. His fervor for the sport even fuels him to go the distance. Now that he's crossed over and entered a relatively new futsal team, he's determined to become better at it equipped with the knowledge and dedication to his chosen sport.
What got you into the sport?
I got introduced when I was 10 years old, and my brother used to play football then. I decided I wanted to play football when we won our first tournament back when I was in first or second grade.
So you're taking up HRM in your new school while being part of the varsity team. Is it difficult to balance academics and trainings?
I transferred to Treston International College, which is a fairly new team. They're not really a football team but a futsal team, which is played indoors and faster. At first it was difficult balancing academics and sports because you have exams and then trainings. Back in high school I used to play in the NCAA, which starts in January. Usually it's the third or fourth quarter of the school year that is crucial. You have to balance everything, but you'll get used to it once you've managed your time well.
Do you have a particular training routine?
I have, and the most intense one was back in freshman college. When I was in Emilio Aguinaldo College, I'd wake up at 3am so that I could be in Manila by 4am. As rookies, we have to fix everything before training so we prepare the equipment, the balls, and the lights. We have to jog earlier than the rest of the team, too. Training starts at 5am but we have to condition our team first. So we jog as warm-up from 4 to 5am, and once the seniors arrive we jog again. We do that for two hours, then we train. After that, I still have classes.
Has your impression of football changed since starting to where you are now?
No, I still see it as an amazing sport. Before, I used to just watch and it looked so easy to me. Since it requires team effort to score a goal, there are a lot of times when it gets boring and you see players just passing the ball around. But it's different when you're actually playing the sport. It requires stamina and coordination with the team so you have to think about the situation you're in.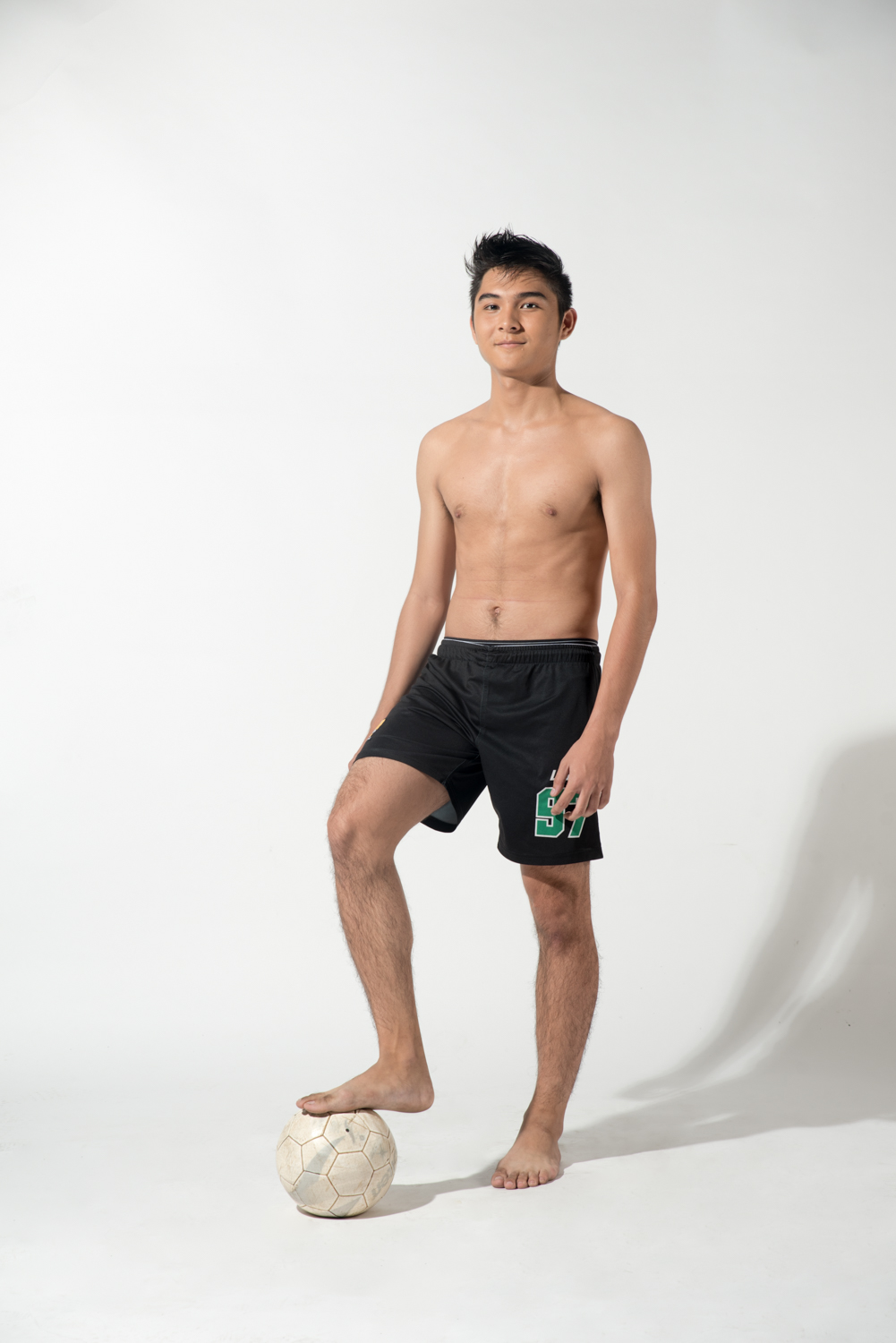 Who helps you out the most during training and games?
Definitely my coaches. I was more of an individual player back in high school, and I usually capitalize on that and beat my opponents. But football is a team sport and you have to pass the ball more often to other people, so most of the time I've had arguments with my coaches back then. At the end of the day though, you get to resolve the problem and follow your coach.
Have you ever experienced a slump in your football career?
There were a lot of times especially during training. Sometimes you just don't feel like playing because your teammates don't participate or training becomes too much of a routine and you don't feel challenged anymore. But then I get to the house and regret not training because it turns out, it's much more boring doing nothing at home. My teammates help me get back from the slump by challenging me and teasing me to do better. We tease each other to improve our skills; it helps you as a player and as a team because it's also a form of team building activity.
What is it about being a football player that a lot of people don't know about?
Football requires a lot more team effort than individual skill. If one does not cooperate then your team won't win the game. My coaches call football the "mother of all languages." It's a universal language since it's very popular around the world and people of all languages and nationalities bond together over this sport.
What's the advantage of young athletes like you in the world of sports?
When you're young, you have a lot of dreams and you're hungry to achieve goals. You always think of balancing things out and making ends meet. In other countries professional football players can fend for themselves just by being a professional player. Here in the Philippines, you need to have a second occupation because being a professional football player is not enough to be a full-time job.
Any advice to aspiring football players?
Feel and love the sport. Football relies solely on using your feet, so persevere because it's not going to be an easy lesson at the start. But it will be worth it if you like the sport enough.