Have you ever considered strength training? Studies have shown that strength training can improve your performance in cycling
By JB Mendoza | Photo by Robert Calin/Unsplash | Illustration by Sainte James Tan
The benefits of incorporating strength training include:
Improving force production needed for pedaling the bicycle
Improving muscle endurance
Reducing the risk of muscle tightness and injuries
Improving proper posture and body mechanics during cycling
In strength training, having a whole body workout isn't a bad thing but keep in mind that cycling focuses more on the muscles of the legs, hip, arms, and the core. Here are the benefits of strengthening these muscle groups:
Legs and Hip (i.e. squats with bands, leg curls, hip thrust, and butt kicks)

Usually used for pedaling the bike, these muscles can increase your speed and acceleration because of their improvement in force production.
It can also improve hip mobility.
It can help decrease muscle tightness especially on the outer thighs.
The Core and Abdominals (i.e. planks, bridges, sit-ups, and body twists)

It helps reduce workload of the legs especially during long rides.
It also improves trunk stability during cycling especially on long rides.
It promotes proper posture in riding.
 The Arms (i.e. triceps and biceps)

It improves one's mechanics for cycling, especially in using the handles.
It improves proper balance of the bicycle and helps with stability of the front half of the body during cycling.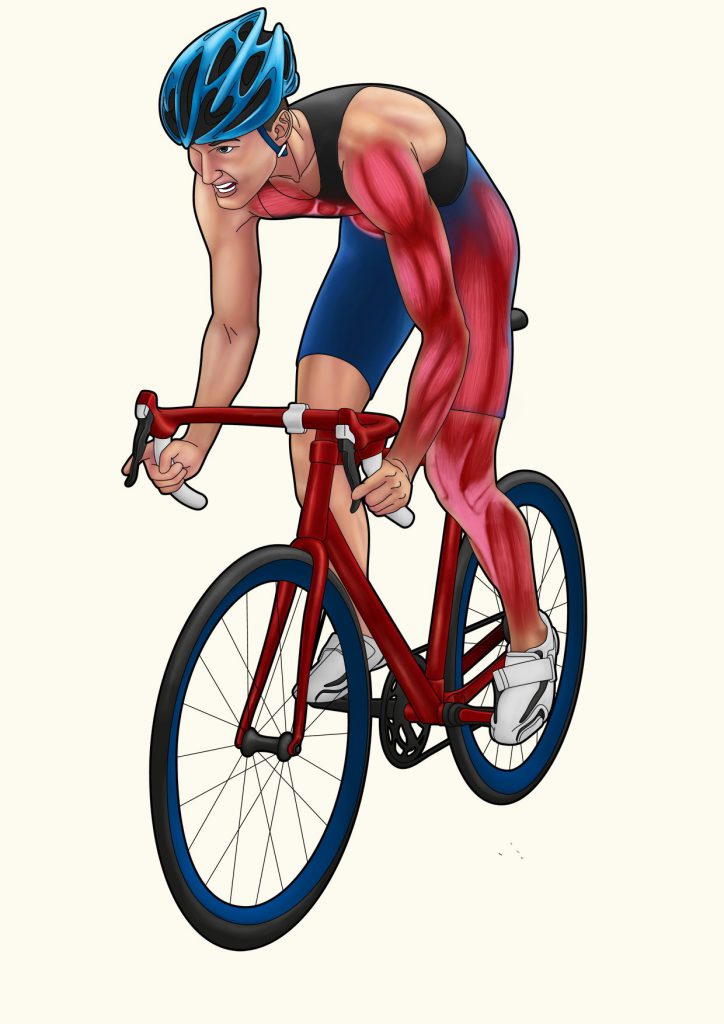 Sample Exercise Programs
Phase I (General Adaptation)
These programs are for cyclists that have less experience in the gym.
– Rest: 1 minute per set
– Light to moderate resistance is needed.
– Can be done two to three times a week.
– Equipment needed: dumbbells, barbells, physio ball, medicine ball
I.  Warm-up
II. Stretching
III. Resistance Exercise
| | |
| --- | --- |
| Lat Pulldown, Dumbbell Chest Press, Dumbbell Deadlift Alternate Lunges, Leg Curl, Calf Raises, Biceps Curl, Bar Push Down |  20-30 reps x 3-4 sets |
Core and Abdominal Exercises (3 sets/Circuit)
| | |
| --- | --- |
| Bicycle Crunches, Russian Twist with Medicine Ball, Planks on Physio (Core) Ball, Half-Bridges on Physio (Core) Ball | 30-50 reps; 30 secs-1 min; 30-50 reps; 30 secs–1 min |
Phase II (Muscle Strength)
These programs are meant for cyclists with more experience in the gym.
– Rest: 1 minute per set
– Moderate to heavy resistance is needed.
– Can be done twice a week.
– Equipment needed: dumbbell, barbells, physio ball, medicine ball, thera bands, ankle weights
I.  Warm-up
II. Stretching
III. Resistance Exercise
| | |
| --- | --- |
| Deep Front Squats with Thera Bands, Walking Lunges, Single Leg Curls, Dumbbell Chest Press, Barbell Rows, Single Leg Dumbbell Deadlift, Pronated Curls. Barbell Hip Thrust |  10-15 reps x 3 sets each |
IV.  Core and Abdominal Exercises
| | |
| --- | --- |
| Bicycle Crunches, Med Ball Curls-up, Rowing Twist with Barbell Plate, Butt Kicks on All Fours with Ankle Weights, Fire Hydrant with Ankle Weights, Physio (Core) Ball Planks with Arm, Saw Half-Bridges on Physio (Core) Ball | 50 reps; 30 reps each side; 20 reps each side for 30 secs |