From figuring out what to wear to packing the outdoor necessities, here's everything camping newbies should know
Photo by Kenneth Gaerlan/Unsplash
We all want to experience camping at least once in our lives. Yes, even if you're not the outdoorsy type, glamping could be your cup of tea. But that's an entirely different story. For some of us who know nothing about surviving outside urban comforts, it's going to seem pretty intimidating. So we asked our friends and came up with a list of things you need and the best places virgin campers can pitch their tents in.
Trekking outfit
First things first, make sure you have the right clothes. Whether a long hike or not, wear clothes you can get dirty in. Your clothes have to be breathable but durable at the same time. The weather can go from hot to humid—or hot and humid—so make sure to find the right clothes that can adapt to both. Choose moisture-wicking fabrics like polyester and nylon. Avoid cotton because it takes forever to dry and is a terrible insulator.
Trekking shoes
Wear shoes specifically made for hiking, not running shoes or sneakers. Running shoes have less traction, are too soft, and offer less protection when hiking. Hiking boots are made of tough materials meant for walking on rocky terrain and slick surfaces. The most durable ones are made of full-grain leather for rugged paths and long trips, but you might need to time to break them in. For shorter trips, there's split-grain or nubuck leather; both are more breathable. Split-grain is less water resistant, so nubuck leather is better for water and abrasion. It's made to cover your ankle too, so you won't end up spraining one in the even of a misplaced footing.
Tent set and sleeping bag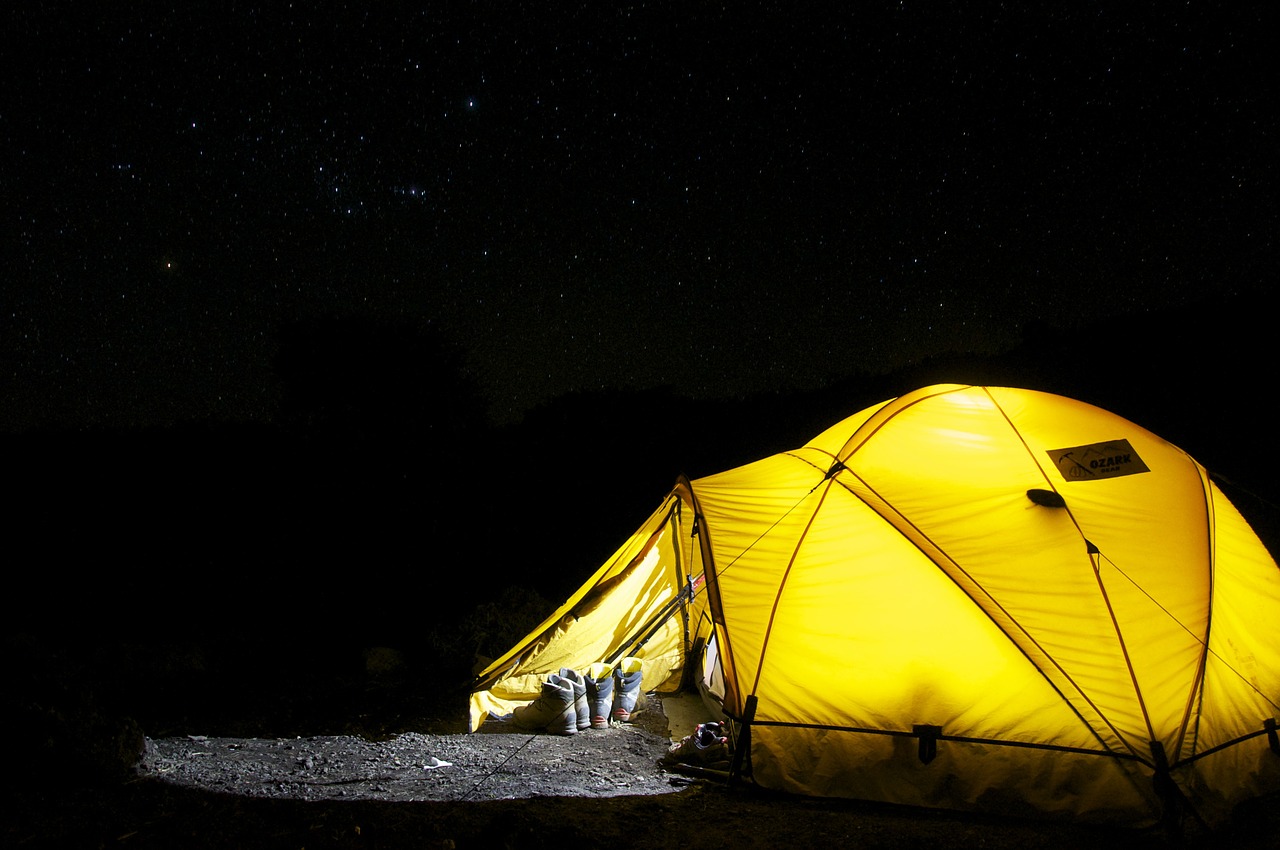 When picking out a tent, consider the number of people who'll be using it and how much personal space you're going to need. Canvas is usually a good choice of material over polyester since it's more durable and waterproof. Also, consider ventilation. If it doesn't have enough openings for proper ventilation, then you should probably get a slightly bigger tent instead.
Hydration bottle or bladder
When you're going out camping, you need a lot of water. But that's a pretty heavy load. Picking between a water bottle and a bladder depends on the person. Water bladders are easy to carry around because it's like a sturdy plastic bag, but it can get punctured if you're not careful. Water bottles might be a little inconvenient when you have to take off your bag to drink water every time you're thirsty. It's hard to estimate how much water you'll need because it depends on how long you'll be staying and how far you'll be hiking. Consider that you'll be needing roughly one cup of water every hour of hiking.
Cook set
A little pricey for some people but if you plan on enjoying the full experience, then you'll want to have this. These sets usually include pots, pans, sometimes a kettle, and a small stove. It's not like you're going to do gourmet cooking in the wild, so a basic set is enough if you're only camping for a short while. The cheapest and most basic set you can get is Coghlans, and the more expensive but popular ones are Kovea, GSI, and MSR. Cookware that are made of stainless steel and cast iron are durable but really heavy, so go with aluminum for camping purposes.
Swiss knife
When picking a knife, make sure it's light and durable. Consider the kind of blade it has because cheap blades need to be sharpened regularly and if you're thinking of using it for hacking sticks, then it has to be hard-wearing. It's better to find ones that have more than just a knife if you plan on being active or using it more in the future.
Lamps and lights
You can't just rely on your phone's flashlight. Even a simple LED flashlight is enough. Not everyone actually makes a campfire when camping and even so, it won't be enough to light up the whole area. Make sure to test out the light first. When picking out a good flashlight, consider the brightness and the distance. There are lights that have focused beams and ones that are flooded, meaning it has a fixed beam for general areas. Also, check its runtime so it doesn't die out while you're camping.
Where to Camp?
Now it's time to figure out where to go and thankfully, the Philippines has no shortage of camping sites.

Mt. Batulao

in Nasugbu, Batangas is popular location for beginners.

There are also beach camping sites in

Anawangin,

Zambales and

Pagudpud,

Ilocos Norte.

There's also

Palaui Island

in Santa Ana, Cagayan, which is a less common choice for campers. However, it was the location of the US

Survivor

season back in 2013, so that's something to consider.

Another popular choice is

Calaguas Island

in Camarines Norte, which is known for its white-sand beaches and stargazing.

If you want to isolate yourself from the cities, there's Burot Beach in Calatagan, Batangas.