Hidilyn Diaz's gold medal at the 2018 Asian Games is another reminder that we need to support as many sports as possible
Photos by Tristan Tamayo and Vincenzo Pinto/AFP
If you haven't heard yet, then you must be disconnected from the world, but Hidilyn Diaz, Olympic medalist powerlifter, won her and the Philippines' first gold medal in the Asian Games yesterday. Up until her win, our country's representatives have only managed to get as far as bronze in wushu and taekwondo. (Editor's note: On July 27, 2021, Hidilyn Diaz made history by winning the Philippines' first gold medal at the Tokyo 2020 Olympics)
With this historic achievement, she topped her already awesome performance at the 2016 Rio Olympics where she won silver in her division. And it'll hopefully encourage even more women to start lifting because lifting heavy is, well, awe-inspiring.
Anyway, Diaz's monumental victory is an excellent time to remind everyone in the Philippines—from the sports fans to the government—that basketball isn't the only sport we're good at. Yes, we're going there, because even though our national athletes have been busting their butts trying to make us proud, everyone's only tuned in to the men's national basketball team. While volleyball and football are on the rise in varying degrees, it looks like no one is ever going to dethrone basketball as the unofficial national sport.
Not that we're asking you to take your mind off basketball. Our cagers are phenomenal athletes, and the majority's passion and fervor for the sport means there's always an upsurge of support the teams can draw on to help them succeed. The fact that we're a basketball-crazy country enables individuals such as Manny V. Pangilinan to spend on their development and gear. But there are so many other sports out there with so many of our countrymen giving it their all (or more), that it's almost unpatriotic if we don't find a way to support them too.
It's not just about awareness but also a real need for systemic support from the government—you know, the people who are actually mandated to make sure our national athletes do well when they're representing us. In comparison, other countries in Southeast Asia are pouring in billions to develop their athletes, while we're only spending a fraction.
Even then, our government is fumbling for one reason or another; there are stories of the Philippine Sports Commission (PSC) not prioritizing team sports and athletes by either politicking or simply not allocating funds, so if Filipinos are hardly winning abroad, we can't exactly blame their skills.
Unfortunately, it's natural that the country would support their athletes if the athletes themselves are doing well, so it is up to the system to develop them into world-class contenders. We are however seeing small steps toward changing the status quo: A bill seeking to create a dedicated Department of Sports to provide support and funding for Filipino athletes could be a game-changer. Still, we can't wait for businessmen to go out of their way to infuse cash into teams and athletes they think would be a worthwhile investment.
This is where Diaz's victory comes in, and this is why it's more important than ever. Her win proves that our athletes can make it—especially in other sports where we're not at a physical disadvantage—with insufficient support. So imagine what our athletes can achieve when the country puts its whole back into it? Imagine if the PSC spent as much money as Pangilinan does on Gilas Pilipinas and Olympic figure skater Michael Martinez? Maybe we won't have to write stories about winning just one gold medal.
I hope Diaz takes this opportunity to continue calling for more support across the board. She's already called out the people in charge before, but it's going to take more than a reaction from the PSC for better facilities and amenities for all our national athletes. She deserves more for her big international victories over the past few years, for sure, but we know she realizes that there's an entire squad of Philippine athletes looking up to her and wishing they could succeed like she does.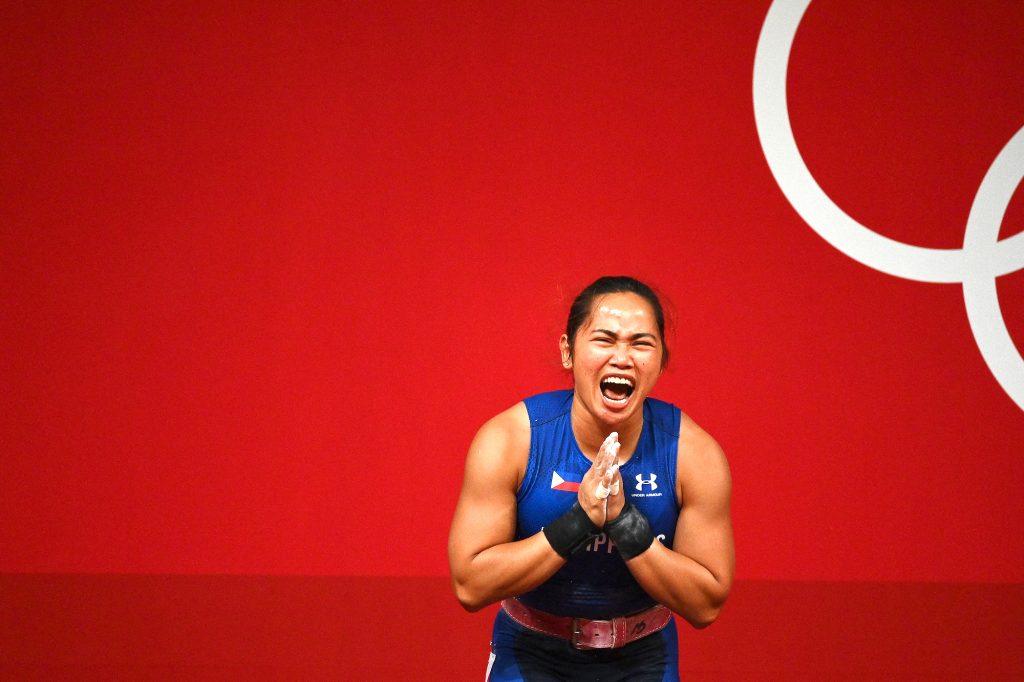 But it shouldn't be solely up to Diaz to initiate that change. Even before she speaks up, our government officials need to wake up after the Asian Games and realize that winning is possible, and it's on them to get the ball rolling, pun completely intended. If pride is the matter for them, then maybe they need to think about the pride that comes with backing national athletes that actually win because they supported their training and development.
No matter what happens though, Diaz should be proud and we should all be proud of her. We should all be proud of our athletes, not just at these games, but every time they compete. I feel like this is a watershed moment in Philippine sports, the optimist in me believing this is when everyone starts taking all our athletes seriously again. If the ball does roll, we've got Diaz to thank for. She would be an even bigger hero if her victories manage to change the system and help bring the glory our athletes—and our country—deserve.