Plus, all the workout music trends around the world
Lead photo from YouTube
With 43.5 million workout-themed playlists on Spotify, many listeners get a kick out of checking in annually to see which songs are surfacing as the top motivators in the gym or the outdoors as well as where in the globe people are most active.
Perhaps due to the intensely motivational lyrics of Eminem's "Till I Collapse," that track is, for the third year running, the top global song of all time for getting through that run or spin cycling class. While that song is the go-to for men, Mark Ronson and Bruno Mars' "Uptown Funk" is the top choice for women in workout playlists. And speaking of ladies, the music streaming platform found that women over 30 stream more workout music than men. 
Meanwhile, Filipinos seem to have embraced girl power with Jessie J's "Bang Bang" as the top workout song of choice, followed by the groovy melodies of Mark Ronson's "Uptown Funk" and Eminem's "Till I Collapse."
Globally, an area that saw growth in 2018 was in the number of cryotherapy/ice bath-themed playlists. It apepars that people are getting into the chill of this practice, which involves exposure to very cold temperatures in an effort to heal muscles. And the top songs in these playlists are, no surprises here, Vanilla Ice's "Ice Ice Baby" and Foreigner's "Cold As Ice."
See the complete breakdown of Spotify's workout data below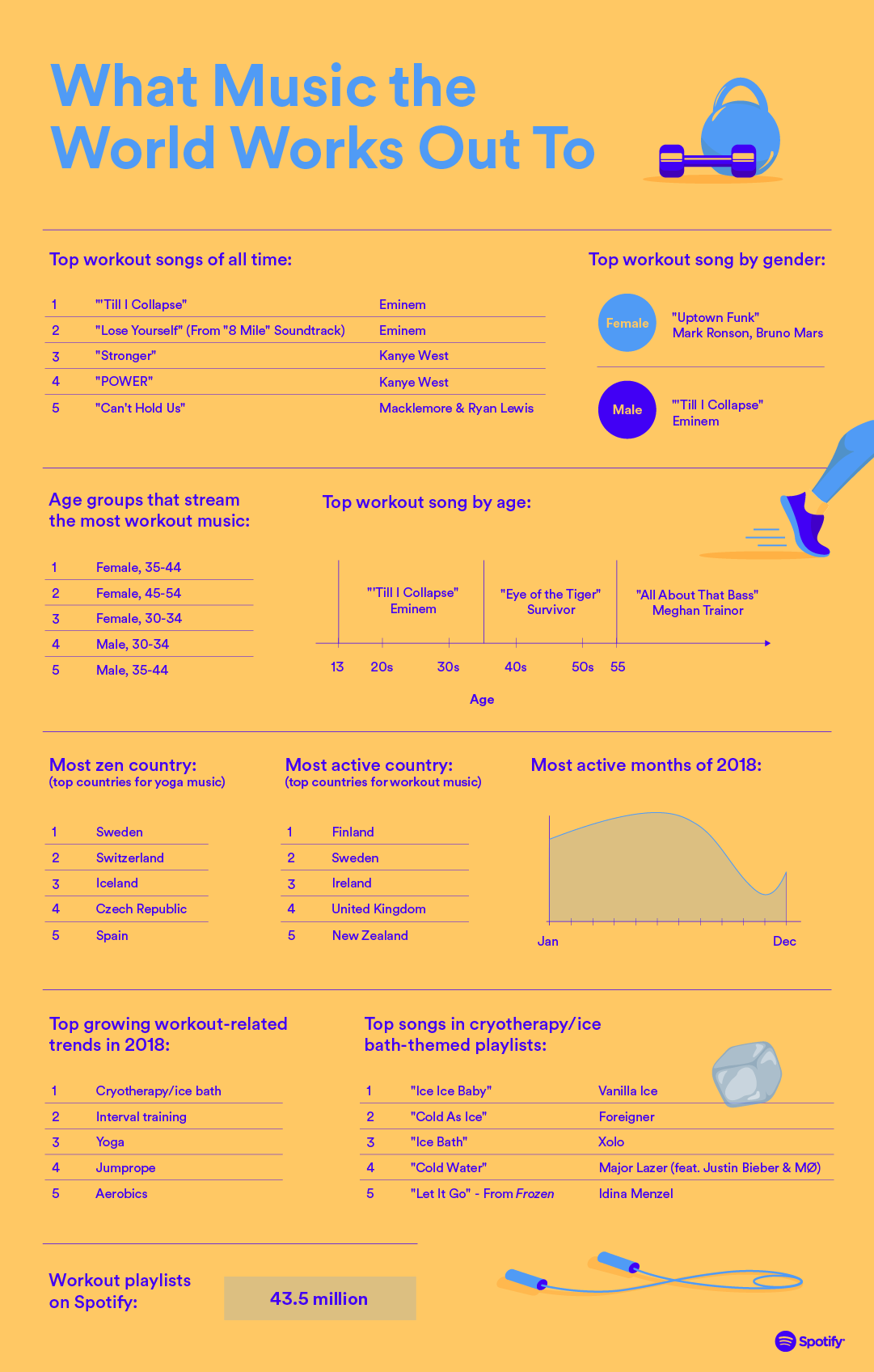 Looking for the perfect playlist to burn all those extra lechon calories? Check out some of Spotify's top workout playlists like Beast Mode, Motivation Mix and Hype. 
Subscribe to our newsletter to receive the latest sports news and active lifestyle and fitness features you need