Smile Train allows athletes to create an online fundraising page and encourage their friends and family to show support by donating
By Nicole Ganglani | Photos courtesy of Smile Train
Imagine doing what you love and changing lives at the same time.
Smile Train, the world's largest cleft charity, inspires individuals to create opportunity for children with clefts to live full and productive lives. The organization provides surgeries, speech therapy, orthodontic services, nutrition, support and psychosocial programs for their patients. One way the organization is fulfilling its purpose is through their platform called Team Empower.
Smile Train Team Empower, a global endurance fundraising program, encourages endurance athletes around the world to run for a life-changing cause. The organization allows athletes to create an online fundraising page and encourage their friends and family to show support by donating to the cause. In return, these athletes help provide 100 percent free, safe, and high-quality surgery and comprehensive cleft care for children.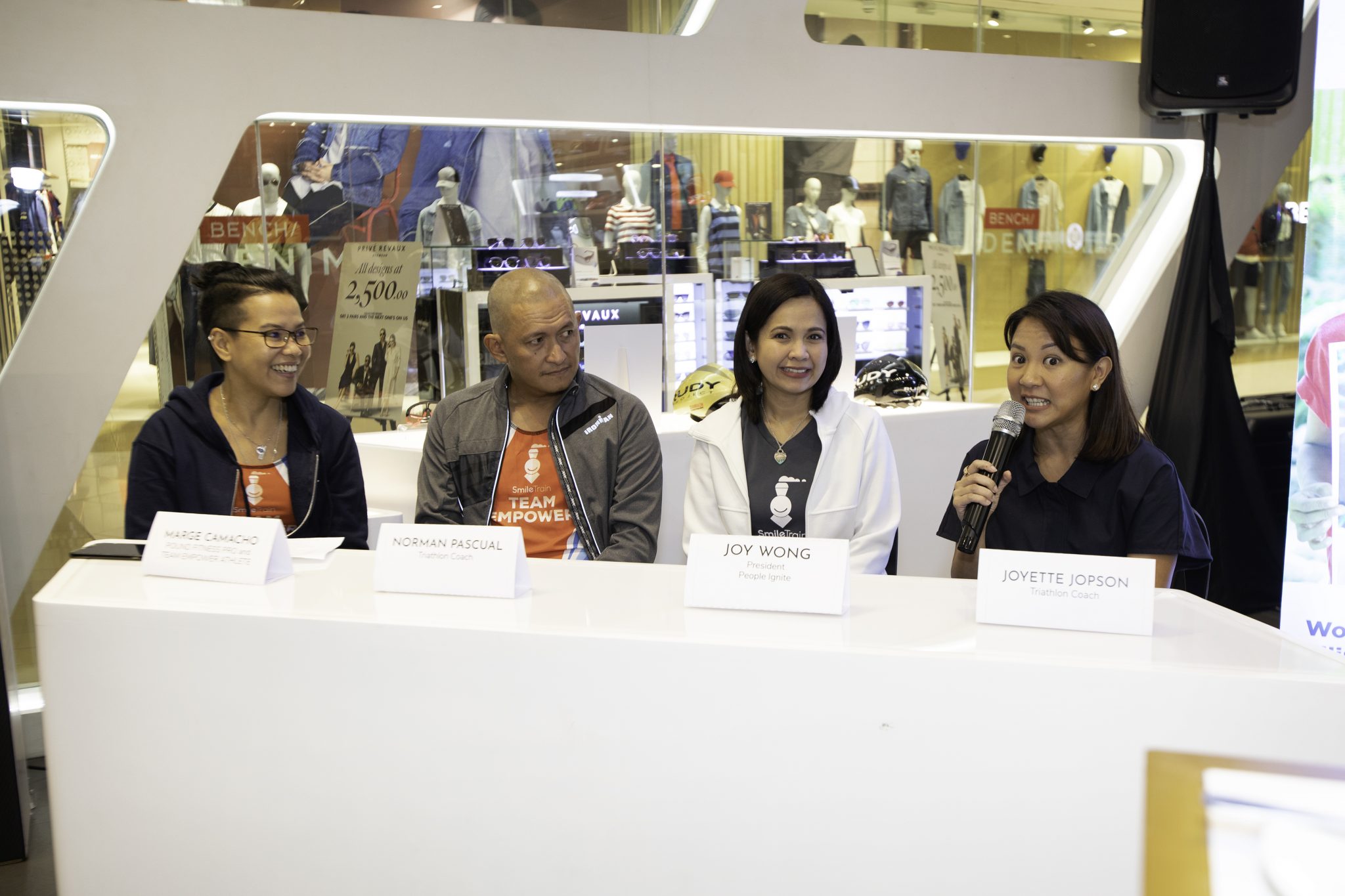 The four participants under Team Empower: Marge Camacho, Norman Pascual, Joy Wong,  and Joyette Jopson
Currently, the organization has slots to four (out of the six) major marathons around the world specifically in London, Berlin, Chicago, and New York. Each participant is given a fundraising goal—for example, the funds that they raise for the Berlin Marathon will help eight children who need cleft surgery.
"Endurance athletes are among the most passionate and goal-oriented people I have met.  When they have a goal, they will do everything they can to achieve it. Many runners sign-up with Smile Train because they want to complete the World Marathon Majors," said Kimmy Flaviano, Southeast Asia Area director of Smile Train.
Running for a Cause
One of the participants representing team empower in this year's Berlin Marathon is People Ignite founder and president Joy Wong. Wong, who is running her first world marathon race in Berlin, is a cancer survivor. She found a liking for running and triathlon after she recovered from one of the most challenging moments of her life—which is also why she's inspired to run and support Smile Train.
"Whatever is given to you, good or bad, you have to find a way to turn that situation into a blessing or an advantage," says Wong at the Smile Train press conference held early this month.
Not only will the 42-year-old achieve her goal of participating in her dream race but also do  so by funding the surgery of the kids.
"I tried the lottery for Berlin kasi nga pangarap ko talaga pumunta ng Berlin but I didn't get lucky. What I did was try to look for an international foundation to get to Berlin but only to get rejected by that too. After that I said I've given up," said Wong. But my sponsor angel Kimmy [Coseteng-Flaviano], gave me this slot for Smile Train. It's not an accident that we're all here but rather a purpose" adds Wong.
The Berlin Marathon will take place this coming Sunday, Sept.29. To learn more about Team Empower and the races, visit Smile Train's official website.
Subscribe to our newsletter to receive the latest sports news and active lifestyle and fitness features you need