How to choose your hiking footwear and other considerations before your trek
Photos by Kris Villano
Hiking has become a popular outdoor activity in recent years for both athletes and casual sports enthusiasts alike. Just look at the many hiking groups and the prominence of mountain-top skyline photos on Instagram.
It has also become an appealing way to not only get out and be active but also to discover the beauty of our local destinations, and even help improve our mental health.
Hiking has also become a way to better commune with nature—not just through exposure but through participation in programs like tree planting and nurturing as well.
While I'm not a hardcore hiker, I have gone on trails up mountains a couple of times in recent years. I've joined coffee tree planting along rice terraces up the mountains of Sagada, and I've also tried tree nurturing atop Mt. Susong Dalaga, located at the Masungi Georeserve.
On most of my hikes, I've opted to wear my usual training sneakers, mostly out of convenience (not to mention lack of actual hiking shoes), which for the most part were comfortable enough (though they didn't have enough traction to save me from slipping into a rice paddy that one time in Sagada).
In my most recent hike following Masungi's legacy trail, though, I was able to experience hiking in sandals—something I have honestly been a little hesitant to do, mostly because I was unsure of how safe it was for hiking amateurs such as myself.
During the nurture-a-grove project Teva organized with Masungi, I, along with more than a dozen others, hiked thousands of steps in our Teva sandals and worked on weeding and mulching narra trees as part of Masungi's reforestation efforts.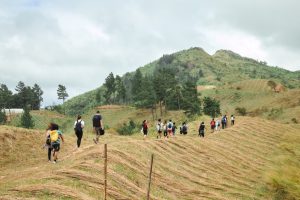 Right off the bat, I felt the difference between hiking in my shoes and in sandals. It was noticeably lighter, and although my feet were more prone to dirt and dust, it was still generally more comfortable because my feet had more room to breathe.
If you're still unsure whether you should start investing in hiking sandals, here are some things to consider.
Know your hike trail
If you're going on a level or easy trail like Masungi, open sandals may be a good choice. It gives your feet more room to breathe, and because they're lightweight, each step is also easier and "energy-saving" if you will.
Knowing the trail you'll be passing through also helps you plan better. If it's mostly rocky, or if there's risk of coming into contact with hazardous plants or animals, best to keep your feet covered. But again, easier or less-risky trails can warrant the use of sandals.
Our tree nurturing activity with Teva at Masungi Georeserve's legacy trail, for example, made a perfect first case for a sandals-friendly trail.
They have to match
With the other things you're bringing, that is. If you'll be going on a long hike and bringing a lot of gear, hiking sandals might not be the best choice of footwear. Carrying a lot with you on your hike will undoubtedly cause pressure on your joints, and this may damage your feet if they're not protected or supported enough.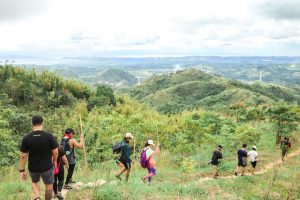 Consider the material
It's not enough to have just any ordinary strapped sandals. Choose hiking or trekking sandals that have arch support or cushioning. It can also help if your sandals are made of shock-resistant material.
Having adjustable straps are also useful since you can fix the fit of your sandals as you go through the trail. Rough trails may get your feet swollen, so it helps if you can loosen or fit them better. Adjustable straps also make the sandals more versatile, especially if you decide to wear socks with them (on colder hikes).
It should also go without saying that your sandals are best waterproof. Some trails may require crossing through streams, or there may be sudden changes in weather, such as rain. Waterproof sandals will make hiking through these conditions fuss-free on your part.
Teva, for example, has a cushioned footbed, rubber outsole and adjustable Velcro straps made from recycled plastic water bottles.
Get the right size
While generally hiking in sandals may be more comfortable, you must also consider using sandals that are the right size, even if the straps are adjustable. This is to ensure that the straps sit on the right parts of your foot. Otherwise, it will still be uncomfortable and might even be more detrimental to you as you hike. (You may also consider investing in athletic tape to help cover spots where the straps rub on your feet.)