These household chores are valid home workouts that contribute to an active lifestyle and a clean living space
Art by Saii Shah
The first week of Metro Manila's enhanced community quarantine has come to an end and with it, minds that can't help but wonder what else there is to do for the next three weeks. To the lucky minority who are able to stay safely at home, this period can be an opportunity to catch up on rest or to clear the movie watchlist. Many have also decided to pursue home workouts with the help of numerous YouTube workout challenges.
But for those who want to change things up or are still bound by telecommute or online class timelines, consider combining your workout routine with household chores. By incorporating these activities, you can turn humdrum home care into a way for you to build strength and tone muscles. You can also take this as a multi-tasking challenge—one where you can get a lot of things done in the least amount of time.
Sweeping and lunges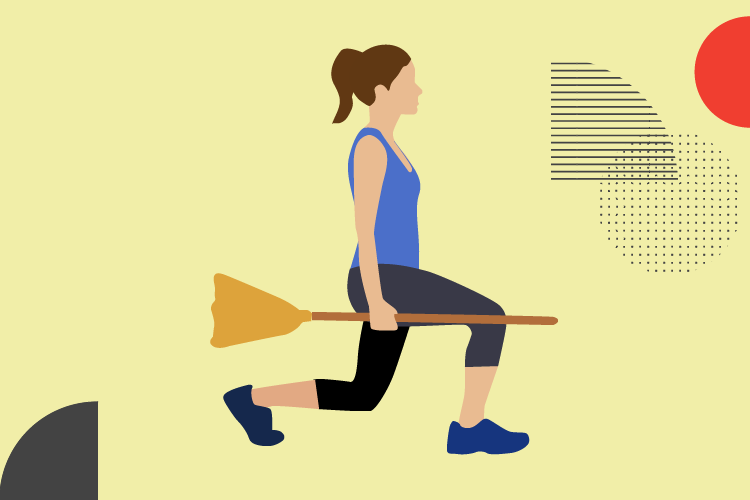 Sweeping is one of the most essential household chores. It's an activity that can instantly make a space feel and look cleaner. A study by kitchen fitting company Wren Kitchens found that sweeping the floor every week can burn as much as 377 calories. This, along with vacuuming, is also a great workout to tone shoulders and upper arms.
Aside from that, one way to engage your core and legs while sweeping is to incorporate lunges. This is a great way to improve balance, tone the core and strengthen the lower body. This can also greatly help in cleaning those hard-to-reach places under sofas or dining tables.
Lunges must be properly done, otherwise it can put too much pressure on joints and result in an injury. When doing lunges, make sure that when you lower your knee, it's in line with your ankles and your other knee doesn't touch the floor. It's also crucial that you keep your weight on your heels and not on your toes.
Hanging laundry and squats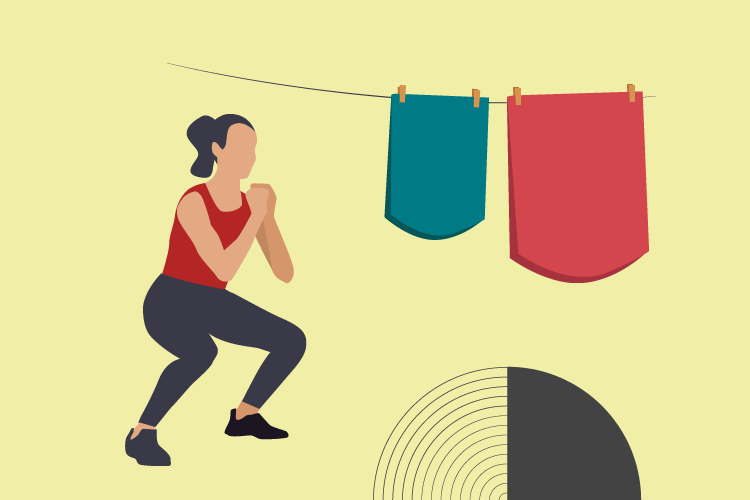 Squats are exercises that challenge a lot of muscles. When you do a series of basic squats, you are working out your glutes, quads, hamstrings, calves, and core. Squats also have a lot of variations—the most popular (and most intense) of which incorporate weights like dumbbells or yoga balls.
An alternative to weights you might not have thought of: wet clothes. Try and do squats while you wring and hang your hand-washed laundry. You can start by standing with your feet hip-width apart. Push your hips to a sitting position with your weight on your heels and your thighs parallel to the floor. Maintain that position while you wring out your laundry and push back up so you can finally hang your laundry on the clothesline.
Disinfecting surfaces for arms and shoulders
The quarantine period is a perfect time to get some heavy-duty cleaning done. If you haven't wiped down your windows, walls, and frequently touched surfaces with bleach or disinfectant, now's the time to do so while working out.
For this household chore to become a workout, intensity and speed are crucial. Engage your arms and shoulders at all times. Use big and powerful movements. For big surfaces like doors, walls, and windows, you can get the most out of your cleaning solution and your workout by moving your arms in big circular motions. Just switch arms so it's a balanced exercise.
Beating and dusting rugs and carpets for a full-body workout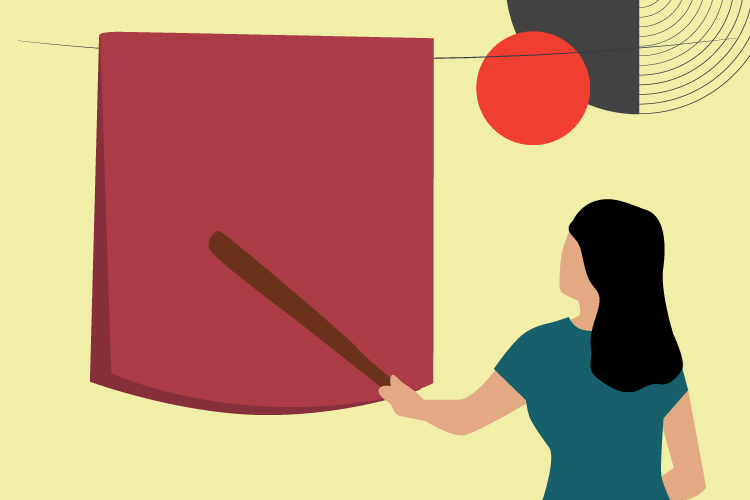 Dust and grit are no match for proper form and active muscles. It may be quite some time since you've cleaned out your carpets or rugs and while you can use a vacuum with a beater brush to clean, beating a rug out is still recommended to make sure that grit and other kinds of dirt are expelled from the fibers.
Beating rugs and carpets is a great alternative to strength training. As with other strength exercises, follow the proper stance when doing this workout: Keep your feet flat and steady on the floor, your posture straight and your abdomen engaged.
Washing the dishes and calf raises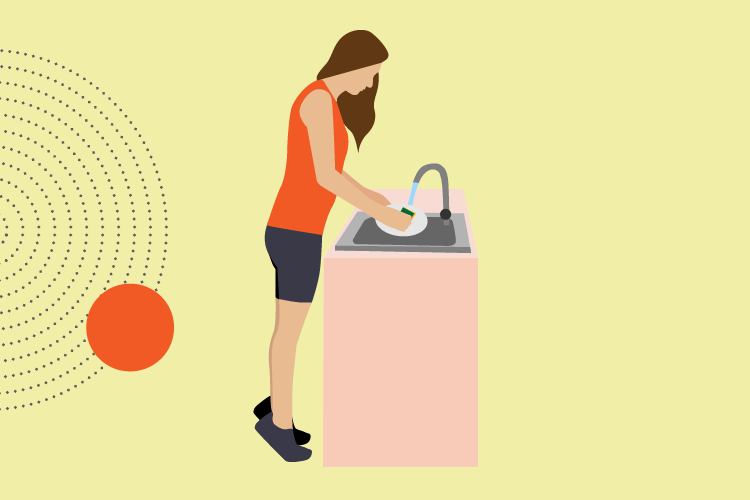 While washing dishes can be considered an arm workout, your legs are probably just stagnant. If you have a big load of dishes to wash, try and do calf raises to keep your feet from going numb and to exercise your legs and thighs.
For a high impact workout, try plié squat calf raises, which require you to stand with your feet shoulder-width apart and with your toes turned out. Then, you go into a squat until your thighs are parallel to the floor, similar to a plié in second position in ballet. Stay in a squat while you lift both of your heels off the ground and try to balance on tiptoe for at least two seconds. Do a whole set until the dishes are all spotless.
While the quarantine will last only for a month (fingers crossed), you can keep doing these household chores for workouts even after COVID-19. They are a great way to save time because you get to accomplish two things at once: Engaging your body with challenging exercises and keeping your home spic and span.