The live experience we get from the gym cannot be adapted to home fitness
Art by Tricia Guevara | Source photo by Benjamin Klaver/Unsplash
I miss the gym.
I'll be the first to admit that working out indoors has been a challenge. As someone who's had a gym membership for over two years now (shoutout to Anytime Fitness for their beginner-friendly promo) and used to attend fitness classes every now and then, I can attest that home fitness will never replace gyms. Sure, it's about improvising and having that "no excuses" mentality (which is why I'm doing my best to commit to my indoor workout routine), but working out at home doesn't even come close to the gym experience.
The absence of (physically) having a workout buddy
I'm always motivated to work out because I have two gym buddies (they also happen to be my neighbors) who constantly guilt-trip me if I don't show up by 8pm; this surprisingly works to my benefit. I'm aware that these days we can always work out virtually but there are certain barriers that come with it like wonky internet connection or not being able to physically correct our form. On top of that, the energy just isn't the same, especially since we're all currently dealing with bigger problems.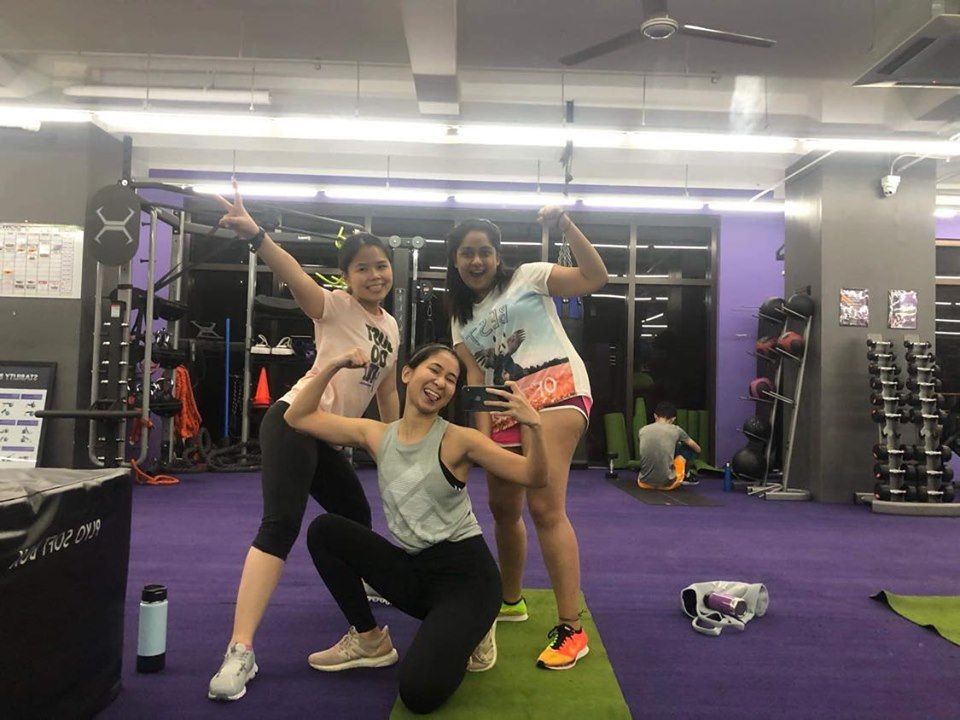 Research has also proven that exercising with a workout buddy increases motivation and spurs us to achieve higher levels of conditioning. Since the global crisis has restricted us from seeing each other physically, chances are our fitness motivation and progress will decrease. There's also the temptation of skipping a workout. 
The gym was a place for me to de-stress
Before the quarantine, I often found myself in the gym because it felt like a safe space I could escape to after work. Working out at home is different. I don't get to ride my bike from my house to the gym and vice versa, which I used as the time to transition to "workout mode."
Moreover, it doesn't help that I'm currently working at home too so I don't have a place to get away from the stress. And let's face it, nothing beats the vibe you get from the gym—the loud music echoed in the speakers, the contagious energy of other people working out, or even the Zumba soundtrack of one of the dance instructors.
The layout of my gym is designed according to the type of workout I want to do. There's an area for weights and strength training and another for cardio machines and fitness classes. It's obviously different at home. It was so much easier to come up with a routine especially since the gym always had the right equipment (no offense to my household items that I've used as a replacement for weights). The gym was also a place where I could just plug my earphones and give my 110 percent focus—something that's been difficult to do at home.
Group classes aren't the same if they're not held in the gym
What I love about fitness group classes is the "tribal" feeling I get being surrounded by other gym goers. I wasn't exactly friends with all of them, but they do help me enjoy my Urban Dance or HIIT session. A study published in the Journal of Social Sciences proved that you can absorb other people's healthy habits or behaviors, especially if you're surrounded by the whole lot of them in the gym.
Group classes also bring out my competitive side especially if I'm surrounded by people who are fitter and stronger than me. This is called The Köhler Effect, which is when you don't want to be the weakest person in the group so you tend to push yourself harder. Don't get me wrong, I don't go all Michael Jordan trying to beat all my competitors. It's just that I thrive in positive competitiveness, which inspires me to push myself harder and dedicate more time for fitness.
There's no question that home fitness has played a vital role during these trying times. I can easily form a workout routine by simply logging into my Instagram and searching for professional trainers who regularly churn out home fitness content. I can also make the effort to join indoor cycling workouts or even yoga sessions that are now held via Zoom video calls. It's all doable. But nothing will ever replace the feeling of looking forward to de-stress at the gym after a long day at work.
Damn, I miss the gym.