Kiefer Ravena, Jimmy Alapag, Camille Clarin, and Kat Tan celebrated Mamba Day by sharing their favorite Kobe Bryant memories
Lead photo by Tristan Tamayo
Philippine basketball superstars Kiefer Ravena, Jimmy Alapag, Camille Clarin and Kat Tan gathered in a virtual webinar on Aug. 24, Monday to celebrate and remember the life of the late great Kobe Bryant.
Considered one of the greatest basketball players of all time, Bryant is also best known for his Mamba mentality philosophy: manifesting passion, focus, honesty, fearlessness, and optimism in whatever you do. Here's how these four iconic basketball stars channeled the Mamba mentality in their careers: 
Paving the way for women's basketball
After Bryant retired from professional basketball, he was often spotted watching WNBA games along with his daughter Gianna. Oregon University coach Kelly Graves once said that Bryant was a great voice and champion of women's athletics. This was something Camille Clarin took inspiration from and what motivated her to continue the legacy of the NU Lady Bulldogs—which arguably are the face of women's basketball in the Philippines right now.
The Lady Bulldogs are currently on a 96-0 winning streak and have won six straight UAAP championships. Clarin, a sophomore, is on a mission to continue NU's legacy. She credits her success to the Mamba mentality, which the Lady Bulldog said has helped ballers like her believe their dreams are within reach. 
"I think that's something I carry with me every day. That's how I conduct myself because I know that I'm not only representing myself. I'm representing the program that kind of built the foundation for women's basketball," said Clarin. "I think, as a whole, like the biggest thing we've done is that we've allowed the future generations to kind of gain those pillars—that optimism and see that their dreams are within reach."
Women's basketball in the Philippines has yet to get the recognition it deserves. There's still no professional women's basketball league in the country despite the national women's basketball team's success at the 2019 Southeast Asian Games. That is why Clarin and her fellow ballers are on a mission to continue paving the way for women's basketball in the Philippines.
Doing what people thought was impossible
Kat Tan's "Kobe moment" was unlike any other. When Bryant visited the Philippines in 2016, Tan met her idol and experienced one of the best moments of her life. Tan, who lost her arm in an accident in 1996, was challenged by Bryant himself to make a three pointer in front of what were the top junior basketball players at that time. And what did she do?
The one-armed Mamba nailed the biggest three pointer of her life, which Bryant said was the greatest thing he's ever seen. Tan mentioned that the Mamba mentality is the reason why she's always motivated to get better every single day despite whatever challenge comes her way.
"With everything that has happened to me in my life, I just really had that inner drive to be better at whatever I do and just keep pushing myself beyond my limits because I believe that limitations are self-imposed," said Tan.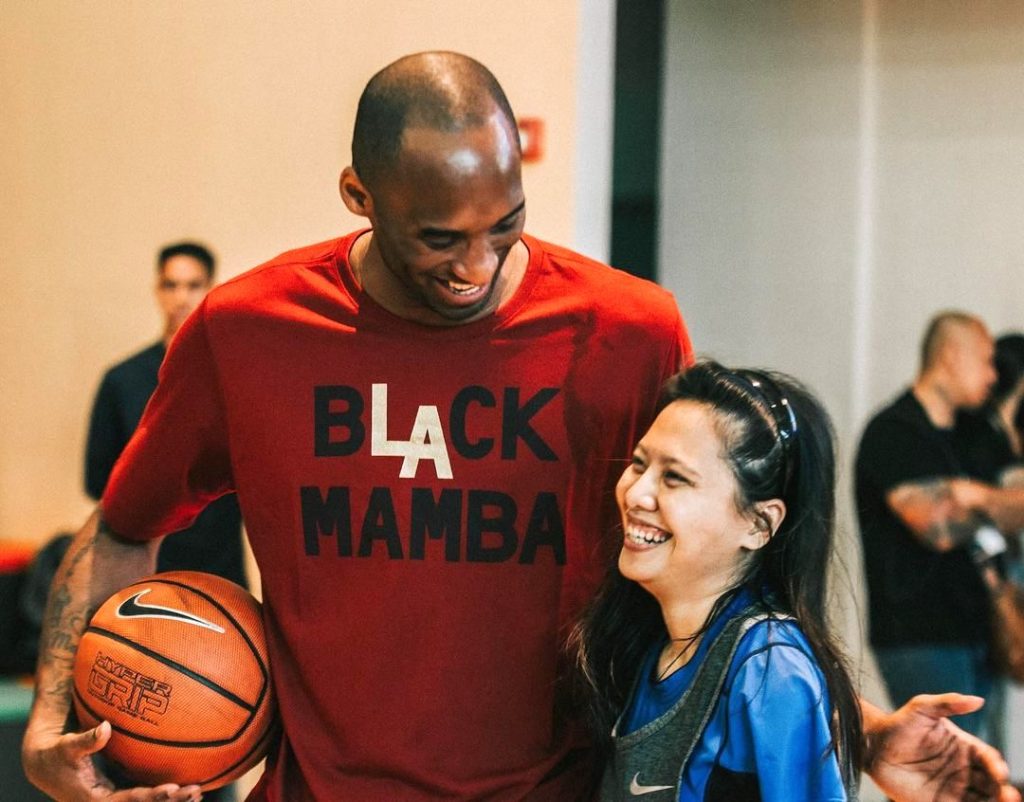 Overcoming fear and failure
When NLEX Road Warriors guard Kiefer Ravena was asked about his favorite Kobe memory, Ravena said it was the free throws Bryant shot after suffering from an Achilles injury in 2013. The former Ateneo Blue Eagle took inspiration from how Bryant managed to still make two free throws despite suffering one of the deadliest injuries in sports.
"Yan ang pinaka importante. Bawal matakot, bawal. The willingness of just going through that grind over and over again. Keep getting better every day," said Ravena. "It's all about having that focus. Focus is the backbone. If you don't have focus, then the other four pillars will be a little hard to achieve," the two-time UAAP champion adds. 
Being the best family member you can be
For Jimmy Alapag, one of the many Kobe Bryant memories that holds a special place in his heart was how Bryant cared so much about raising and spending time with his daughters. Alapag, who had multiple encounters with Bryant, also mentioned that the Mamba mentality was what helped him find a career after retiring from basketball.
"Just seeing how much he cared about fatherhood and having that same passion that he had for the game, and making that transition to life off the court, again, it just shows his passion for the game and his passion for life. It's something that meant a lot to me," said Alapag.
The former Gilas superstar eventually found a career in coaching. The Mighty Mouse admitted it took him some time to master his new role but it was the Mamba mentality that helped him figure out the challenge and achieve milestones no Filipino coach has done before. Alapag became the assistant coach for the Sacramento Kings at the 2019 NBA Summer League and also won the 2018 ASEAN Basketball League as a coach.
"When you talk about the fearlessness and the optimism as a young coach, it was something that I really took to heart because I didn't have much experience," said Alapag. "I was incredibly excited about the opportunity to be a head coach and again, you know just applying that Mamba mentality meant everything," added Alapag.