To sum up our thoughts on the Giant Rivet Aero: This is a new tech helmet at an amazing price point
Although it may be old news for triathletes, aero is all the rage right now in road racing. Aero frames abound, and this past year's trend for helmets has been towards less-vented, more head-hugging, extremely streamlined aerodynamic models. I wanted to try one and see what the buzz was all about.
Among the current crop of aero road helmets used by professional teams, the Giant Rivet is the cheapest. Locally, at Life Cycle Bicycle Shop, the official Giant retailer, it sits as their second most expensive helmet (right under their top-end vented model Rev), although it costs less than P3,000.
I thought, "Really? For a helmet used by the Giant-Alpecin Pro Team? The same one John Degenkolb wore to win this year's Paris-Roubaix and Milano-San Remo?"
Apparently, yes, you can even get the version with the Pro Team livery although for my small head, only the cyan colorway was left. Thankfully, the folks at the Makati branch were kind enough to have one of the last small specimens transferred from their Greenhills branch. Alright, all bought and paid for, at a price that did not break the bank. So, what did I get?
As you can see above, I got quite an attractive helmet in a bright and pleasing color. I'd like to think it would make me easier to spot in traffic, and therefore safer. It's an aero road helmet, so immediately after putting it on, I felt it sat much lower on my head than my previous lid with sides that extended lower and covered more of the side of my head. This again made me feel safer.
Any issues on fit? A tiny bit, actually. One of the missing features on this model is an adjuster for the straps right below your ear. Apparently, I'm built asymmetrically and my right ear is lower and catches a bit on the right-side straps. I feel it but it's not irritating or uncomfortable.
Since you can't adjust that part where the straps meet, it's best to try this helmet first before you buy. Which is what you should really be doing anyway for anything you're going to wear. I tried it on and it seemed okay in the store. Just adjusted the length of the chin strap and cinched the rear retention mechanism, all simple.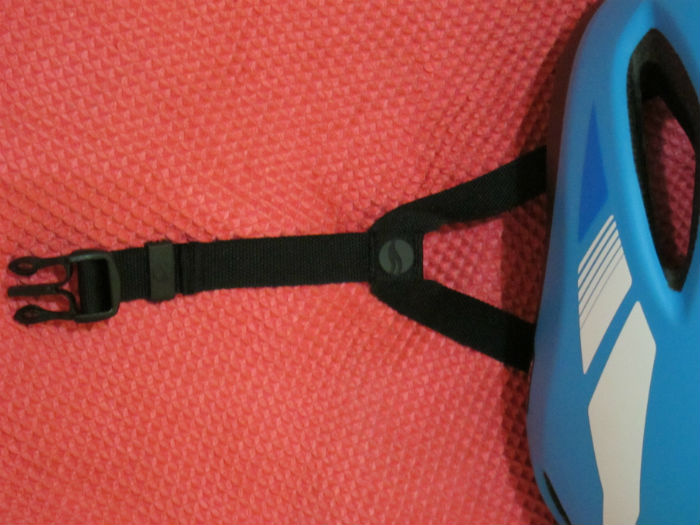 Maybe I'm just used to helmet straps having been a cyclist for so long. Thankfully, when out riding, it didn't bother me at all. And speaking of riding, I finally tested it out on a sunny Saturday, setting out at half past noon around Makati's busy streets. I figured, if I'm going to have any issues with ventilation, a hot afternoon out would really expose them.
Guess what? Despite the heat, never did I think that the helmet felt too hot. It definitely felt a bit warmer than my fully-vented Giro Atmos, particularly at the top of the head, but nothing uncomfortable. It also weighed a bit more than my old helmet but it didn't bother me while I was out riding for more than two hours.
It's a different sensation versus the airy helmets I've been used to wearing but it was not bad. In fact, when I turned my head a bit to the side while at speed, or when cornering fast, I could feel the air move laterally across my forehead. Those three big vents at the front are quite good.
Like I said earlier, the top part of the helmet felt a bit warmer since it was not vented but I feel the air went through the helmet quite well. Probably because of the deep channels carved into the inside of the helmet. The space just before the back of the helmet was carved deeply as well.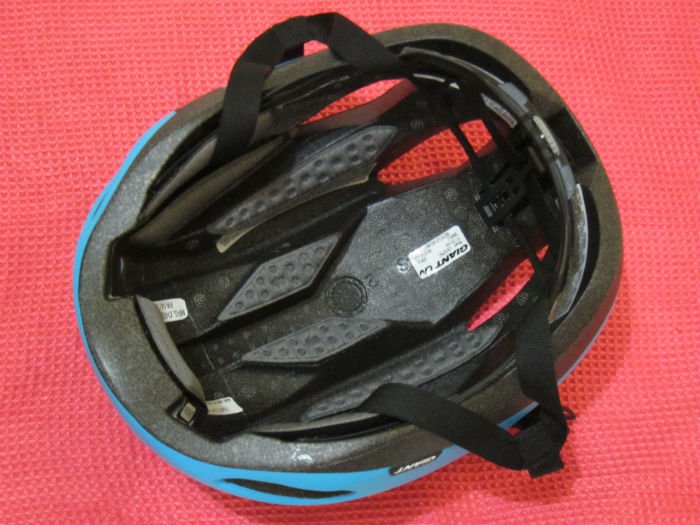 Studies on airflow have stated that it doesn't matter how many holes you put in front if the air can't escape at the back; your helmet won't vent well. I think the rear vents on the Rivet could be bigger, but they are adequate and do suck out air out the back of the helmet when riding at speed.
But you have to be riding a bit fast to feel it. So, riding at speed, the whole point of getting an aero helmet. How did it go?
I don't have any numbers to prove it, but the helmet felt smoother and faster than my previous lid. I chose an aero helmet with a truncated rear since I tend to look down and drop my head when exerting effort on the bike. Maybe it did help. If it gave me an aero advantage, well and good, but the helmet itself was quite comfortable to use and did not feel like a disadvantage.
Aero road helmets tend to be better choices than full time-trial helmets even for triathletes due to the local heat and windy conditions.
Would this be my new daily driver? Quite possibly, since a lot of my weekday rides are quick jaunts to Mall of Asia or just playing around in the city. For rides as short as that, and for riding with the pack at 30kph and above, an aero road helmet would be perfect. Ever so slightly warmer and heavier become negligible factors. It might also be a nice choice for rainy weather.
For those long rides out of town though, I might opt for something else. I'd use my trusty Atmos until I get a replacement for a nicely vented helmet.
But back to my foray into the world of aero road helmets via the very affordable route provided by the Giant Rivet. Was it worth it? For under P3,000, definitely. It's a functional and decently performing helmet from the manufacturer that revolutionized the mass production of carbon bicycle frames. My first road bike was a Giant and this homecoming to the brand did not disappoint at all.
It's vented enough, it's light enough, and the retention system works. Straps don't adjust at the junction, only at the chin, so it's best to fit and adjust it at the store before you decide to buy. It's noisier than some helmets but not that it distracts you from what you need to hear to be safe. But it works. As something to wear that would protect you and could possibly provide a performance benefit, it works.
And I personally think it looks damn good, to boot.