Connect with the elements and work up a sweat all in one spot at Narvacan Outdoor Adventure Hub
Photos courtesy of Marky Ramone Go, Doi Domasian, Aleah Taboclaon, Rolly Magpayao, and Narvacan Outdoor Adventure Hub
The first images that come to mind when you mention Ilocos Sur are Calle Crisologo in Vigan and bagnet (deep fried crispy pork belly). For adrenaline junkies looking for their next adventure, there's a new reason to head to the north.
The Narvacan Outdoor Adventure Hub (NOAH) in Ilocos Sur offers a one-stop shop for exciting activities inspired by the elements of earth, water, fire, and air. Situated between a beach and mountain, NOAH is probably the first adventure camp in the Philippines that offers a range of activities in one place.
Since NOAH is located in a relatively isolated part of the province, you wont get the usual crowds of tourists that other resorts attract, making it a perfect destination this summer. Here are some of the awesome adventures you can try and firsthand accounts of guests who got to try them out during the media launch.
Earth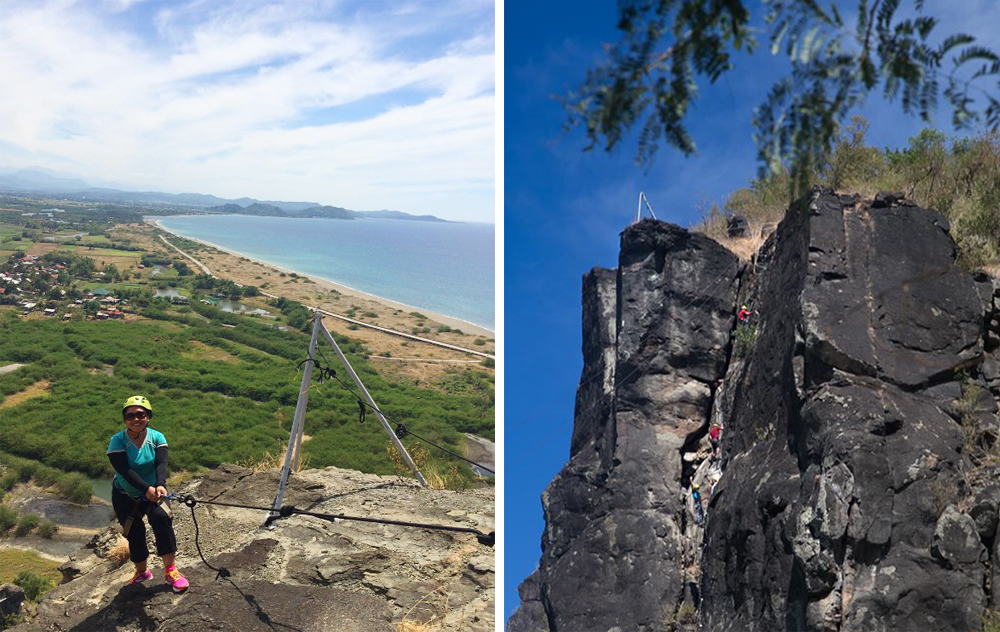 Via Ferrata, which literally means "Iron Road," is a vertical climb onto a rock face with the aid of steel cables and steps. NOAH's Via Ferrata is a 100-foot vertical rock carved on the hills of Narvacan, the first in the Philippines.
Aleah Taboclaon of Solitary Wanderer says that climbing the Via Ferrata was very different from previous experiences climbing mountains and walls.
"At NOAH, it's climbing over 200 feet on iron rungs up a rocky cliff, with nothing preventing your fall except for two carabiners attached to a steel cable. It's not a straight climb, too. A little part of it was an overhang and it was a lateral climb in at least two areas," she says.
The activity allows outdoor enthusiasts, regardless of experience level, to get a high from climbing extreme routes or peaks without the same strenuous training or severe risk because of the metal-ladder rungs and secure cables. However, it's best for those who are reasonably fit and not afraid of heights.
"It's not for everybody; one must be fit because you'd need strong legs and upper body to keep on going up. You'd need to be comfortable with heights, too, because you can't help but look down. It's actually what I love most about the Via Ferrata; looking down from the side of the mountain and feeling above it all," she adds.
After the vertical climb, guests can travel down via a Tyrolean traverse cable then back to the base via a long zipline.
Are you into mountain biking? You can also go downhill mountain biking from the mountain via a technically challenging bike trail here.
Water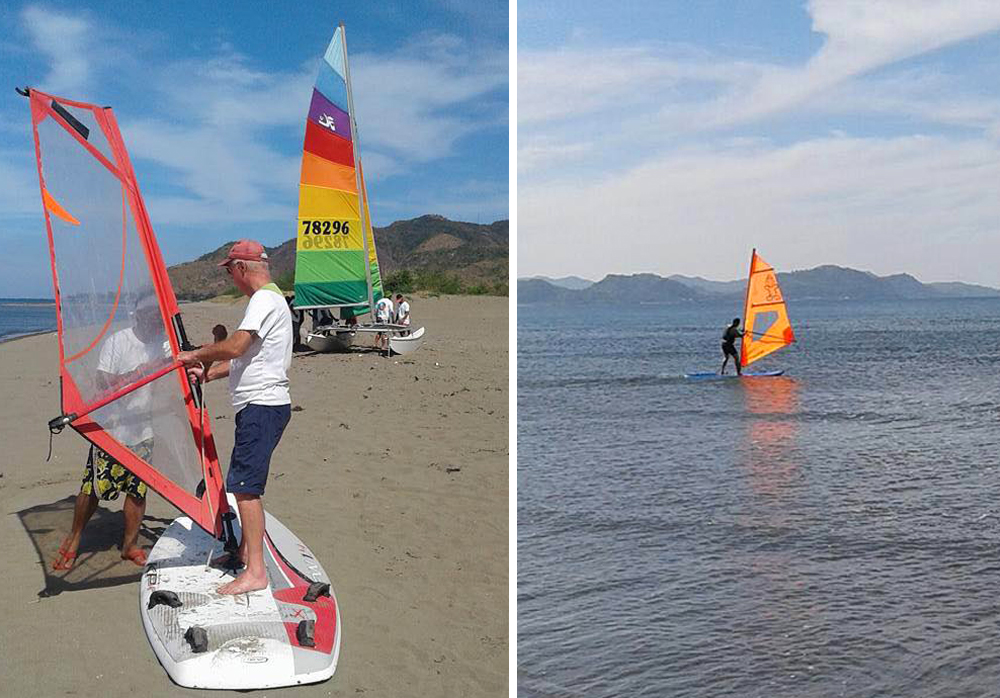 For those who want to cool down, the adventure park is right next to the beach. NOAH offers plenty of water-based activities including paddleboarding, hobie cat sailing, kayaking, kiteboarding, and windsurfing.
Dave Gatenby, the travel blogger behind Silverbackpacker, enjoyed windsurfing at NOAH. The surface water sport combines elements of surfing and sailing and is known for being a great core workout.
"From the shore it looks so easy but when out there, it's a different matter. After the introduction training, I got the chance to get out on the water under the watchful eye of an instructor. The shallow waters make it a safe place to learn. At first I kept falling off as small waves put me off balance. Each time I fell, I would climb back on the board, go through the routine of pulling the sail up and getting my balance right, and catching the wind. I eventually succeeded in windsurfing a short distance, which made me happy. This is something I will definitely be trying again," says Gatenby.
Fire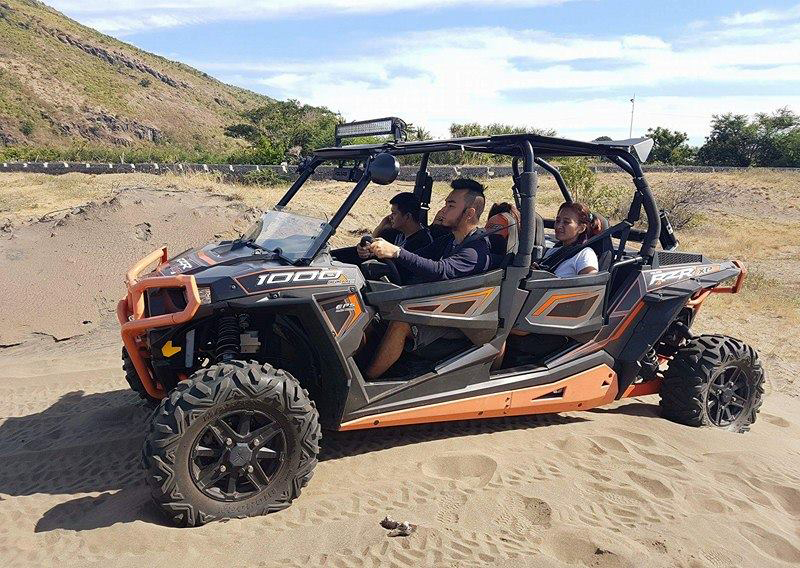 Fire up your engine ala Mad Max with exhilarating ATV, dune buggy, and 4×4 rides through the sand dune course of NOAH.
According to Marky Ramone Go of Nomadic Experiences, the variety of activities offered in one space and the natural setting makes NOAH a unique destination.
"I had a wonderful time riding the dune buggies over the well-designed trail, which supplied enough thrills through a number of ramps. The scenery, which includes the hills of Narvacan and the sea, also added to the appeal of the activity. NOAH implemented ways for every visitor to enjoy it the fullest," says Go.
Air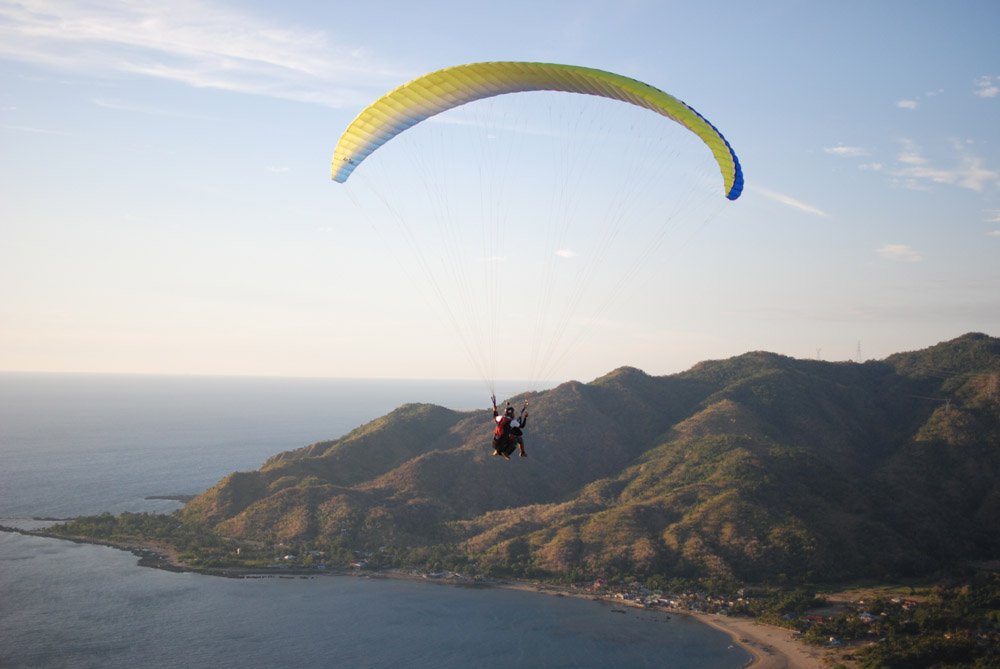 For a unique thrill, nothing beats getting a bird's eye view of the whole place, either from the zipline or, better yet, through a tandem paraglide ride. Certified pilots can take you on a tandem ride for several minutes then safely land you on the beach.
Doi Domasian of The Travelling Feet ranked tandem paragliding as the most enjoyable of the activities offered at NOAH. As both a recreational and competitive sport, paragliding offers plenty of health benefits while providing a sense of excitement and view of breathtaking sights.
"From the moment you head your way to the steep road leading to the jump-off base atop the Bantay Abot Hill, up to the moment you take off and fly like a bird, it was one surreal experience that left my adrenaline pumping. The scenic bird's eye view of Narvacan's land and seascape was just a bonus," says Domasian.
Rates:
Hobie cat with pilot and intro to sailing – P800 for 30 minutes, max of 2 pax
Zipline – P250
Full mountain adventure: Via Ferrata, Tyrolean Traverse, Zipline P700
Windsurf lessons – P2,500 six hours, minimum P1,500
Wind surfboard rental – P600/hr
Kite surf gear rental with license (TBA)
Paragliding – P2,500/tandem
4×4 tour – P2,500 up to 5 pax
Camping fee with showers and toilets – P150/head