Bikepacking Balagbag in Rizal and Batulao in Batangas made easier
Photos courtesy of Drew Kalakas and Allan Bantucan
With all the office parties, family reunions, and last-minute shopping sprees, Christmas in Metro Manila is pure chaos. Sometimes you just want to get away from all the madness and retreat somewhere far away.
Because driving a car anywhere can just add to your stress, one way you can avoid traffic is to go bikepacking. Pack up a tent and your gear, hop on your bike, and head off somewhere to escape. But where can you go? Adventure cyclist Drew Kalakas who posts his fun rides on Instagram, shares not one but two mountains ideal for first-time bikepackers.
Mount Balagbag
For those who only have a day, Kalakas recommends Mount Balagbag in Rodriguez, Rizal. At just over 700 MASL, this mountain offers challenging ascents for those who want a workout but also a rewarding view.
What makes the place a good destination for first-time bikepackers?
Mount Balagbag is near Metro Manila. Via Montalban, there's a backdoor off-road route for mountain bikes and there's also a paved road from Tungko, Fairview for those who want to bring their cars to the jump-off point. This place has a good camping site, is tourist-friendly, has challenging uphills, and most of all a good view of Metro Manila. From the peak, you can see Makati, Ortigas, La Mesa Eco Trail and Water Reserve, and even Mount Arayat.
What are the nearby facilities ideal for bikepackers?
At the peak or near the gate before the peak, there are good camping grounds. There's a store at the gate for sodas and chips. At the jump-off point, there are more stores where you can buy lunch or dinner or where you could also leave your car for secure parking. There is also a restroom at the jump-off point.
Recently, Balagbag has become a favorite of many 4×4 groups, and also a regular destination of mountaineers. You might want to bring a freestanding tent since the ground at the campsite is quite dry or has stones that make it hard to place your tent pegs.
How much time do you need to allot for the whole trip?
If you want only a day tour when biking all the way from home, probably eight to nine hours total. It takes about three hours from Pasig to the Licao-licao jeep terminal (the jump-off point) via Montalban backdoor route, 30 minutes rest, two hours going up the peak, 30 minutes rest and picture taking, 10 to 15 minutes going back to jump-off, one hour rest/lunch and then another three hours going back home.
Of course, you could always extend your stay and spend more time in the place for rest and relaxation and to camp out at Balagbag at least overnight.
Mount Batulao
Meanwhile, for those who want something more challenging or have more time to spare, Kalakas recommends Mount Batulao in Nasugbu, Batangas as a good spot for overnight biking and hiking trips.
What makes the place a good destination for first-time bikepackers?
Although not very near Manila, it's a challenge for most cyclists to reach Tagaytay by bike since it's mostly uphill going there. You can eat bulalo before or after the bike trip and you can go on a side trip to Taal Volcano, too. Mount Batulao has a very good 360 degree-view of its surrounding area once you reach the peak. You can see Laguna de Bay from there and there are also good camping sites.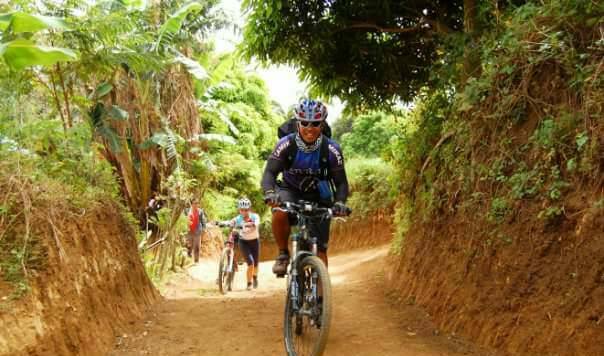 What are the nearby facilities ideal for bikepackers?
Since you'll be passing Tagaytay, there are lots of options to eat before going to the jump-off point. Along the trail, there are spots where you can get buko juice and other drinks. At the campsite, which is halfway along the trail, there is a restroom. The new trail campsite has enough space for a dozen or more people. The old trail campsite also has some space for camping though minus the overlooking view.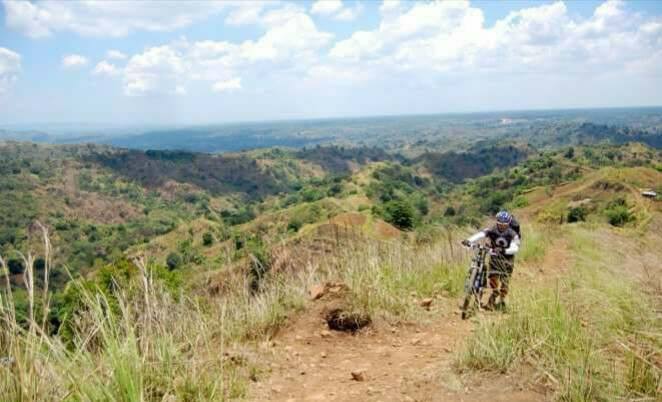 How much time do you need to allot for the whole trip?
If biking all the way from Manila for example via Aguinaldo Highway, you may need to start pedaling before sunrise since it will take approximately six hours, give or take, to get to Nasugbu, Batangas where the jump-off point for Batulao is located (near Evercrest Golf Club).
Then from the jump-off point, you might need a guide and it will take 30 to 40 minutes to get to the part of the trail where it's not bikeable or too risky/dangerous since the footpath is only a narrow single track and other parts are for trekking.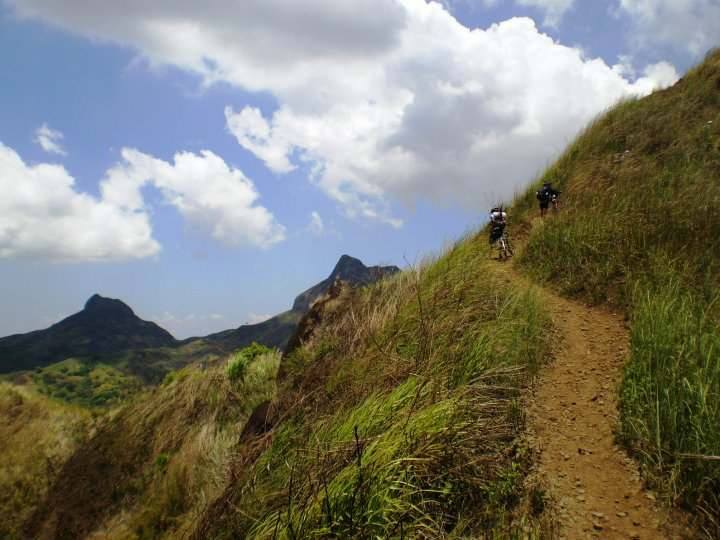 It would normally take up to two hours to get to the peak via the new trail, trekking by foot. If you want to go back via the old trail, it's almost the same duration as going back via the new trail. Those include rests plus a one-hour dinner before going home, then probably three to four hours pedaling back home. So approximately 12 hours or more would be the safe estimate for this trip.
Take note that the last part going to the summit involves a steep ascent. For first-time bikepackers who don't want to push or carry their bikes all the way to the campsite, Kalakas advises parking and chaining up bikes in the houses of locals or at sari-sari stores near the jump-off point.
Got any other good getaways spots you'd like to share with fellow bikers? Let us know in the comments section!