For the first time since 1997, the UP Fighting Maroons' Final Four appearance shows hope to a generation living in tumultuous times
Photos by Tristan Tamayo
It's a weird time to be part of the University of the Philippines (UP) community right now.
On one hand, there's a dark vibe surrounding the campus over the leak of the chat thread containing misogynist, homophobic, transphobic, racist, and classist slurs from alleged members of Upsilon Sigma Phi. Students, alumni, and faculty members have spoken up on social media denouncing both the involved fraternity and fraternity culture as a whole. The statements from Upsilon Sigma Phi and several of its members and alumni have been met with derision because of a common template found within them, belying whatever sincerity they meant to convey. 
But on the other hand, the UP Fighting Maroons have made basketball relevant for the community once again after entering the Final Four for the first time since 1997. Now, the UP men's basketball team (MBT) is just one win away from its first UAAP Finals appearance since the Final Four format was introduced in Season 56 (1993-94).
Iskos and Iskas entered the Mall of Asia Arena last Saturday feeling a sense of optimism. I felt it the moment I entered an elevator filled with people wearing maroon. There were two or three others with us who were wearing white and navy blue, clearly supporting Adamson University. I can imagine how awkward that must have been.
Anyone who's gone through the UP system knows all of the jokes and memes about the Maroons' lack of success on the court over the last two decades. I was an undergrad through Seasons 71 to 74 (2008-2012) and the team didn't even manage to win 10 total games through that stretch—they won eight. That's as many games as the MBT won this season alone, leading to this moment in the Final Four.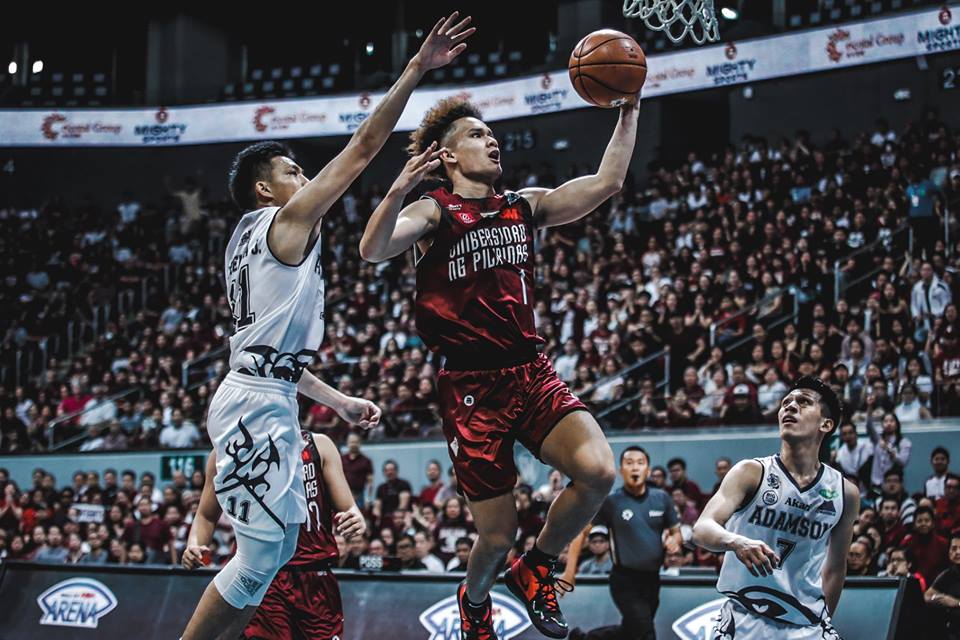 It was like a huge homecoming where everyone was invited. It didn't matter what course you took, what your student number was, or which UP campus you went to. Even celebrities who were once Iskos were there to show their love for the team.
Almost a half-hour before the game began, I already spotted rock icon Raymund Marasigan in Section 112 wearing a Fighting Maroons varsity jacket. The stands then filled with more people in UP's beloved maroon, making it feel like there were more UP supporters in attendance than there were for Adamson. It wasn't all that surprising since this community had waited this long just to be in the Final Four.
Singer Christian Bautista was seated courtside along Section 108 wearing a maroon shirt. When Bautista entered UP Diliman as a freshman in 1998, UP had just missed the Final Four. He didn't realize it would take 20 years to get back here.
Bautista admits to having followed the UP MBT for a long time, dating back to his days as a member of the UP men's table tennis team, where he was a back-to-back champion in 2001 and 2002. "I feel the love ng UP community," he said minutes before tip-off. "It's here right now and I really hope na-ma-strengthen 'yung guys natin para ma-push para sa Finals. I'm so happy to see so many different generations of UP students, graduates, deans, alumni na nandito ngayon. Matagal-tagal nang hinihintay 'to. It's a great feeling!"
It wasn't just great. It was infectious.
Throughout most of the game, I was standing right by the Maroons' bench and the energy was so contagious that I couldn't resist doing a fist pump for every made basket or putting up three fingers in the air for every launched three-pointer. Maybe it was the novelty of the entire experience—UP's actually winning! Do we actually have a shot at the finals? Or maybe it was the uncertainty of when something like this could ever happen again. After all, about half of the Maroons' lineup wasn't even born yet the last time UP made it to the Final Four. Whatever it was, inasmuch as the team played as hard as it could on the floor, the UP community also brought the intensity to cheer (and jeer) from the stands. Homecourt advantage: UP.
One of UP's biggest cheerleaders was Ibrahim Ouattara, who played for the Fighting Maroons last season as the team's import. He wasn't seated at all during the game, and for good reason. He was a ball of energy, animatedly reacting to everything that happened on the court. When a shot went in, he'd yell and pump his fist. I had to make sure I wasn't in his way when a three-pointer would go in because he'd just burst towards the seats in the patron area. Conversely, when a play didn't go the way UP had wanted, he'd emphatically yell a few choice words in frustration.
"I'm proud that they made it this year," he said during halftime. "I'm just glad that it happened while I'm still here, maybe not on the court; but [I'm] still here with the team. I'm glad and I'm proud of them." Seeing all of this happen despite not being part of the team's active lineup was bittersweet for Ouattara, who only played for UP for one season. That said, he knows the history of the team and what this all means for them. "It means a lot because I'm with those guys every single day in practices and in everything they go through," Ouattara said. "It means a lot to them as it does for me because I know how they sacrificed and how they worked hard to be here. So they deserve it."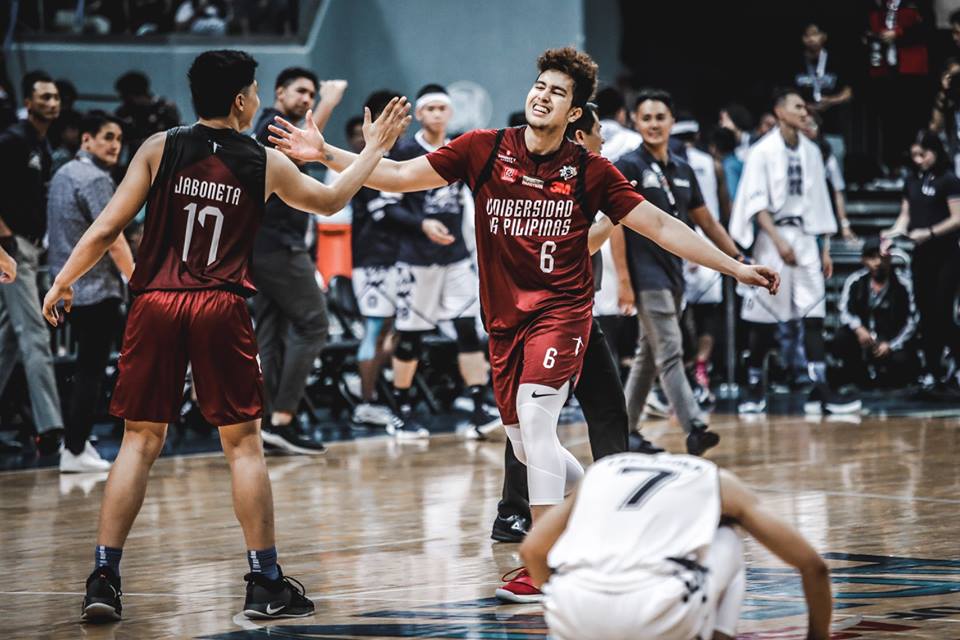 While walking around the arena during halftime, I noticed the gap between the performances of the Adamson and UP Pep Squads took longer than expected. Little did everyone know that it would be symbolic of what was to happen in the second half.
After the Adamson Pep Squad had finished their routine, the UP Pep Squad took their places on the court and waited for the music to play. They waited, and they waited, and they waited, but no music played. Time was ticking on the arena clock and the game was less than five minutes away from resuming.
With a little over three minutes left before halftime ended, a faint recording of "Shake It Off" by Florence + The Machine played over the arena's speakers. It wasn't piped in like every piece of recorded music that we heard that day. It sounded like it was being played off someone's phone while a mic was put near its speakers.
The UP Pep Squad went about their routine anyway and killed it, inspiring the UP community in attendance. Technical delays and all, tuloy pa rin. Shake it off, indeed. Another underdog moment in UP's underdog story so far, much like Paul Desiderio shaking off his own shooting woes as he scored all of his 19 points for UP in the second half.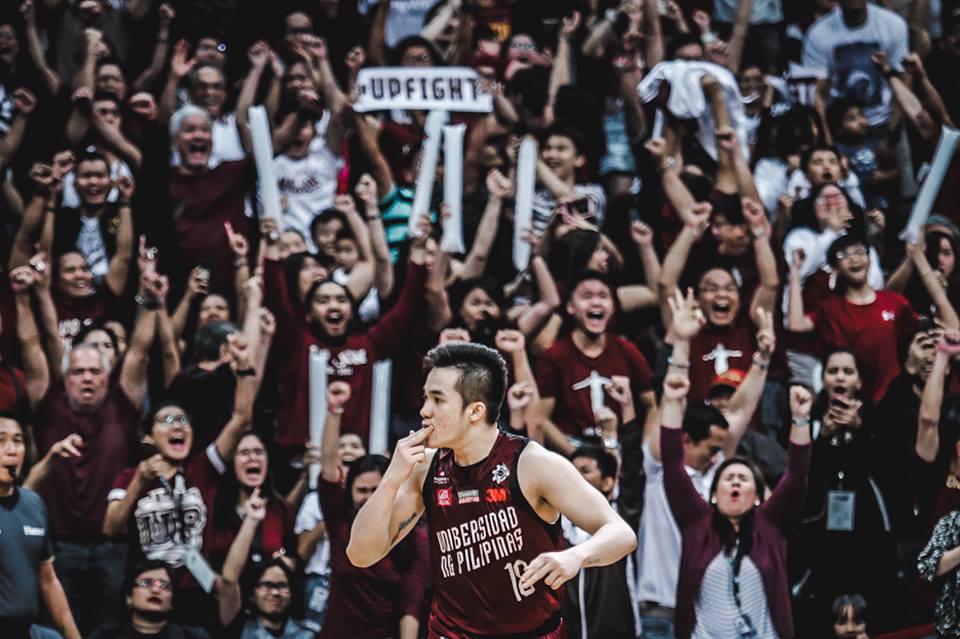 One Desiderio moment that stood out was a block on Sean Manganti's jumper late in the third quarter. As Desiderio ran back on offense, he looked at Manganti, softly wagged his finger, and shook his head like Dikembe Mutombo used to do in the NBA. Not in my house. Desiderio had claimed the Mall of Asia Arena as UP territory.
But it wouldn't be an underdog story if Adamson didn't mount a run of their own. From being up by as much as 10 early in the fourth quarter, UP would give up the lead after a 13-2 Adamson run. Midway through that, the dueling cheers between the UP and Adamson crowd were both awesome and jarring at the same time. We could feel the game slip through our fingers and I was wondering if this would be the last 6:40 of UP basketball for this season. Suddenly, it didn't feel like UP had homecourt advantage anymore.
However, Desiderio and Juan Gomez De Liaño's late-game heroics countered everything Sean Manganti, Papi Sarr, Jerrick Ahanmisi, and the rest of the Falcons did, ensuring that there would be at least one more game and reviving the UP crowd in the process. On one of the last plays of the game, with the shot clock having been turned off, the UP side was filled with anxiety, wondering if the Maroons could close this out. From the sidelines, graduating senior Gelo Vito was yelling, "Atin 'to! Atin æto!" staking his claim to the game, while trying his best to reassure an antsy crowd.
And then, with 5.5 seconds left, swish.
Desiderio had just hit a jumper from the wing to give UP the lead, 71-69. UP went into a frenzy.
Everyone was jumping and screaming. UP hadn't won the game yet, but the pressure was on Adamson now to either tie the game or hit a three to win with less than six seconds on the clock.
Less than two seconds of game time later, Manganti was in a position to tie it for Adamson after drawing a foul from UP's Janjan Jaboneta. No amount of jeering from the maroon side of the arena could get Manganti to miss his two free throws, putting the pressure back on coach Bo Perasol and the Fighting Maroons. This was it. 3.7 seconds left. A basket could win it. A botched play will extend this game to another five minutes.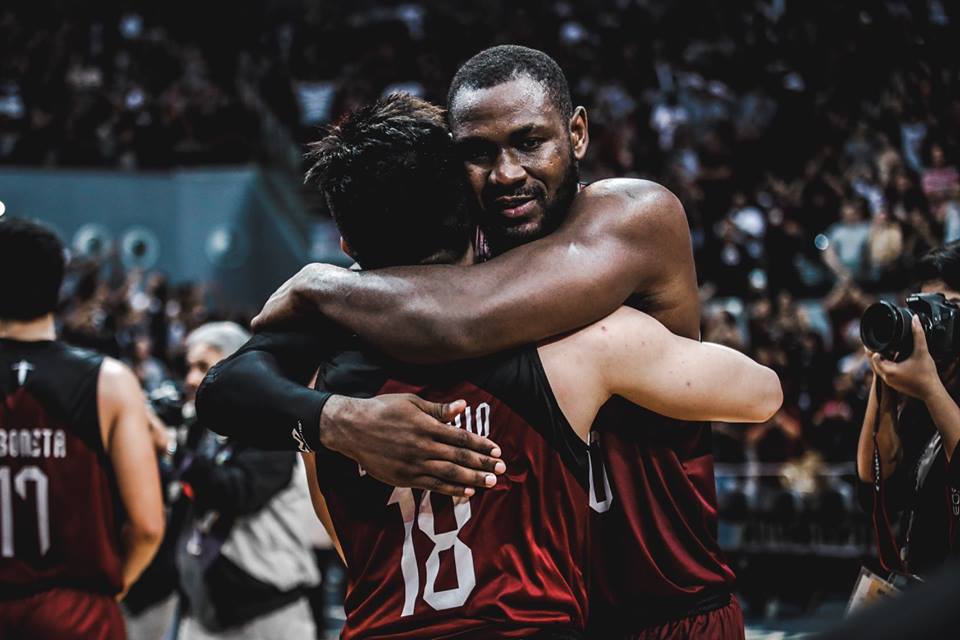 By now, everyone has seen the deep inbound pass that Gomez De Liaño made to a cutting Bright Akhuetie, who made the game-winning layup. M-V-P! M-V-P! M-V-P! And just like that, it didn't matter that days earlier, Akhuetie had to respond to a racial slur from that leaked chat thread. It didn't matter that just minutes earlier, UP had given up a 10-point lead in the fourth quarter. It didn't matter that UP had to endure 21 years of ridicule and futility. All of it led to this moment. And in this moment, there was nothing but pure euphoria.
Everyone who was connected to the Fighting Maroons from the coaching staff and the players to the team managers rushed to the court to celebrate. Cameras captured UP's courtside reporter Sam Corrales giddily jumping like a child on Christmas morning. Iskos and Iskas of various generations were hugging one another, screaming in elation, and even shedding a tear or two.
It was a galvanizing moment, one UP desperately needed in the wake of one of the biggest scandals it has faced as a community. "It's hope. It's pride," as UP chancellor Dr. Michael Tan described. "You can see—look at that," he pauses, pointing at more than half the audience dressed in maroon. "[In the past], you gave away the tickets and no one would go, and now… It's hope. This is the first time in 21 years. Many of the faculty never ever thought that we would have this."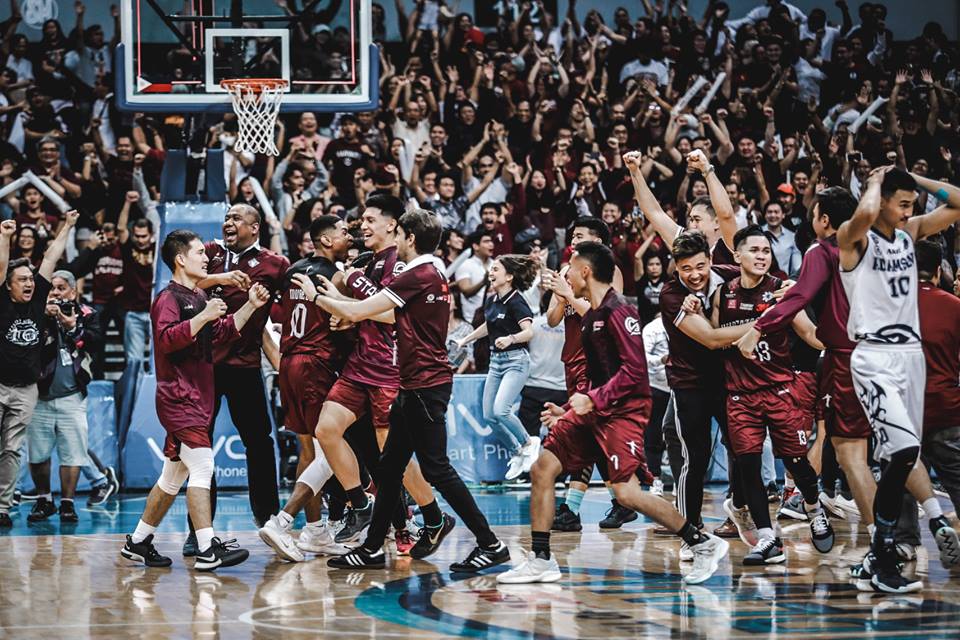 "How can we disappoint [these] people who are supporting us?" asked Perasol during the post-game press conference. Those words implied the burden that the Fighting Maroons carried into this Final Four run. It wasn't just about a team exorcizing its demons from two decades of losing. It's about a team repaying the love it has received from an entire community, feeding off one another and making each other stronger.
Desiderio seemed to think so, stressing that he didn't want Saturday to be the last time he'd put on a Fighting Maroons jersey. "Pag nakikita mo 'yung UP community, nag-che-cheer pa rin sa amin," he says, "Doon kami kumukuha ng kumpiyansa [mula] sa kanila." It's a far cry from his rookie year, when the team only won one game.
"'Yung rookie year ko, 'yung nanonood lang 'yung wife ni coach Ricky [Dandan], si Ma'am Robina [Gokongwei]—halos di umaabot ng10," Desiderio joked. "Pero ngayon sobrang dami, napakasaya ko na nagsama-sama kaming lahat!"
For one moment, the electric atmosphere of that UP/Adamson game brought together a community divided by one of its darkest scandals to date. Adamson courtside reporter Cor Catibayan, who is in a unique position through this series as a journalism major from UP Diliman saw this game as something the UP community sorely needed. "This week, in particular, was tough for the whole UP community," she said. "With all the issues going on on campus, this was a good venue for everyone to come together and express love for the sport."
Through those two hours of game time, it wasn't about political colors or student organizations, or even whatever you thought about frat culture. We weren't thinking about any of that because all that mattered was the UP MBT getting one step closer to the UAAP Finals. After the game, we all have to face the reality of this darkest timeline and have the conversations we need to have. But in this moment, this fractured community was galvanized at a time when we needed it the most.
One reporter asked Desiderio if the crowd last Saturday was the biggest one he'd ever seen from UP. "Hindi pa. Meron pa!" he excitedly retorted.
"Sa Wednesday!"