Rosalinda Ogsimer is living proof that it's never too late to reach for your dreams
By Redg Candido | Photos courtesy of Rosalinda Ogsimer
Unlike the phone game app with a granny that runs angry, this granny runs with a smile. Meet Rosalinda Ogsimer.
Runners call her Lola Linda or Mommy Linda. She is 68 years old, mother of four, and lives in Parañaque City. She has run three marathons and numerous 21Ks.  She did her first half-marathon at the 2013 Run United Philippine Marathon while her first full marathon was at this year's The Bull Runner Dream Marathon. In December, she will be running 50K at the Paa-Tibayan Endurance Run.
I first saw Mommy Linda in a 21K race last year. I was amazed at how she glides along the route. Unlike other runners, she enjoys the humid weather, the uphills as well as the downhills. That is why when I saw her last November at Run for Odyssey, I readily approached her to ask if I could have a few minutes of her time for a quick chat.
What got you into running?
I was motivated by my eldest son who's into triathlon. My kids and grandkids are also into running and triathlon.
So you ran once, then what convinced you to continue running?
I run to develop endurance. Since I started running, the pain I felt in my joints, little by little are all gone.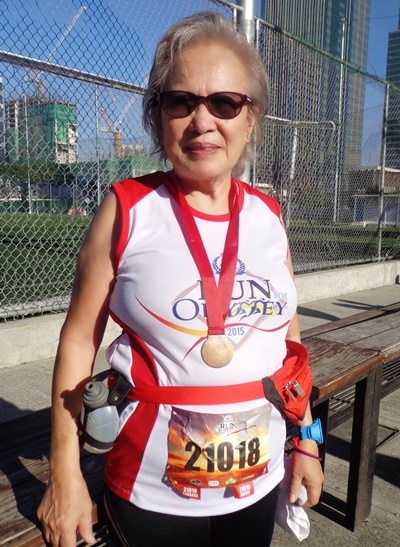 When did you start running?
My first run was a 5K at Greenfield City back in 2012 and since then, I upgraded from 5K to 42K.
What is your training regimen?
I run three times a week, 5K to 10K on weekdays and 16 to 21K on weekends. My usual training grounds are Multinational, Filinvest, and BGC.
Do you take supplements?
Yes, I take multivitamins, vitamin C, and B complex.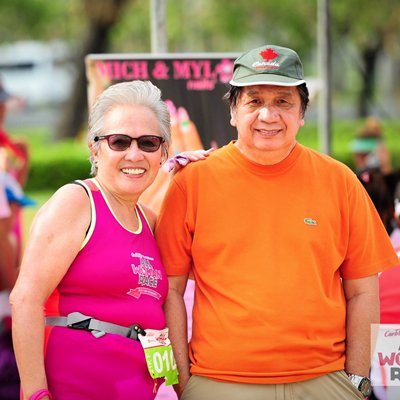 Mommy Linda with her very supportive husband
What is your race regimen?
I do carb-loading the day before the race. During the race, I take gels, crackers, and sports drink. After the race, I use bodycraft to loosen tight muscles.
What is your typical day?
I usually wake up early especially every Tuesday, Thursday, and Saturday at 3:45 am. I run 5K, do exercise in my little gym at home doing treadmill and bodycraft. After that, I go to work as an assistant to my husband's clinic. I sleep around 10pm after watching my favorite teleserye.
What would you advise women your age regarding health and running?
I would advise women of my age to like and love what they are doing. Determination, perseverance, and regular practice are important. Motivation and support from your loved ones and friends are also important.