Not only did Nylah Bautista race Ironman Korea and Taiwan with a hip injury, but she thrived and even beat her previous PR
Lead photo by Arvin Alivia, LSG Studio| Additional photos courtesy of Nylah Bautista
My reaction when a friend told me about someone who raced consecutive Ironman events. "Madness," I thought to myself.
And yet here I am thoroughly impressed and inspired by what Nylah Bautista, an entrepreneur, Kerry Sports Manila instructor, and Adidas Runners Manila coach, had achieved in the last few weeks. Bautista worked as a corporate executive at Ayala Land and Ayala Malls for 15 years until she "decided to shift gears and focus on the sports industry."
But even that massive change in career was no match for the magnitude of her decision to believe in her raw talent to race Ironman Gurye Korea and then Ironman Taiwan in Penghu within 20 days of each other. "Triathletes are crazy people. The more painful challenges we conquer, the more motivated we become," she says.
Given the fact that Bautista's inflamed left hip, which rendered her limping 10 days before Korea, didn't stop her from crossing the finish lines of both events is a testament to her persistence and never-give-up attitude. And it had paid dividends: She finished Korea in 14:03:04, ranking 20th in her division and 740th overall out of 1,655 athletes. Her Taiwan finish is just as impressive with an official time of 15:36:45, placing her sixth in her division and 364th out of 696 athletes.
So when she says she still has many more dreams to fulfill—like racing in Kona—you know it's only a matter of time.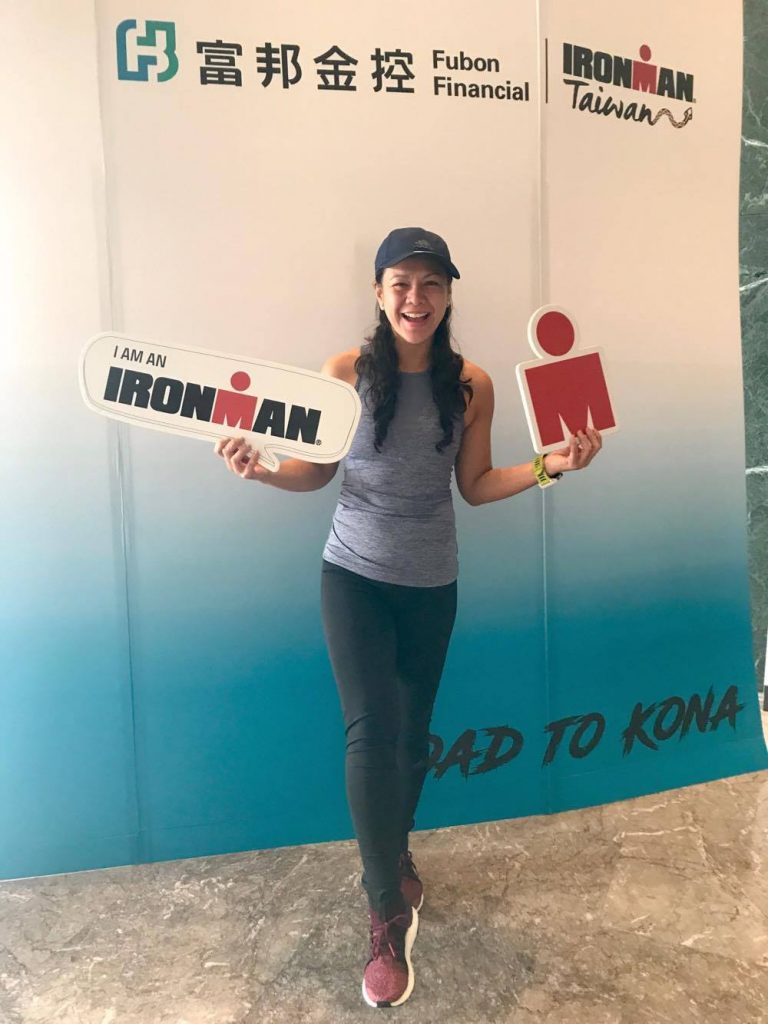 Let's backtrack a bit. Tell me about your triathlon history
My active lifestyle started in running. I was asthmatic and non-athletic, and I dealt with weight problems so I joined the Ayala Running Club and started running at the roof deck carpark of Park Square One. From running 3K, I progressed to longer distances and managed to finish several marathons in two years.
After that, I was looking for the next challenge that will shake me to the core. I clearly remember in November 2011, I fearlessly signed up for my first Ironman 70.3 in Cebu without the skills to swim and without even owning a bike. The registration served as my motivation to take up swimming lessons and buy a road bike. As a newbie, I had to join sprint and Olympic distance races in preparation for my first half Ironman. I continued to do a couple of 70.3 races and assessed what I felt after the race—noticed that I still have energy left in the tank and I figured I can go for longer distances.
In 2015, the timing was ripe and I signed up for my first full Ironman in Langkawi. Its hilly bike course and hot weather are not the ideal conditions for newbies, but it's the nearest and most practical in terms of expenses and logistics.
Upon battling the hills and heat, I cried at the finish line, not only due to exhaustion but also because of pure joy in knowing that I am a bonafide Ironman finisher. Ironman Taiwan finish in 2016 came as a surprise as I was able to improve my time by more than an hour considering Taiwan is a tougher course. My goal is to finish just one every year, but 2017 is different; the back-to-back idea became more appealing.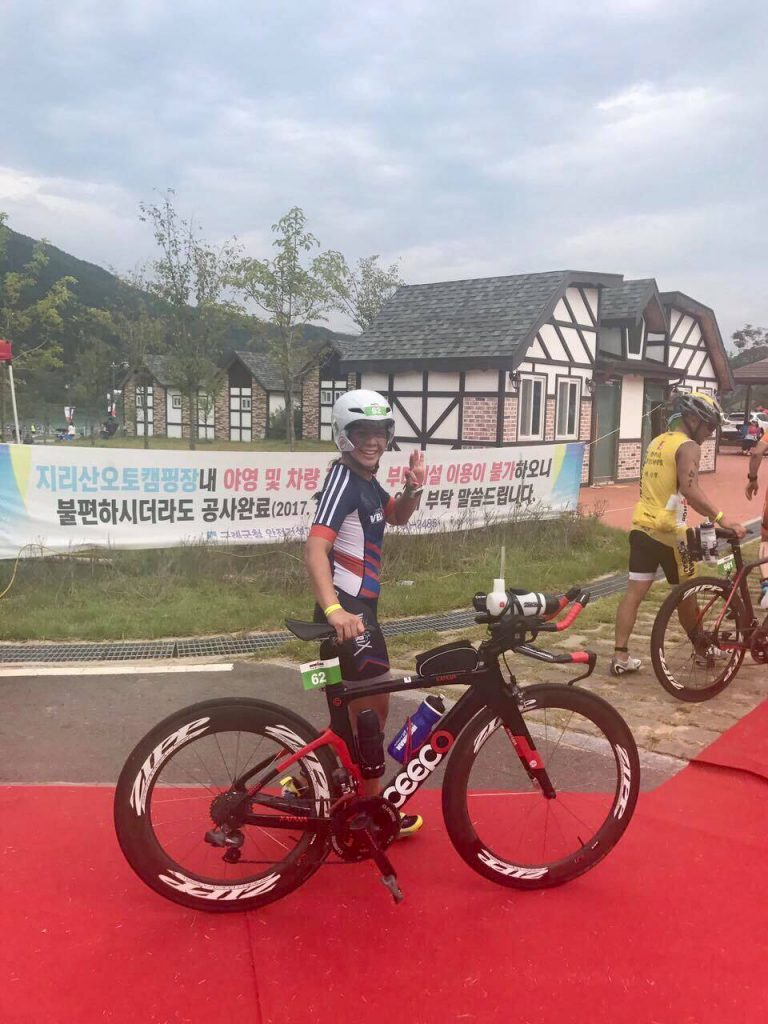 Do you think there is a particular personality drawn to triathlon? How does your personality fit into that notion?
Triathletes are crazy people, dealing with idiosyncrasies of activities that bring physical, emotional, and mental pain. The more painful challenges we conquer, the more motivated we become. Behind that crazy impression, we share common traits, which are passionate, goal-oriented, and determined. I found a new passion in triathlon, and this has been a good coping mechanism as I dealt with a loss of a loved one. I've encountered a lot of setbacks in balancing training, work, and personal stuff, but with a positive mental attitude, giving up in races has never been an option. It's the genuine passion that keeps the fire burning.
Racing an Ironman is intimidating to many people. But doing two consecutive Ironman races? It's mind-blowing. What was your motivation behind it?
I noticed lately that a number of Filipino male athletes have been doing Ironman races, every quarter, up to five times a year. So I thought, if men can do it, women can do it better. An inner voice kept on challenging me to give it a go and test my limits. When a sizable group of PInoys signed up for Korea and only a few doing Taiwan, I decided to join both. Doing back-to-back races within 20 days apart defies the golden rule of recovery, which is 8 to 12 weeks after an Ironman.
How did you prepare for the two races? Did you have to do anything different?
I'm an indoor warrior. I swim, bike, and run in an indoor environment. It suits me more since I can better manage my time and still be efficient. For outdoor training, you're bound by several factors—time, weather, and traffic, which all add to training stress. Indoor training significantly helps build mental toughness. Imagine sitting on your bike trainer for more than seven hours. Who does that?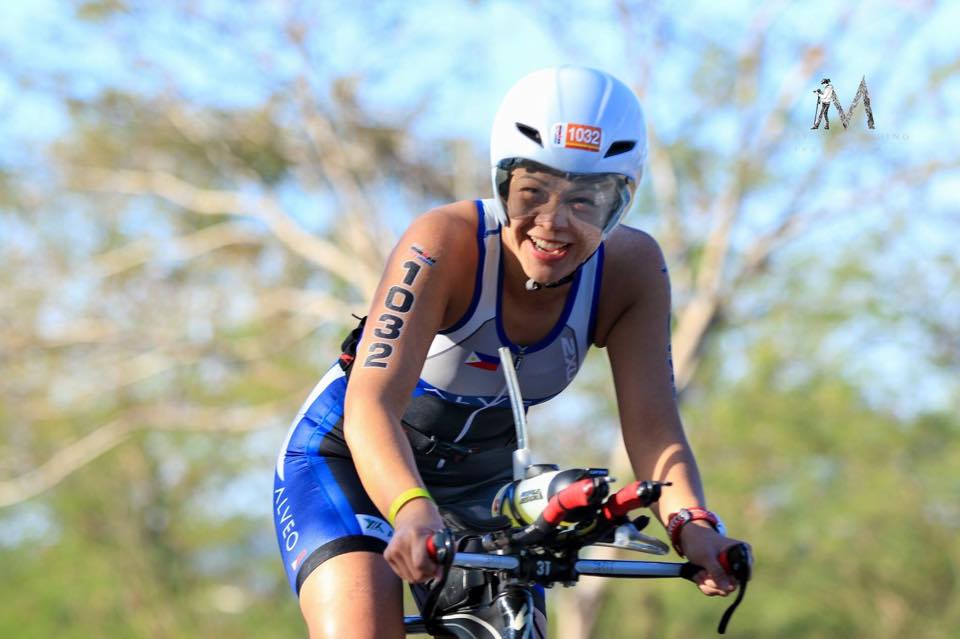 For this year's Ironman, I trained 12 to 14 hours a week, depending on the program. I usually go for shorter but intense workouts in the beginning of the training block to build strength and power. Then I slowly progress to building mileage and volume. I do a lot of indoor SBR and brick sessions. I teach spinning classes at Kerry Sports Manila and immediately after class, I transition and hop on the treadmill to run.
What made you decide on Ironman Korea and Taiwan?
It's the company of fellow Filipino triathletes that made me decide. When the news of Ironman doing an inaugural race in Korea came out, a big group of interested athletes was suddenly formed in Viber. I wanted to be part of it, part of the action, part of the biggest Pinoy contingent racing in a foreign country. So there we went, 114 strong Pinoys who conquered Korea. It's the Pinoy camaraderie and bayanihan spirit that made the journey so much happier. I signed up for Taiwan since it's going to be my second time and I'm more familiar (supposedly) with the course plus the fact that 22 Pinoys will also be there.
Tell us about your experience at Ironman Korea and Taiwan.
Ten days before Ironman Korea, I was diagnosed with hip bursitis on my left hip. I could barely walk, I was limping and there was no way I could run since my ITB and TFL were inflamed.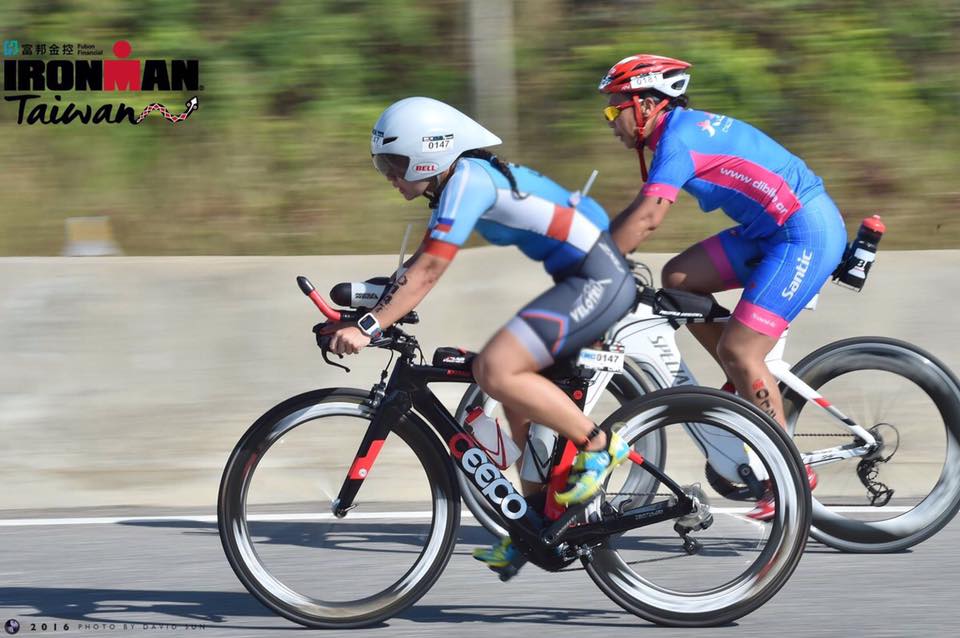 I spent half the year focusing on my run and was happy to set new records in various distances, then this horror happened. I consulted doctors and therapists and searched like a madwoman for immediate healing. The thought of DNF came into play and I planned to only finish the swim and bike legs of Ironman Korea. Once I got off the bike, I tried to jog or run and inner thoughts said to give it a go. So I went on, putting one foot in front of the other, counting every kilometer until I reached the finish line. Major surprise was, I did a PR in all three disciplines. At that moment, I realized that the mind is more powerful than the body. The mind determines what is possible and the body follows suit.
Twenty days after Korea, I found myself in Taiwan about to do the whole shebang again. My hip injury hasn't completely healed and only a crazy woman would subject herself to more pain.
Ironman Taiwan is the toughest and most brutal course I've ever encountered. Even the champion, Kevin Collington, couldn't hide the fact that he struggled during the race. It was the ultimate test physically, mentally, and emotionally. Burning hot weather with a real feel of 42 degrees Celsius combined with 80 percent humidity brought down my speed and power capacity. The new bike and run course became hillier.
For the first time, I had major heat rashes on my face and arms. I had to stop longer at aid stations to shower and let the steam off. The 42K run showed no mercy; the athletes had to go through three loops of hills. In essence, whenever a race (like Taiwan) throws you a curve ball, you have to roll with the punches and push yourself to reach the finish line.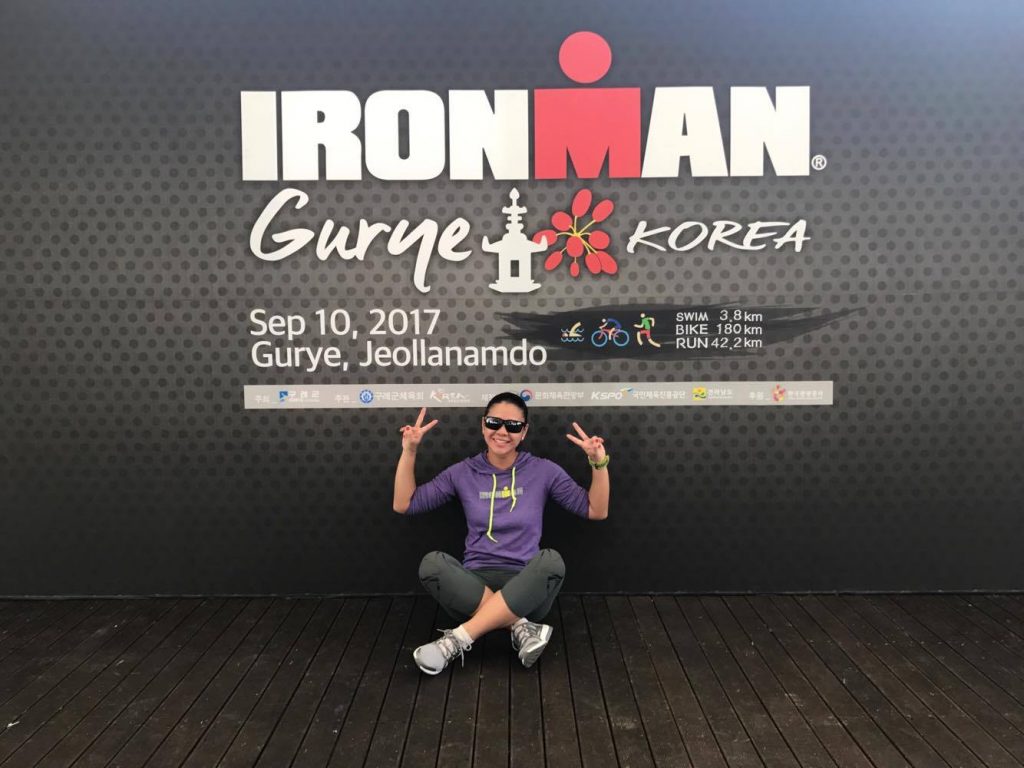 What goes on inside your head when you're out there racing?
I pray, I sing (in my head), and I think of happy thoughts to deal with physical pain. Especially on the bike, I play songs in my head with beats that are in sync with my pedal stroke. In Taiwan, while battling the wind and heat, I did mind conditioning of the cool weather in Korea and it helped me survive. On the run, I do reverse psychology, instead of thinking, 40 kilometers more, I think the opposite, two kilometers done until I reach 42 kilometers.
What's your advice for someone who's thinking of doing the same thing?
For triathletes doing back-to-back racing, do it while your body can but be very mindful of recovery. The body is intelligent and it will definitely tell you when to stop to rest. If you can space it out at least four to six weeks apart, then that's much better to give your body a chance to recharge and at the same time perform at its peak too.
I learned that in doing consecutive races, you get to choose which one you'll ace and which one you'll race to finish. I've set this goal as a personal challenge and knowing it's doable, I'll be wiser now on how to approach back-to-back racing.