Liz and Brooks Dimaandal found their recipe to successfully raising an active child: Learn when to step back

Photos courtesy of Liz Dimandaal

Every triathlete parent would want to share their sport with their children, but getting kids to do it isn't always easy. Luckily for 33-year-old Liz and 35-year-old Brooks Dimaandal, their son seems to have no problem being active and trying new sports. As early as age three, their son Luis already enjoys biking and competing in events. But for them, it's all about developing a passion for the outdoors rather than just pursuing their sport. Here, we talk to Liz to find out more.
Do both of you have a background in sports?
We started running in 2010, partly for fitness, partly for fun. What started out as curiosity developed into a passion and a love for both the lifestyle and the community. From zero running, we did half marathons, then marathons, and then we started venturing into multisport. Neither of us were professionals in any sport. Brooks played some sports recreationally—basketball, table tennis, and tennis, for example. On the extreme end, I used to not be into any physical activities at all.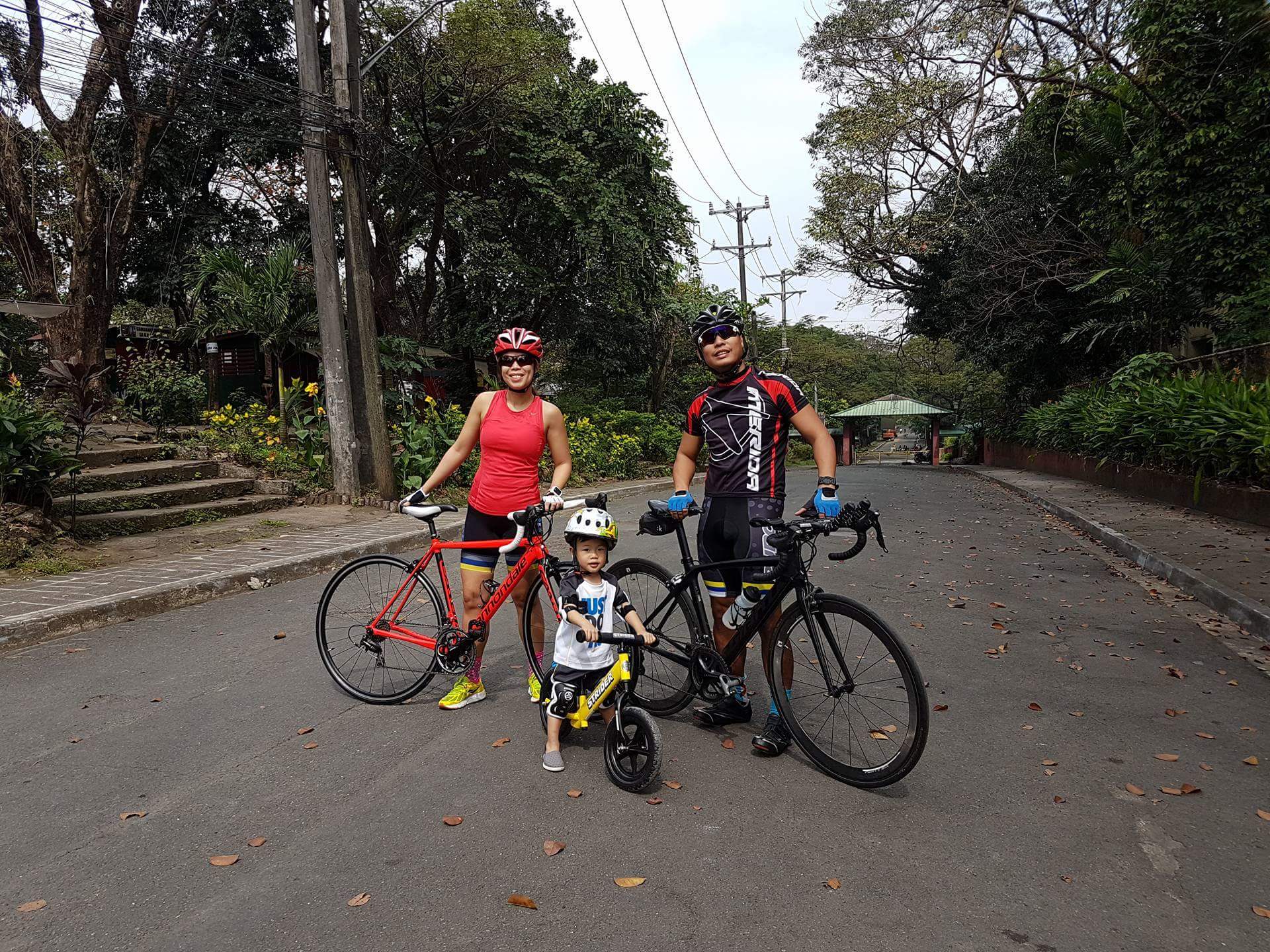 What made you as a couple decide to pursue triathlon?
After a couple of years of running and achieving personal goals, we started to venture into other sports to continually challenge ourselves. It's not just a test of physical strength but also of mental and emotional fortitude.
Brooks was challenged to learn how to swim; he got himself a coach and then we started doing aquathlons. He ventured into triathlon in 2014. It was a natural progression, I suppose. I thought I'd never do a triathlon because I had never learned to ride a bike and thought myself too old to learn. But one day, I came home, and Brooks had bought me a bike as a surprise. Eventually, I did learn to ride and started to join triathlon events too.
We enjoy the challenge of discovering what we're capable of. It's even more enjoyable that we get to do this together. Quality time (or a lack of it) isn't an issue for us because we get to train together. It's also become part of our lifestyle. Even when we go on vacations, we pack our running shoes and find a good route as part of our itinerary.
How do you manage to find the time to balance training and raising your kid?
You just have to make it happen. When you have a toddler, it's not easy to find time for training, especially if you want to go on long runs or rides. Sometimes, or even often, it's hard to find time and energy for a workout, but we've also realized that it's part of our routine. We have more energy, we sleep better, and we're in a better mood when we exercise regularly. It's also very important to still have time for yourself, and there's no better time to feel attuned to yourself than when you work out.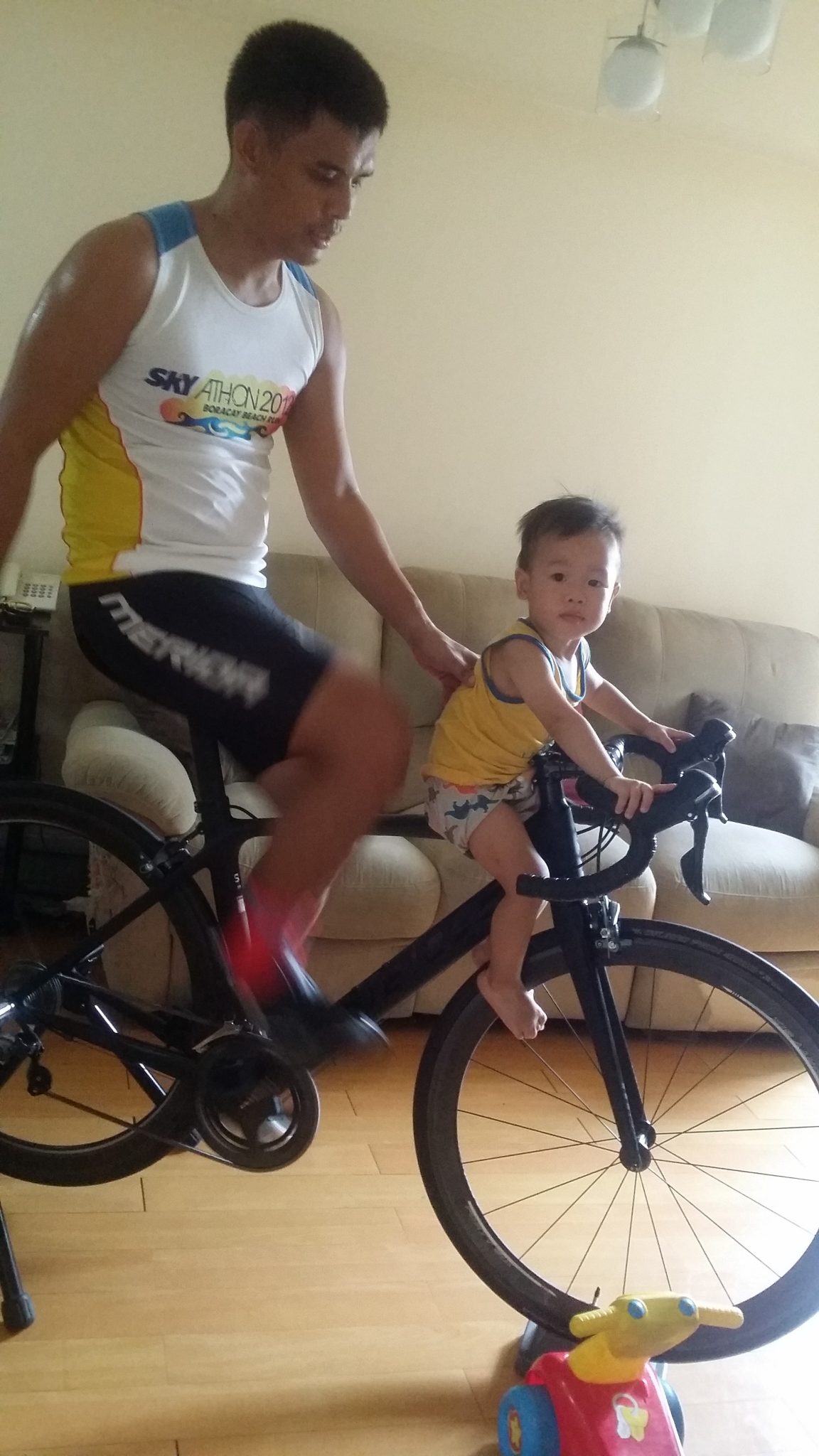 You also need to be flexible with your schedule. Sometimes you have a really late night because the baby was fussy all night, but there's no point in beating yourself up for missing your training goal for that day. Find pockets of time when you can sneak in a quick workout. We live in a condo so there's easy access to a treadmill, so sometimes we just step out for an hour for a quick run.
Family support is also important. We're lucky to have doting grandparents and aunts who are more than happy to spend time with Luis when we're training or joining an event. We also try to bring our son with us on out-of-town races.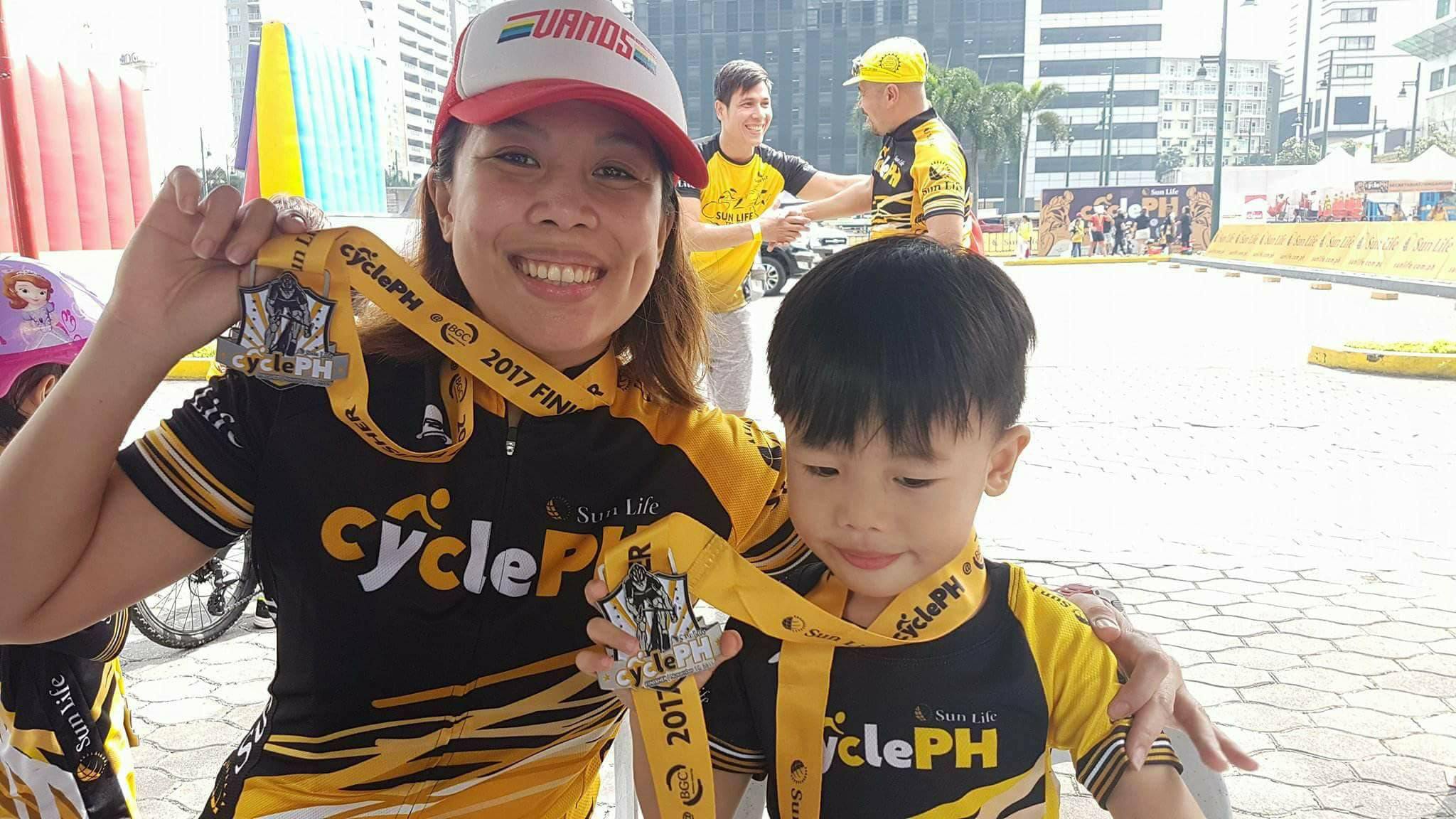 How did your son first get into biking?
Luis is a very active child. He has a lot of energy and barely stays still. In raising him, we also introduced our lifestyle to him. He joined me in post-natal yoga class. We had a jogger stroller for him so that we could all go running in UP. We enrolled him in swimming lessons when he was eight months old. He got a Strider push bike on his second birthday.
What made you decide to have Luis compete in bike events at such a young age?
Competing wasn't really our primary reason. We just wanted him to have venues to expend his energy, be active, and learn to play with other kids. He joined his first bike event when he was two years and three months. We told ourselves if he didn't enjoy it, we wouldn't force him to. I don't think he really had the concept of winning or losing at that time, but he had a smile on his face and whooped and exclaimed. It was the simple joy of racing, and it was amazing to watch.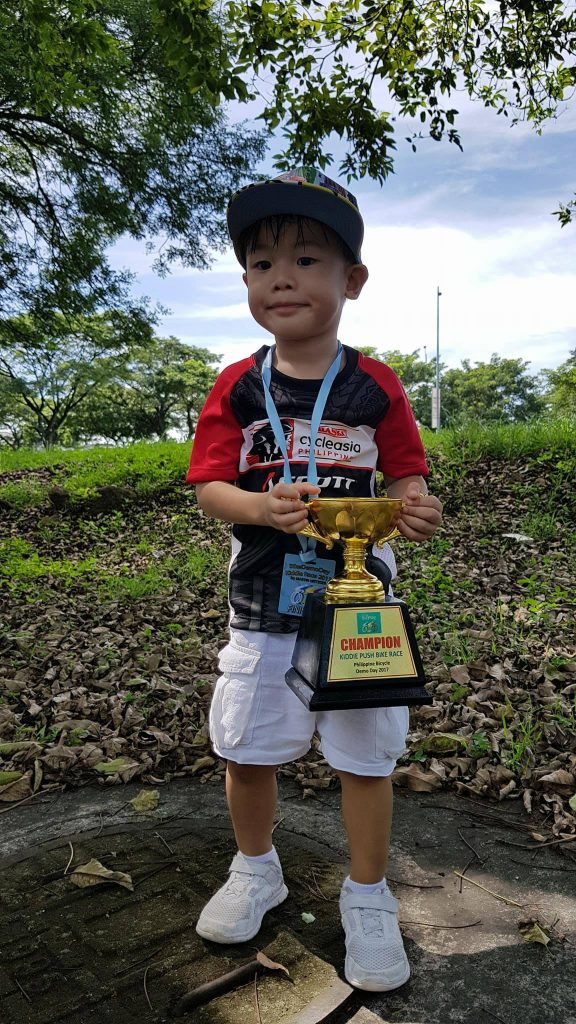 What values do you think this sport teaches your kid?
Sportsmanship. When he was younger, we called him our fearless baby. We thought he had no control over his motor skills yet. But, we were surprised when during events he was very careful. One time, he bumped his bike, and he got off to check the wheel and asked his bike if it was okay. He also doesn't push or overtake and if there's a tight spot or a buildup, he just patiently queues up. I appreciate that he's careful of himself and of others as well. But if there's space, he likes speed. For now, we just want to nurture his love of the outdoors. As he grows up, this sport will also teach him discipline and camaraderie.
Do you have any plans of getting him into triathlon, too?
As soon as he learns how to swim. When there are events that allow kids his age to join, we sign him up. We've done that in the past; we've gone as far as Bulacan and Clark for these events. He has yet to join his first run event and soon, we'll sign him up for swimming lessons—not just for triathlon purposes but because it's a life skill.
Do you have any advice for other parents who want to get their kid into the sport?
Foster a love of the outdoors in your children. Let them run and climb, and guide them as they learn their boundaries. Learn to recognize when they are fearful or just need your encouragement, and when they truly don't want to do something and you need to step back. Spend time with them doing what you love to do, and they will discover it for themselves too.