While not glazing over a rotator cuff injury is a badge of honor, this setback presents opportunities for athletes to take better care of themselves
Photos by Ketut Subiyanto/Pexels and courtesy of Don Velasco
I've had my fair share of injuries throughout my athletic career, from cuts and bruises to iliotibial band syndrome and lower back spasms.
I've also had my fair share of aches and pains. But I've made it a point to learn from these injuries so I not only avoid them in the future but also impart wisdom and knowledge to my athletes.
As I always say, learn from my mistakes and emulate my successes. The injury I'll discuss in this article doesn't get as much attention as it should: rotator cuff injuries. Not only is it common for athletes in general but recovery also takes a lot of time.
Surprisingly, I injured my rotator cuff recently while doing house chores.
I can rule out overuse injuries since my swim volume is nonexistent, my strength training is short and not that intense, and I haven't been doing any other upper body exercises.
To cut a long story short, a short, sudden movement done at an awkward angle and performed at the wrong time strained my rotator cuff. It's been four weeks of rest, rehab, and medication but it still hasn't healed 100 percent.
So why does the rotator cuff get injured so easily? Why does it take so long to heal? And more importantly, what can we do to prevent this? We're here to find out.
What is the rotator cuff?
The rotator cuff is actually a set of four muscles that rotate the arm (inward and outward) and move it up and down. While these might seem like simple tasks, we have to understand that the shoulder joint is very delicate.
It's called a "multiaxial ball-and-socket synovial joint," which basically means it allows for a huge range of mobility and movement; however, all this mobility comes at the expense of stability.
You could think of the rotator cuff as the glue that holds your arm in place while it's performing intricate tasks. Unfortunately, these muscles are sometimes weak, overworked, and/or tight.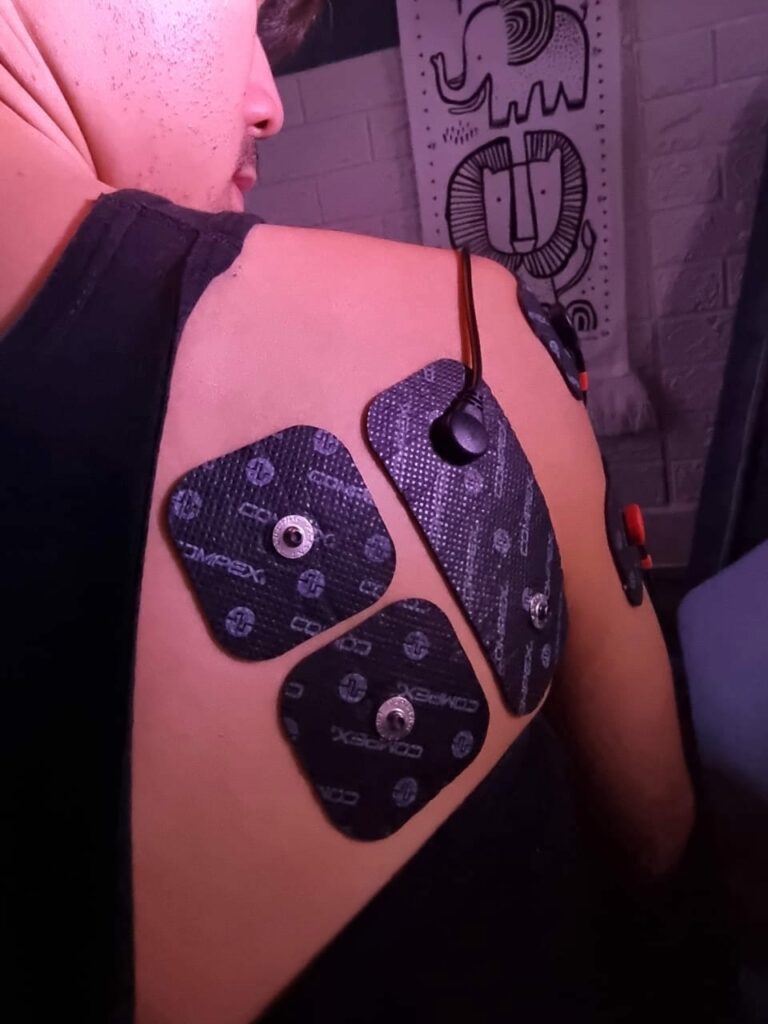 The rotator cuff rehab
Immediately after my injury, I consulted my aunt, Dr. Caroline Cruz Ynion, a doctor specializing in rehabilitation medicine to see what could be done. Basically, we had to first get the inflammation down to manageable levels.
Inflammation is your body's natural response to sickness or injuries. It's a mechanism that allows for healing and recovery. However, too much of it can also be a problem. The latter was true in my case; I found it hard to do normal tasks such as eating, dressing up, and showering.
My rotator cuff was so inflamed and tender that it felt debilitating. Once we were able to manage inflammation, we then proceeded to controlled and progressive stretches that gently increased my range of motion. These were rather painful at first, but slowly and surely improved pain levels and mobility.
As I increased the number of sets and the frequency of the stretches, I felt significant improvements—significant enough that I was allowed to resume my resistance training program.
Of course, I had to take several steps back when it came to my strength training. I was scared to risk re-injuring myself and had to play it really smart. I focused on movements that gave me virtually no pain and dropped weight and intensity altogether.
As I started to gain momentum, I gradually increased the resistance and volume such that I'm almost back to my original form. Almost.
One of the things I had to take time with were my lateral raises. These felt painful, so I had to focus on proper movement rather than lifting a heavy weight. I also double dosed on my favorite collagen supplement to help facilitate the rebuilding process.
All in all, progress was acceptable but still frustrating, especially for a competitive athlete like me. So what else could be done?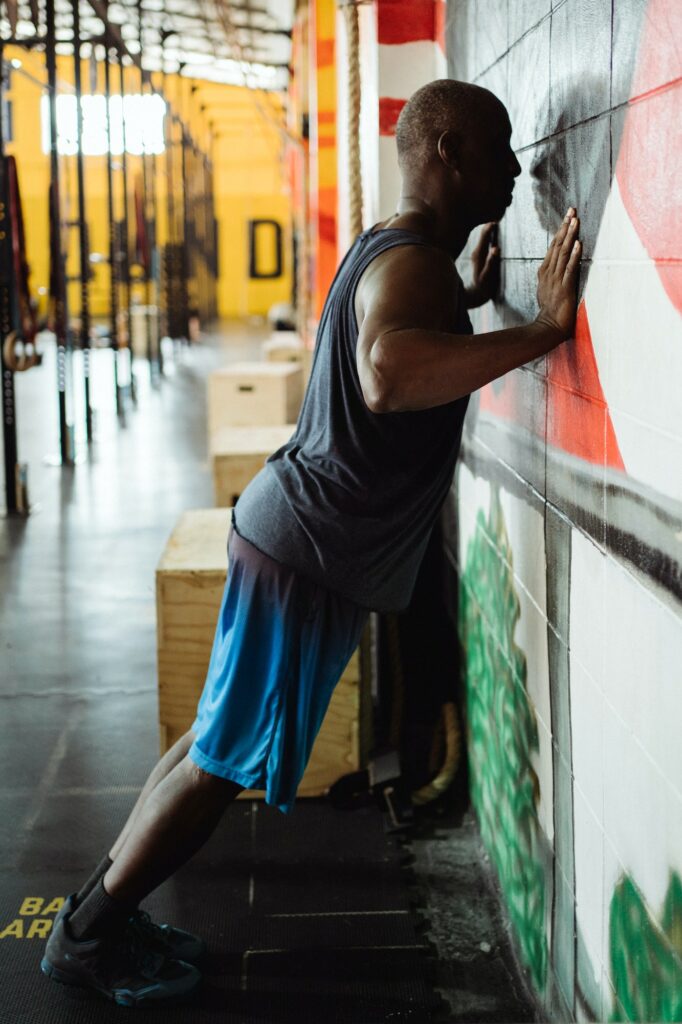 Low-voltage therapy for pain
That's where I decided to experiment a little bit and tried out Transcutaneous Electrical Nerve Stimulation (TENS). TENS is done using a small compact device with electrodes attached to your skin. I found this to be one of the most convenient and cost-effective modalities available to me during this pandemic.
I bit the bullet and chose one that had excellent feedback from other athletes. I just had to attach the electrodes to my back, turn on the device, and deal with the foreign twitching and tingling sensation on my back and arm. Supposedly, by sending electrical signals directly to the injured muscles, blood flow can be improved, pain can be masked, and inflammation can be mitigated. So did it work? Quite surprisingly, yes.
To be honest, I was quite skeptical at first, but after reading journals and research papers discussing its efficacy, I decided to give it a shot. I was only expecting marginal progress but after a few sessions, pain subsided from around seven to a manageable five.
I also felt a significant improvement in mobility since my inflamed muscles were no longer rubbing against each other as much. A word of caution though: You have to choose the right device. I believe in the "buy nice so you don't have to buy twice" mentality.
So I decided to get a rather expensive one. After all, taking care of your body is an investment in itself. I was able to compare my unit with a cheaper generic one and the results were night and day. Things like current rating, electrode quality/size, and electrical signal patterns made the difference.
So what now? My injury is healing, but how do I prevent it from happening again? Unfortunately, triathletes like me are prone to such an injury but there are a few things we can do to prevent this.
Strengthen your rotator cuff
When we work out, we often target the large muscle groups and the aesthetically pleasing ones. The chest, back, biceps, etc. are all important muscles, but we also need to pay attention to the hardworking role players as well.
The rotator cuff is definitely one of them. Grab your resistance bands and do internal and external rotations. Perform lateral raises in a controlled and gradual fashion. Don't forget to focus on the negative reps to help promote stability and control.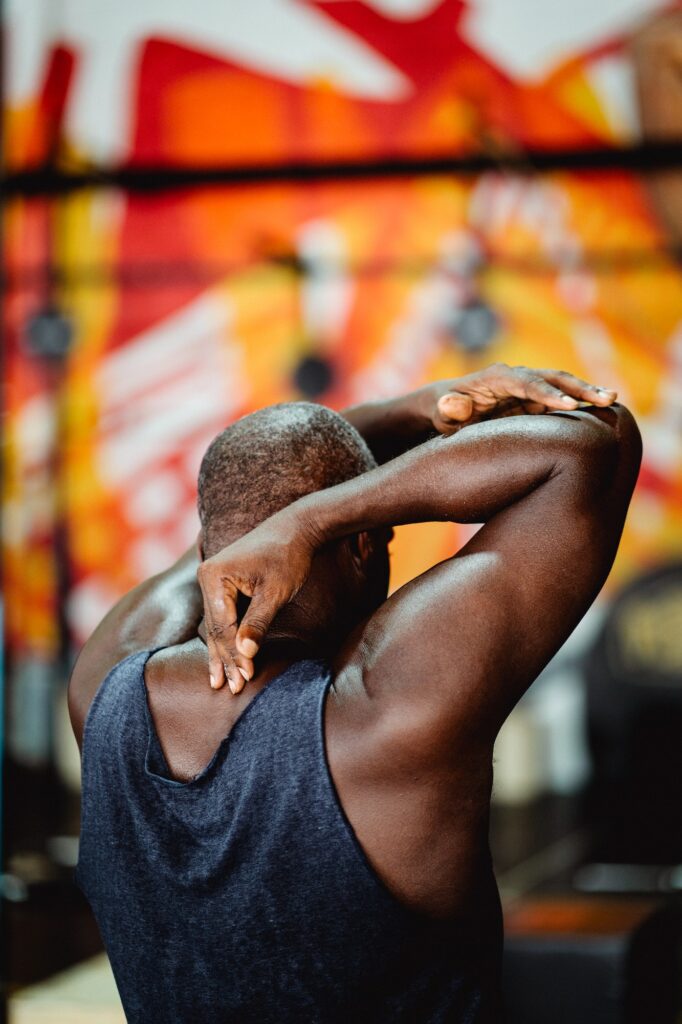 Stretch the rotator cuff and other supporting muscles
Rotator cuff stretches will allow you to improve your range of motion. This, in turn, will lower your risk for strains and injuries. However, we need to make sure that our chest, shoulders, and back also have enough flexibility. If we don't, imbalances can come into play.
An example of this would be slouching due to tight chest muscles. Forward-rotated shoulders put a lot of strain on your rotator cuff and put pressure on the wrong places.
Focus on proper form and movement
Performing strength workouts and cardio (like swimming) should always be done with proper form. Oftentimes, we see ourselves rushing through the movement or wingin' it. However, once we injure ourselves, all the fitness we've built goes down the drain. That's why it's important we make sure we aren't putting ourselves at risk with rushed and improper movements.
Add rest into the equation
There's no escaping it: Rest is an important piece of the puzzle. However, it's important to note that rest is defined differently for each person. Some people, especially those who've built lots of fitness over the years, tend to need less rest to recuperate. Beginners, of course, would need more. This is especially true if you're doing intense workouts. You can speed up your recovery through different modalities such as massage, TENS, and possibly even supplements like collagen. Just make sure you're wise when it comes to taking care of your body because it's the only one you've got.
Have some training questions, feedback or suggestions for future articles? Drop a note in the comments section below or on Facebook, Twitter or Instagram. You can also get in touch with Don directly here.