What it took one skeptic to believe in the potential of Flyweight
By Romeo Moran | Photos by Danica Condez and courtesy of EON
The first time I came across Flyweight, a group boxing studio in Bonifacio Global City, on my social media feeds, I went on a real rollercoaster of opinions.
In the beginning, I thought their slick promotional posters online looked pretty cool and the branding was something I could get behind. It seemed like they were making boxing look something else, beyond the rough, gritty, somewhat mom-and-pop branding of your typical boxing gym. I'd missed doing boxing classes and while I was already preoccupied with working out elsewhere, I've always wanted to explore options if I really wanted to go back to punching heavy bags and sparring regularly.
But the more I dug around as to what "group boxing" really was, the quicker my awe turned into, well, bafflement, to put it nicely. If you don't exactly know what it entails, don't blame yourself; it seems to be a genre Flyweight came up with. Don't you take a class with a group of people anyway?
I quickly learned that it wasn't boxing training the way I was used to: I've had a couple of boxing classes and I've spent a few months learning muay thai in a traditional gym, and from what I can tell, Flyweight offers what is pretty much a mix of boxing and spinning. It's not actual boxing—just a group-based workout heavily based on boxing and circuit training.
'What is this? I just want to punch a bag.' Why don't people with the money just go to a nice Elorde and learn how to fight?
Since then, I've lost interest in Flyweight until I finally decided to check it out after a media invite to test a new line of sportswear. I needed a workout and it was free. I might as well go, see what the fuss is about, and sweat a little in the process.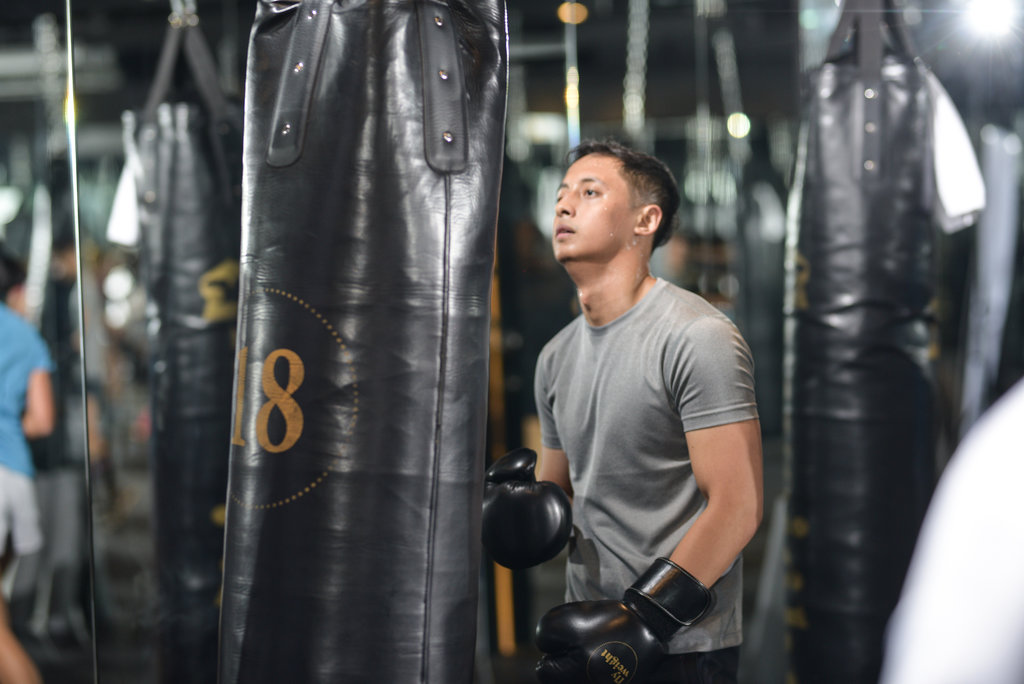 Everything was snazzy. Trainers wrapped your handwraps. There are cool black gloves for you to use if you don't have your own. Water is free; towels and toiletries are, too. Nothing at all like the dingy boxing gyms constantly glorified in many a sports movie.
I walked inside the dimly-lit, air-conditioned studio, which felt more like a club's VIP room with four rows of heavy bags set up neatly in a grid and mirrors for walls, with an open mind. My mind really was open because I was here to sweat and punch bags, and they did have the bags, at least.
A Flyweight workout is simple. You are given three core punches of boxing—the jab (and cross), the hook, and the uppercut—as well as the basic bob and weave evasive maneuvers, and the entire workout plan revolves around combinations of those moves and simple bodyweight exercises in six rounds of nonstop cardiovascular training.
You'll hit the bags for a majority of the minutes in a round, and as a cool-down you'll do some sit-ups, lunges, and squats. You're on your feet for a lot of it, even in the active resting period, and the constant work is something I ended up respecting.
I respected the challenge the nonstop cardio and punching gave me, but something still felt a little off. The instructor had a knack for timing his reps and segues to the beat of the music and I couldn't tell if I was supposed to punch to the rhythm. If that was the case, then whatever we were doing felt a lot like Zumba.
Again, I just wanted to punch a bag. By the end of that session, I felt satisfied and drained, I gave it the props for kicking my ass, but I still wasn't sure if it was something I'd do again.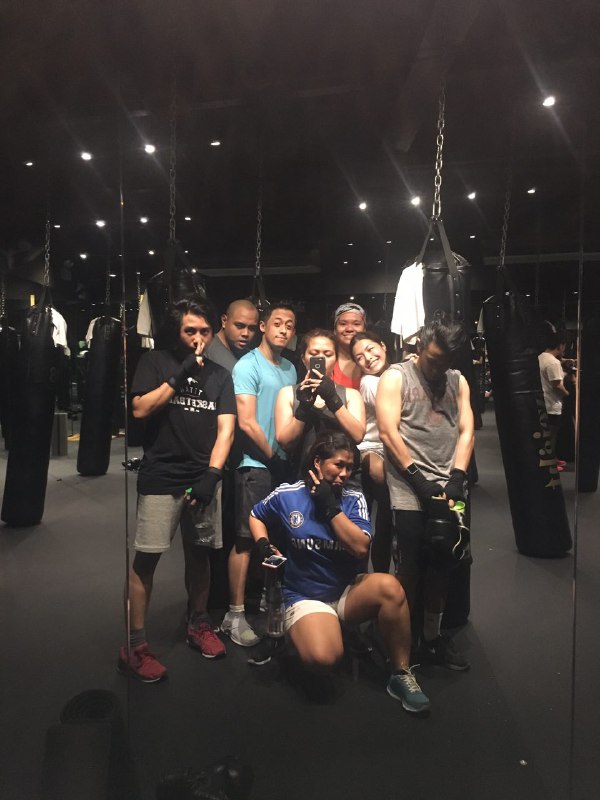 Lo and behold, I did end up going back—this time with (former) officemates excited to give it a shot. I couldn't hold it against them; they wanted a workout that seemed fun, and objectively, Flyweight is more fun than your usual boxing training or yoga session. So I joined them even if I wasn't feeling it as much because any workout is still a workout.
Surprisingly, it was this session that finally made me fully embrace Flyweight. It's not only because I did it with friends, but this time around—and perhaps, it was only because of the way the session was run—it was more serious, the punching was challenging and more exhausting, and not at all awkward. We were finally here to do business, and knowing that Flyweight was capable of sessions like these earned my respect (for whatever it's worth).
It bears noting that Flyweight isn't really a boxing gym that teaches you how to fight. For anyone who's got the same expectations as they would going into an Elorde or similar, you need to drop them. You come here with the intent to have fun and exert yourself.
The instructors will teach you some basic principles of fighting, like how to do a proper fighting stance and how to punch with your core and feet, but you're not going to go home from a bunch of sessions the next Pacquiao. No one's going to help correct your form, no one's going to remind you to correct your stance or to keep your hands up every time you throw a punch—and they don't have to, because in Flyweight, no one's fighting back.
If you're looking for a fun new way to work out, you've got money to spend, and you think spinning or yoga don't do enough for all your pent-up aggression, then give Flyweight a shot. Given the right conditions, you might end up being better than you've ever realized; Flyweight takes care of the rest so you could achieve that potential. Just drop your expectations at the door.