Thinking about joining an indoor cycling class but have no idea what it's about? We've got the perfect cheat sheet before you ride that bike
Photos by Pat Mateo (Electric Studio) and Ronan Capili (Saddle Row)
Much like the return of '90s fashion (denim overalls, anyone?), there seems to be a resurgence in '90s exercises, too. Indoor cycling has been around for a while–cyclist Johnny G's Spinning became famous in 1991–but the 21st century take on the workout is fresher and bolder. Here in Manila, several studios have been cropping up since 2015 to spread the hype.
"It's a cardio workout," says Kamae de Jesus, an instructor at Ride Revolution. "So if you're the type who enjoys the rush of cardio mixed with a bit of dance movements and weights then [this] is a must-try." Saddle Row program director Chris Allison recommends the exercise "to anyone looking to improve health, tighten up the waistline, and feel more energetic as they go about their day."
If you think this is for you, here's what you need to know about indoor cycling:
It works more than just your legs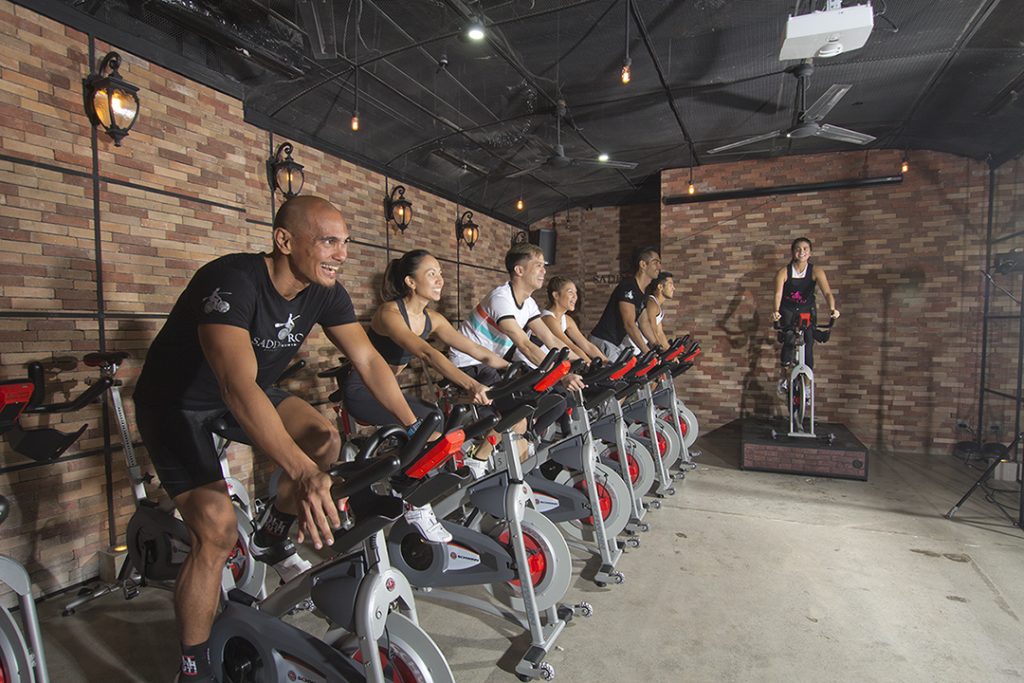 Just because it's on a bike doesn't mean your other body parts don't get a workout. Most studios add other workouts to their program, making sure you do a lot more than simply pedaling for an hour.
"All our classes include cardio, weights, and resistance training," says Electric Studio founder Kris Sy. "We carefully selected movements that work you from head to toe in less than an hour. Upper leg muscle groups (quads, hams, and glutes) as well as lower leg muscle groups (calves) are put to work with each pedal stroke. Your upper body (arms and shoulders, upper/lower back, chest, and core) also gets lots of attention and adding weights to these movements compound results."
It doesn't require much equipment
The bikes, of course, are provided by the studio. They also provide you with special cycling shoes that attach to the pedals through its built-in cleats. All you need to do is arrive in your usual workout gear and you're good to go. Don't forget your water bottle.
You control your workout
While all studios offer programs with varying levels, ultimately it is up to the rider to decide how intense the workout will get. "The instructor will lead [the] class at a challenging pace," Allison says. "However, you determine how much you want to keep up. We encourage you to challenge yourself but over a gradual build-up period from your first class."
Cycling has its own "jumps" and "sprints"
Cycling comes with its own set of jargon, and it can help to learn them beforehand so you can understand what the instructor is saying. Oft-used terms include:
RPM – Pedal stroke revolutions per minute
Sprints – 100 to 130 RPM off the saddle
Jumps – Sprints with intervals on and off the saddle ("Maybe 2/4/8 counts each," says de Jesus)
Tap backs – Push-ups off the saddle before sliding back and tapping your butt on the saddle
Resistance – When you add "stickiness" to a bike, mimicking that of an uphill ride
Studios can have jargon specific to them as well. "One of our favorite Electric terms, which is not used anywhere else, is called the 'Boomerang," says Sy. "It is when you ride while standing up with your hands on the handlebar, engaging your glutes and lower abs by slowly bringing your hips back then returning to a neutral position."
Expect to be sore–but not dizzy–the first time
Muscle soreness is common every time you try a new workout. "We always encourage our new riders to try it a second and third time because they will be amazed at how quickly their body adapts to the workout," says Sy. As for dizziness, it can be easily avoided if you hydrate (i.e., before, during, and after class), stretch, and rest properly. The instructors also advise eating at least an hour or two beforehand to avoid lightheadedness. "We've turned down students we deemed not fit for a ride," says de Jesus. "Safety first, always!"
The instructor is your friend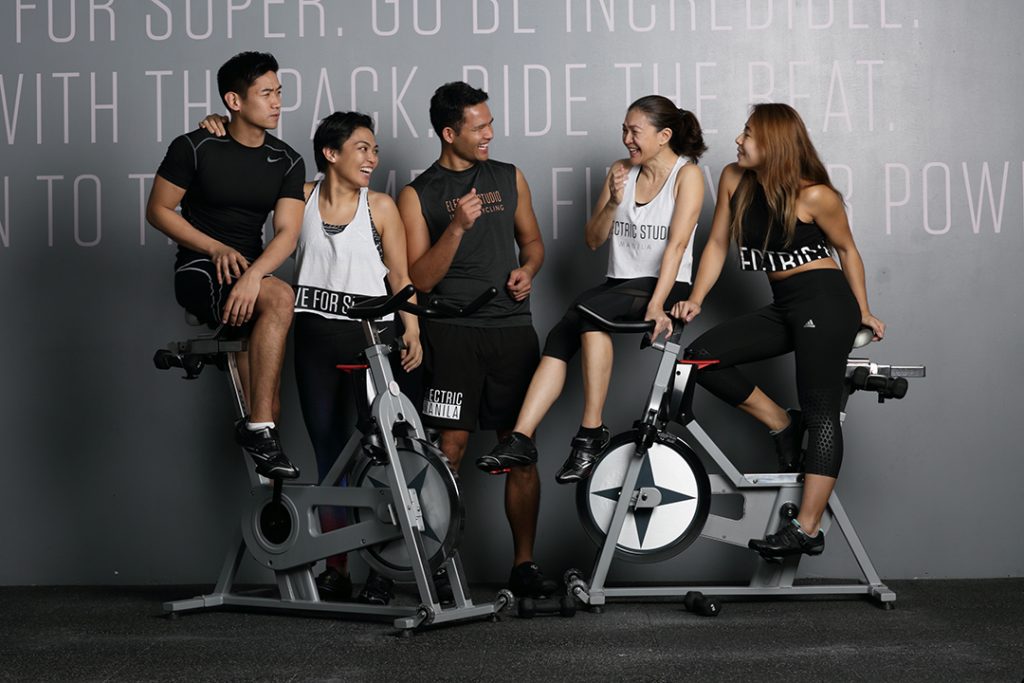 Allison, de Jesus, and Sy all agree that the riders should listen to the instructor to make the most of the indoor cycling experience. "Feel free to let the instructor know if you have injuries or special conditions," Allison says. "Letting us know will go a long way towards making sure you have a great experience that is fun and successful."
Sy also asks riders to leave their phones in the lockers. "We know it is difficult to find time for yourself so we created an environment where riders can shut out the outside world, refocus, and find purpose, strength, and motivation."
"Don't be too conscious because when inside the studio we all just let loose and enjoy," says de Jesus