Pound may look like play, but it's really a serious workout in disguise
Photos by Javier Lobregat
I only had a vague inkling of what Pound was as I stepped inside the cold studio. I'd seen people do the class from the corner of my eye at another gym, and I'd seen videos here and there when it was new and steadily gaining buzz.
All I knew was that the workout involved exercise by swinging drumsticks around, flailing as if playing imaginary drums. I also knew from experience that playing real drums was a pretty strenuous workout in itself, so the core idea behind Pound wasn't all that baffling to me. I expected a good burn, but little did I know that I was still somewhat underestimating what lay before me that particular evening at Kerry Sports Manila.
First, allow me to introduce Pound. Like me, you may have already seen videos of it on Facebook or Instagram—if not recently, at least at some point in the past few years. According to its website, Pound was created by two drummers back in 2011 when they played the drums without a stool and realized that it could be a real workout. The drumming aspect injects fun and playfulness into the exercise and makes it different.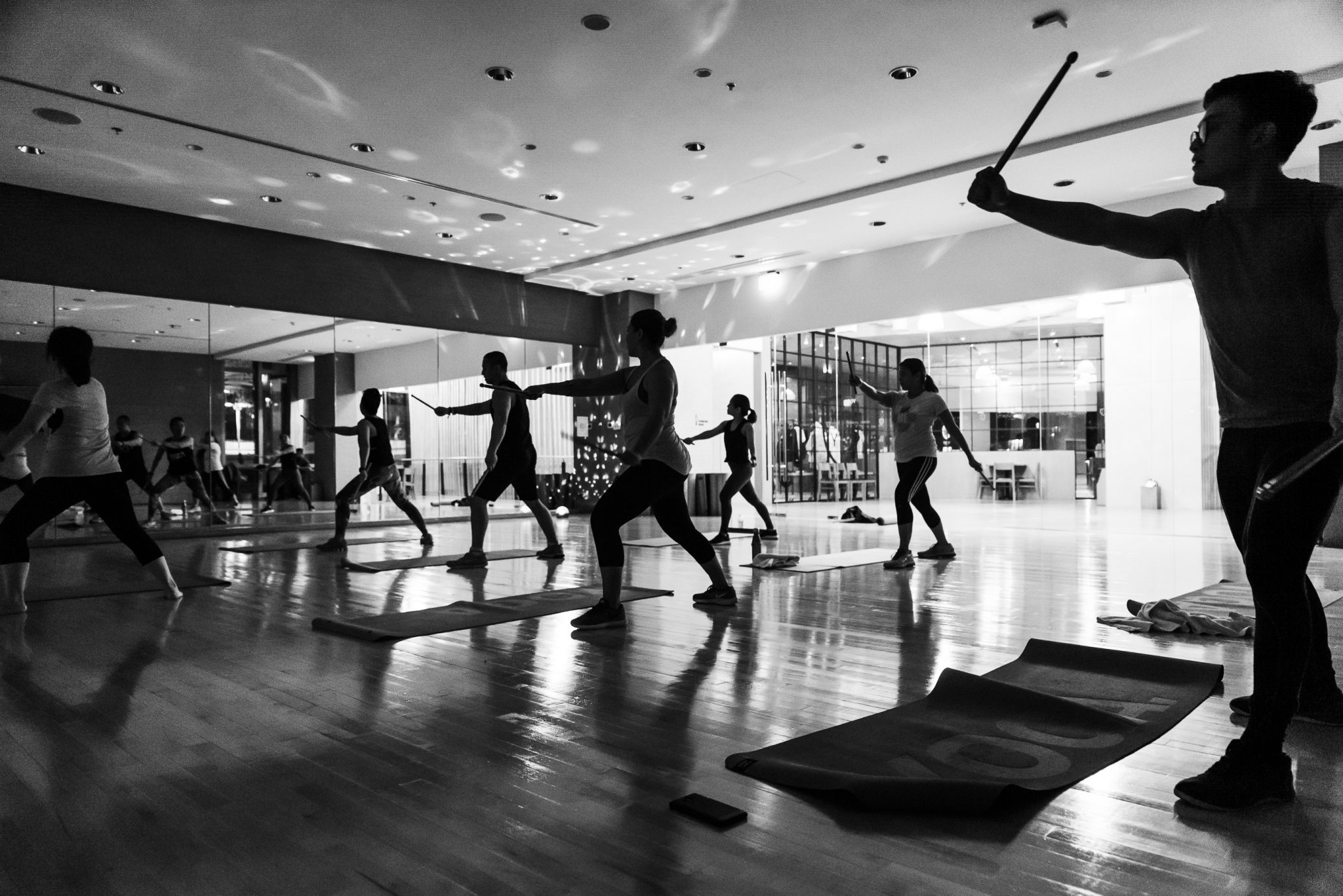 While the session we would do on that day focused more on the lower body and core (more on that in a little bit), Pound is a fitness routine designed to work the entire body and tone it for a leaner physique. It does this by not only engaging the arms and shoulders when you swing the sticks around but also by incorporating bodyweight movements while swinging those sticks. Now, Pound is practiced in over 70 countries, taught by more than 17,000 instructors.
And one of those 17,000 instructors is our instructor for that day, Marge Camacho. Marge is a sprightly woman who seems to have an endless reserve of life and energy. I imagine she has to be, as she's also a triathlete on the side.
"I got into Pound in October 2017 after taking my cousin's class when she just got certified as one of the very first Pound pros in the Philippines," she tells me. "It was very addictive, and I saw myself totally getting into it and eventually teaching it. Since the first batch of teachers were just certified in the Philippines, the next courses for certification were conducted in Singapore and Kuala Lumpur in November. I booked my flight and signed up for the certification course for Kuala Lumpur, and the rest is history!"
The workout
Camacho hands me a pair of neon green drumsticks that weighs half a pound. These sticks are exclusive to Pound and are apparently called Ripstix; they're lightweight and are designed to create some resistance as you swing them around with each movement. We're told to hold them like you would a remote—so, basically, the normal drumstick grip.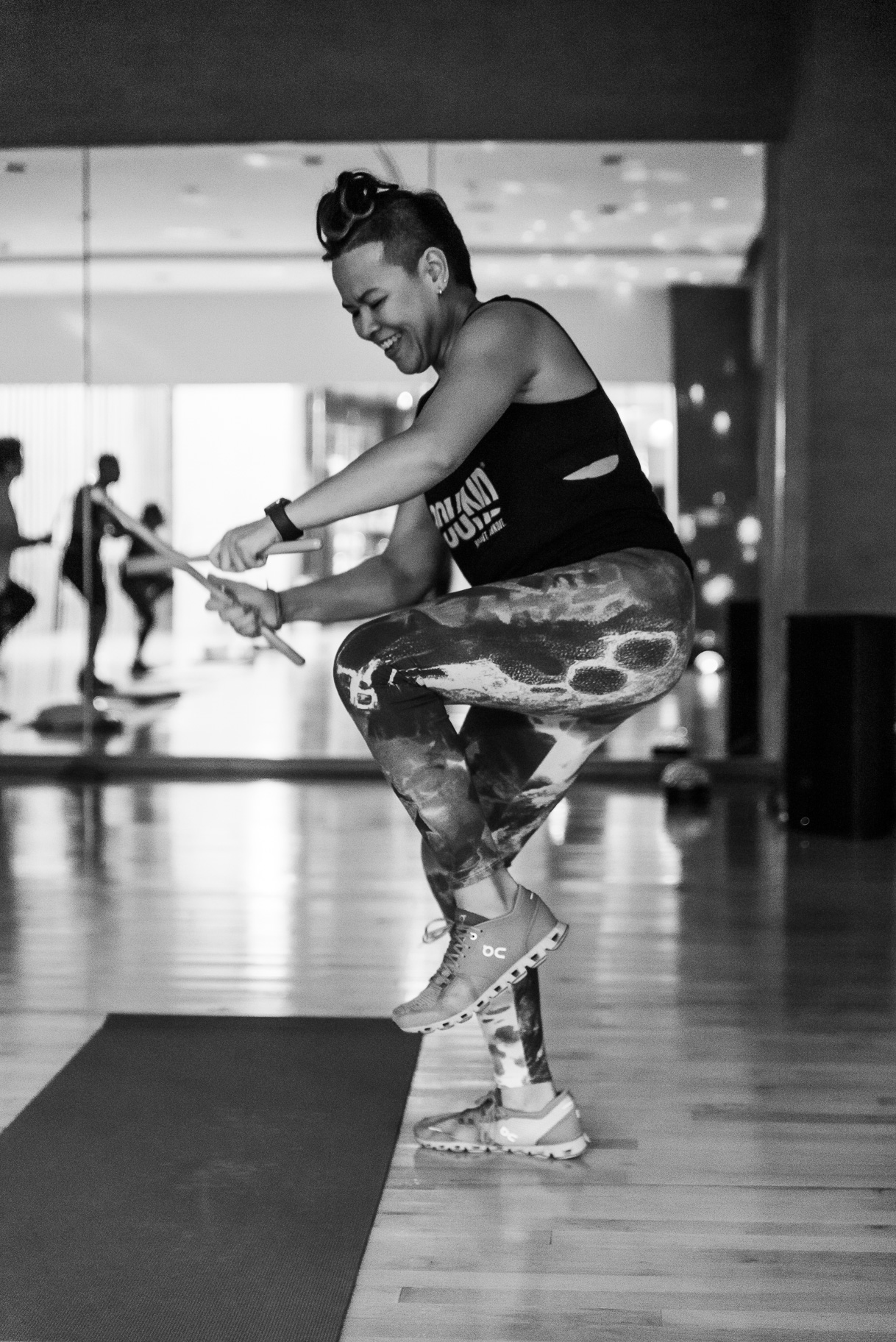 Everyone tells me that my lower body better be ready because the workout calls for hundreds of squats. I don't worry about it, because squats aren't new to me. My bigger concern is whether I could keep up with learning all the movements while keeping the rhythm.
Before the warm-up begins, Camacho teaches us the basics. There are staple movements that the workout goes back to and sure enough, one of them is a squat and another is a lunge. They were right about the lower body endurance. There were also times when the exercise calls for one tap of the stick and times when two taps were needed. These basics are simple enough and can easily be understood as you pay attention to the instructor in front of you.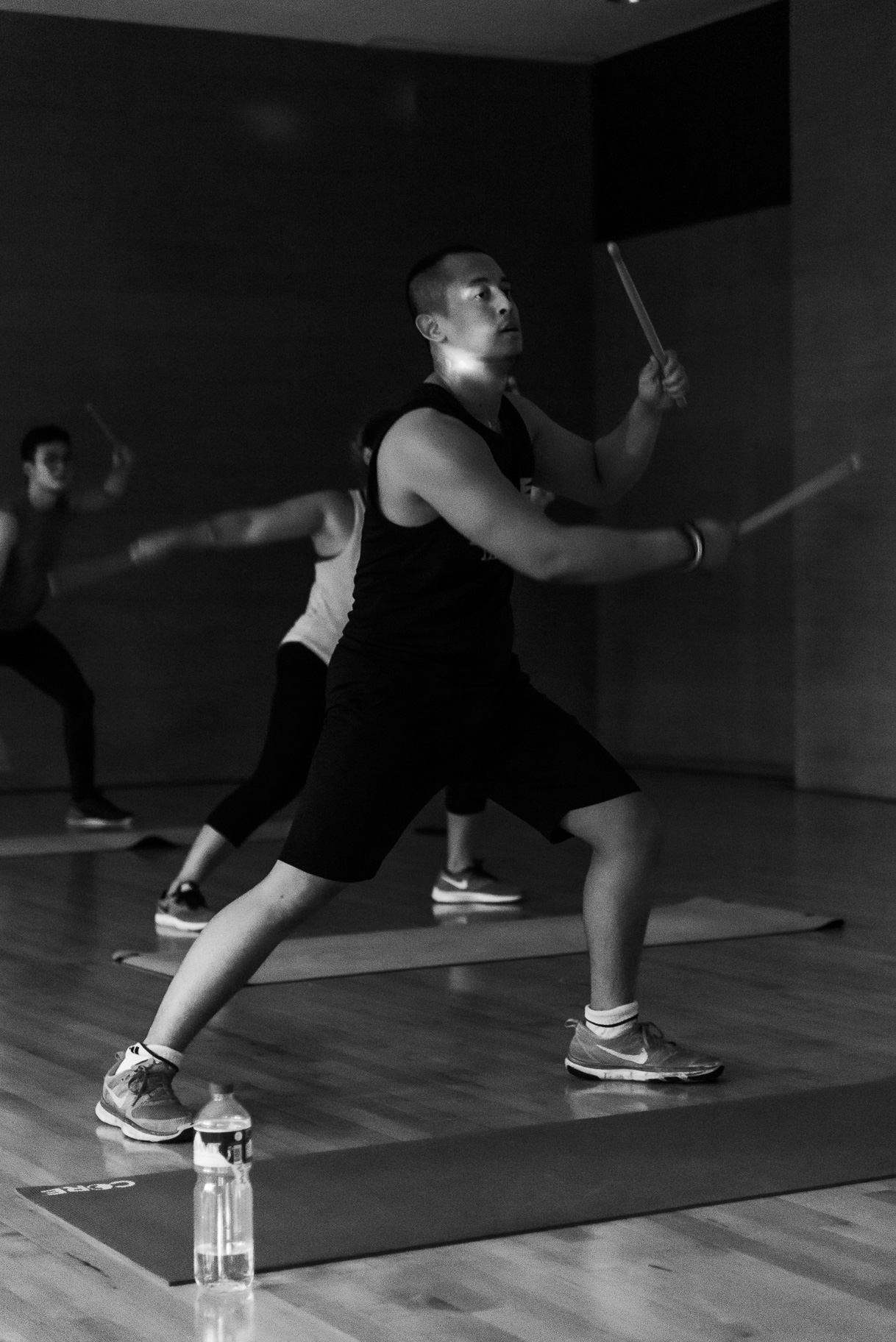 As the warm-up starts and winds down, I quickly learn that the workout is broken down into blocks of full songs. This particular workout we're doing targets, as mentioned, the lower body and core specifically, so each song has its own targets. The first few songs work the lower body, then a couple of songs have us sitting down on our yoga mats working our abs, and then the home stretch and cool-down go back to the legs.
I find that the length of a full song was the perfect duration to engage the whole body nonstop. I was able to keep up with the exercises, even if I was having a bit of difficulty transitioning to new moves I had to learn on the fly. (Camacho says that the neurons in your brain that deal with hand-eye coordination get worked during Pound, too.) As advertised, most of the workout focused on squatting and lunging—we probably did about a hundred or so, but most may not notice it due to the fun of staying on the beat and working out to the music.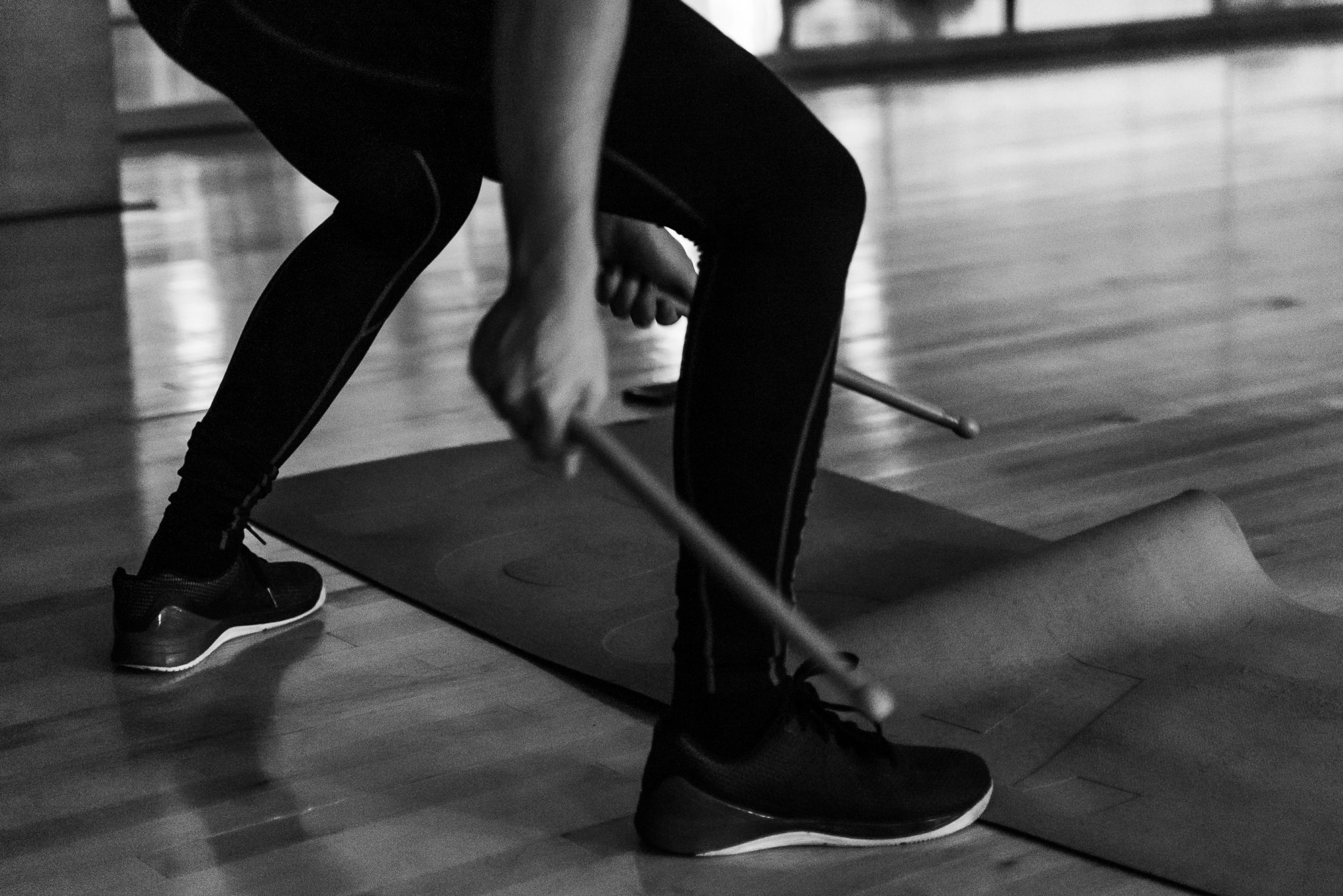 My lower back started aching during extended squats, preventing me from dipping as low as I should, but I also found that the whole workout was as scalable as you needed it to be. Being able to adjust the form where necessary—while still getting the cardio and strength burn—is what also makes Pound accessible to beginners. I had to scale down and still came away with jelly legs, thanks to the nonstop nature of the routine.
I figured that the whole workout was pretty challenging, but being an instructor clearly demands even more brainpower and strength, especially when you have to teach a wide variety of people and fitness levels.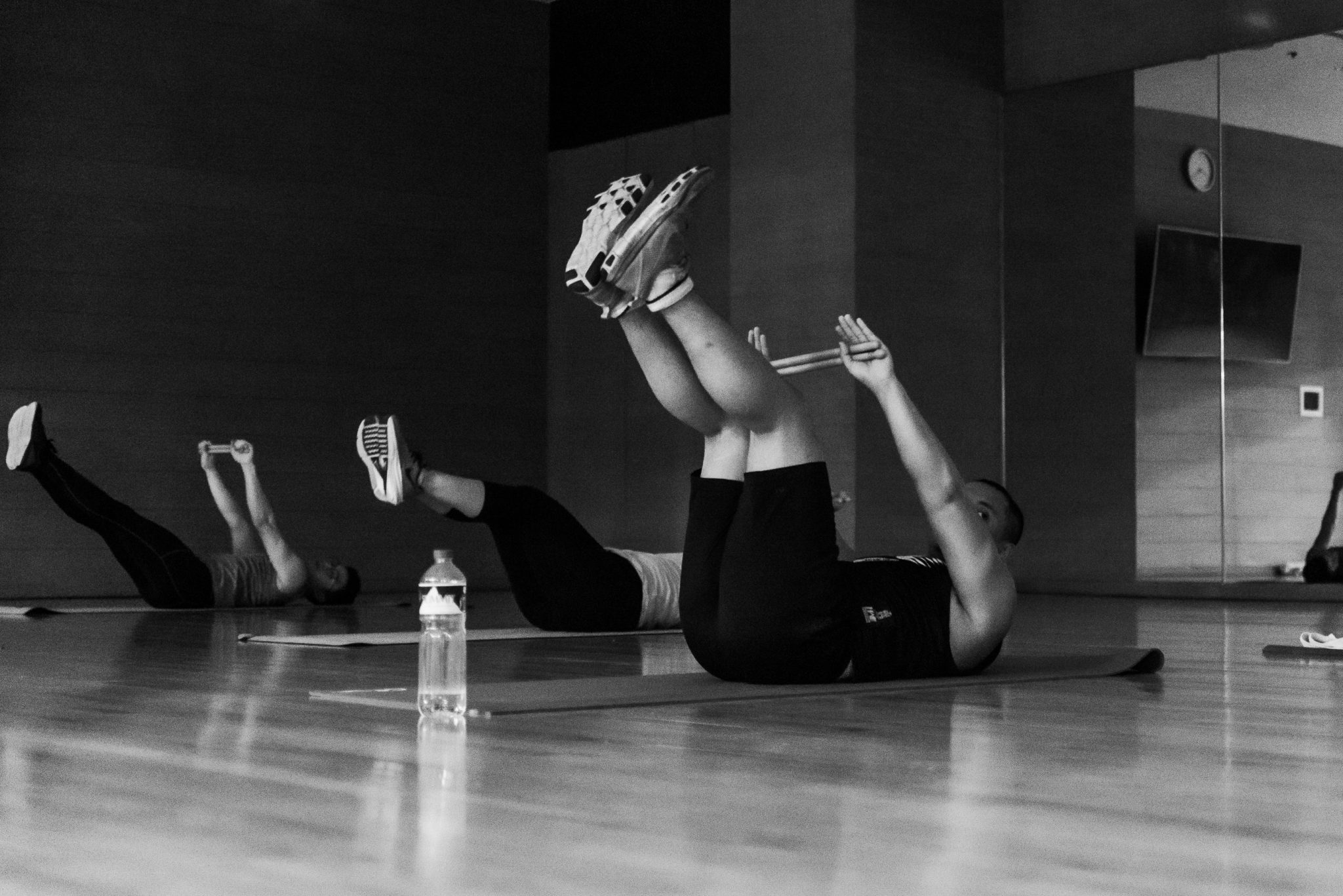 "I think the most challenging part about teaching Pound is learning the choreography, formulating the playlists, executing the movements, and getting your rhythm going," says Camacho. "Remember that as a Pound pro, we also do the workout with the participants, not only bark instructions and movements. As the teacher, we need to learn cueing and make sure that the participants get to pick up the movements and form as correctly as possible to avoid injury. That sometimes poses a challenge, so we have to make sure we emphasize our movements and see how the students are coping."
The verdict
So is Pound worth the hype? If you're a newbie or you're already fit but you're looking for a different workout, it's definitely worth trying. The people behind Pound knew exactly what they were doing in pairing up bodyweight exercises with the novelty of swinging lightweight drumsticks around, so it's no slouch in the workout department.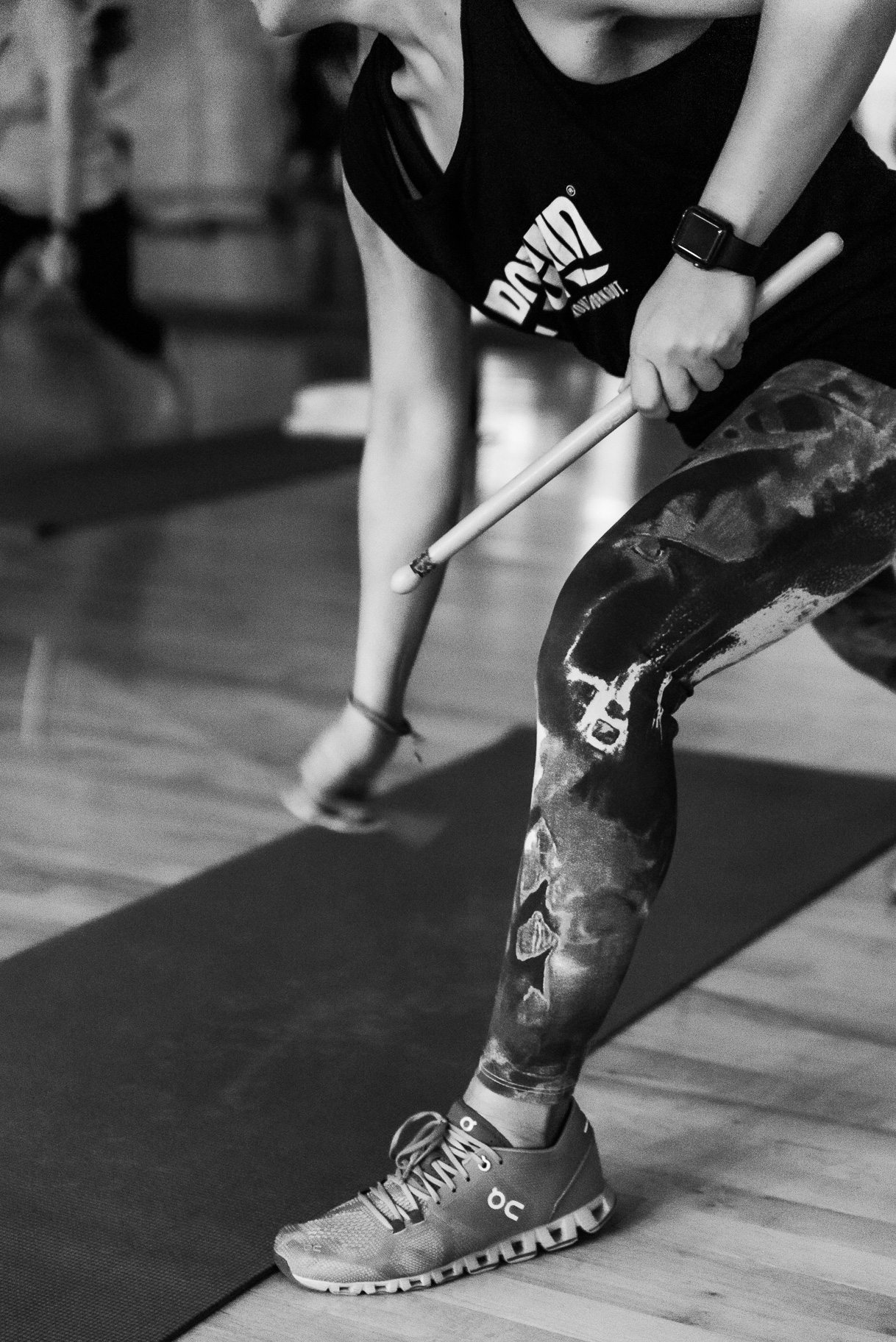 Also it's great for people who love pop music because they're going to feel like they're in a music video while doing the workout. And though more discerning musical palates may find it a little too corny, ultimately it's hard not to get carried away.
All of these factors make for a routine that is understandably addictive, in the same way Camacho got hooked when she started. Pound may look like a lot of musical fun (and it is) but it's no joke, both in the workout itself and the benefits you'll get from it. After a session, you'll walk away leaner and stronger—if you're still able to walk after the whole thing, that is.
See more here: