It's completely okay to face your anxiety and seek help
Photos by Tima Miroshnichenko/Pexels
It's been truly difficult to go on with the daily grind while worrying about the risk of contracting the virus. Our bodies react to high levels of stress and panic through anxiety. Even before the COVID-19 pandemic, many have been suffering from anxiety due to overwhelming and unfamiliar situations.  
These feelings can interrupt daily activities and can become difficult to control in the long run. Occasional anxiety is normal—like fleeting feelings of worry—however, some people may experience excessive worry and panic over everyday situations.
If you feel this way, seek professional help so you can be diagnosed properly and find ways to help you overcome these struggles. Some examples of anxiety conditions include generalized anxiety disorder, social anxiety disorder (social phobia), special phobias, and separation anxiety disorder. No matter what level of occasional anxiety or type of medical conditions you have, treatment can help.
Prevention of anxiety triggers
One way to start controlling feelings of anxiety and addressing disorders is to question your thought patterns. It's important to reach out to a therapist, especially those diagnosed with anxiety disorders since medical professionals can help you learn the underlying causes of your feelings and tailor a therapy specific to your symptoms. You can identify your triggers on your own if it's obvious like caffeine, alcohol, or smoking. But if you're struggling with less obvious triggers, it's best to see a professional. Once you've discovered your triggers, try to limit your exposure to them. It may take some time but that is completely okay. 
Write down your feelings
One way to express your thoughts is to write them down instead of bottling them up. Negative thoughts like anger, sadness, and fear can feel less intense if you confront them through writing. Jessica A. Gold, M.D., M.S., mentioned how writing down her emotions has been helpful and cathartic amid the pandemic. And for good reason: Journaling is a helpful tool for people coping with anxiety because it helps them prioritize their problems, fears, and concerns and track their symptoms so they can handle it better over time. 
Change your diet
Although this may vary depending on your prescription medications, a change of diet has been suggested as a long-term strategy to combat anxiety. Some foods have nutrients and antioxidants that can promote hormones to fight stress and anxiety. The omega-3 and vitamin D content in salmon helps reduce inflammation and improves brain health, which can assist in anxiety relief. The antioxidants and anti-inflammatory properties of chamomile extract and turmeric can also help reduce symptoms of depression and anxiety, though more research is needed to see if chamomile tea have the same effects.
Dark chocolate can increase levels of serotonin and endorphins to improve mood and brain function while probiotics in yogurt inhibit free radicals and neurotoxins that can damage nerve tissues in the brain.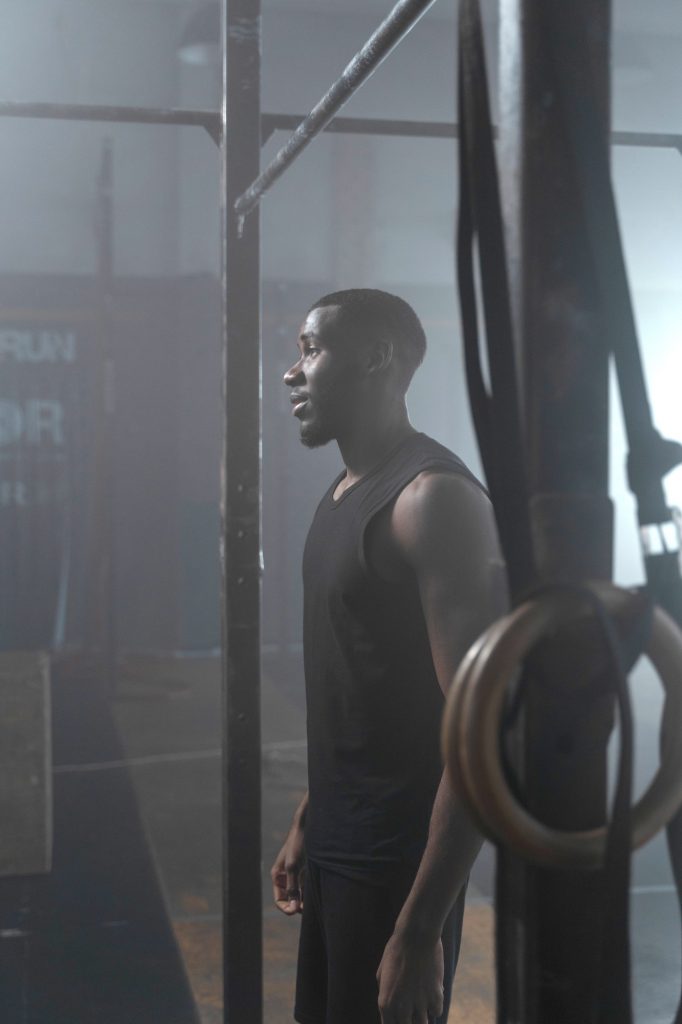 Limit time on social media
Aside from a change of diet, the information you consume can play a big part in anxiety management. Although it is critical to be aware of current events, excessively immersing yourself in social media can contribute to even more stress. Gold recommends limiting screen time to trusted news sources, reading inspirational and self-help books, and listening to relaxing podcasts. There are also a number of apps designed to help you through mindfulness and meditation as ways to repel stress and anxiety.
Exercise
Physical activity can help reduce levels of stress and anxiety. A walk (within your home during these times) or 15 minutes of yoga can place focus on your body and not your mind. A study shows that participants in its sample of 165 people from six Swedish counties and regions suffering from depressive and anxiety disorders have a tendency to spend most of their time being sedentary, which was linked to the severity of their symptoms. 
Movement decreases muscle tension and exercising activates frontal regions of the brain responsible for executive function, which helps control the amygdala, our reacting system to real or imagined threats. Physical activity (even when you've simply just started out) has demonstrated positive effects on people struggling with anxiety. Start with something you enjoy doing so you can build it into a habit.
See a doctor
Coping with anxiety can be overwhelming, but it's best to seek professional help especially if it interrupts daily activities. Although it may be quite scary to open up about your emotions, a doctor can reassure the reality of your situation and provide potential solutions. Consulting a doctor can help diagnose you and give you the prescriptions you may need.
No matter what kind of anxiety symptoms you are experiencing, remember to be compassionate with yourself when it comes to treatment since there is no quick fix. Healing may take some time depending on your diagnosis and your recommended treatment.
Anxiety disorders are treatable with the help of licensed professionals who can prescribe the appropriate solutions. Continue to seek what treatment works best for you and remember that healing takes time. Coping will be a lot easier if you give yourself time to process what you are feeling.