Oliver Emocling gained strength, definition, and overall fitness in his pole dancing journey
Photos courtesy of Oliver Emocling
In 2022, there are so many different ways to achieve fitness. It's no longer just sweating it out in the gym, pounding on the pavement in a run, or any old sport—these days, almost anything that gets your body moving and building strength counts.
More and more people have also turned to the art form (and fitness routine) that is pole dancing. An entire pole dancing community has thrived over the past decade in Manila, with numerous studios teaching classes and holding workouts in the metro.
Former Scout and Nolisoli editor Oliver Emocling has himself found an entire calling on the pole, taking it up before the pandemic in 2020 after briefly trying out yoga.
"I've always wanted to do pole after I saw FKA Twigs's 'Cellophane' music video," he says. "I was amazed at how dedicated she is to her craft. Like, she learned pole dancing just for that music video. And somehow, she also set the standard for my own physique goals. I know Twigs and I have different anatomies, but I really loved the definition of her body. I feel that there's consciousness and intention when she moves around and on the pole."
Emocling took a while to pick up his groove on the pole, which he says was because of his relative lack of flexibility. "I was afraid that I wouldn't be able to do the tricks because I don't have a split. Instead of attending a pole class, I joined the studio's mat flexibility class to somehow get a feel of what their classes are like. A week or two after that, I attended my first pole class in the studio.
"I honestly was so frustrated in my first class. While everyone around me could do the tricks, I couldn't even keep my body in position even for just a second. Plus, it was indeed painful. I think what I enjoyed in my first class was the fireman spin—I had no idea that poles could be set to static and spinny, so I thought I was already doing a part of the 'Cellophane' choreo back then. But yeah, I fell in love with pole right away. It made me feel like I can aspire for something great again."
Now Emocling posts impressive photos and videos of his pole work on social media, along with the body he's built over the relatively short time he'd been practicing the art. I asked him to share the lessons he's learned about fitness, the art form, and his body from his time on the pole so far.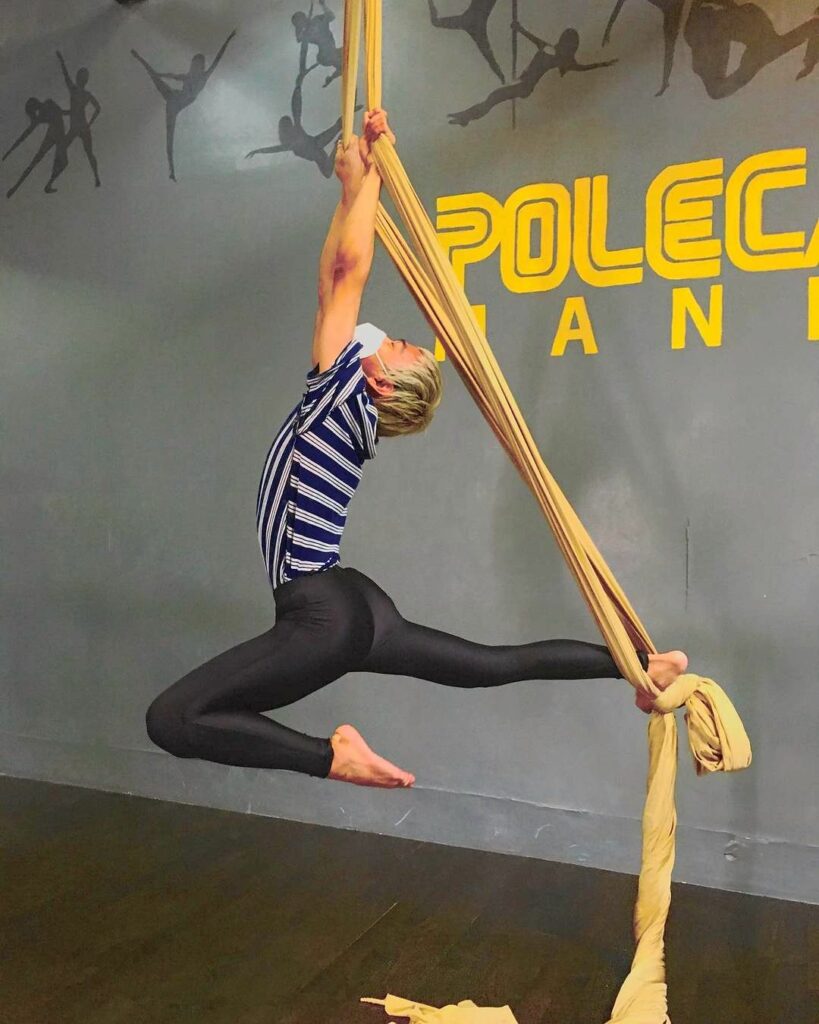 What did you learn about your own body?
With practice and guidance, my body is capable of doing things I never imagined it could do. It just really requires patience to get where I wish to be.
What's the biggest thing you learned about pole?
Pole is for everyone. One of the things I like about pole is how there's no one way to do a trick. There are variations for everyone. For example, there's this trick called jade; your body is basically in a horizontal position. You pull your outside leg close to your face, so it looks like you're in a split. The contact point is the hip supported by one hand. But if that is scary or if you can't pull your face, there's a more accessible version called the stag jade. In other tricks that still feel a bit unstable, you can add more contact points. You can approach the pole depending on your current state, and the result will still be beautiful.
What did you learn about pushing through any physical limitations?
I can't really say that I've significantly pushed past my physical limitations. My front splits are still far from the floor, my straddle is not stable, and my back is stiff. If anything, what I've learned through the past nine months of doing pole is to respect where my body is at. Learning new skills, especially those related to strength and flexibility, takes a lot of time and consistent practice. Like other movement practices, pole can put you at risk of serious injuries, so it's really important to be aware of when to push yourself and when to pull back.
What did you learn about defying any mental limitations?
Doing pole will involve a certain degree of pain, but not the dangerous type that involves the joints and muscles. Some tricks would feel like your skin is being pinched or pulled away, especially when you haven't activated that contact point before. It may feel strange for places like your thighs, knee pit, and the top of your feet (when you're not pointing them). Over time, your skin will be tough enough to not be bothered by the pain.
When I was learning tricks that require the back of the knees like genie and leg hangs, I learned to associate the pain to a familiar sensation. Back then, I just had my third COVID-19 shot, so it was the most accessible point of reference. That's one of the things I like about pole. It has this space that allows you to process and overcome pain.
What was the biggest thing you learned about fitness in general?
There's a type of movement for everyone. Weightlifting, calisthenics, bouldering, dance, yoga, martial arts, basketball. Whatever it is, it's important that it appeals to you and that you actually enjoy doing it.
While fitness is mostly personal, I think it's also important to find a community that makes you feel safe. I know it's the paranoia speaking here, but honestly, as a queer person, I've had this notion that a lot of the sports or fitness practice I'm expected to participate in has this toxic masculine energy. I think that's also why I veered away from sports when I was younger.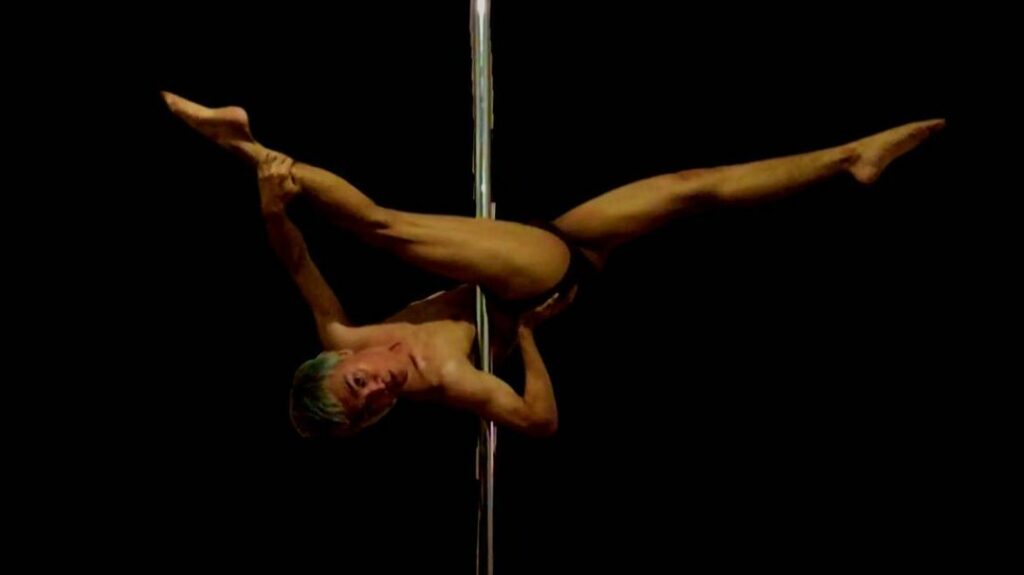 What about exercise did you not think you would end up liking?
I can't think of anything, but maybe cross-training and doing things away from the pole? Recently, I've gained interest in steel mace flows to help strengthen my shoulders.
What did exercising help you get through?
I can't think of any particular moment, but I guess doing pole has given my life a better structure. I've become more conscious with how I spend money (because I need funds for classes *laughs*) and how I treat my body off the pole—you know, simple things like how I sit down when I work and what I'm eating. I guess it's also helping me overcome my physical insecurities and bad posture.
What possibilities did it unlock for you?
Pole dancing has many variations. And as we may all know, part of its history is entwined with stripping. I think I have to mention that because doing those sensual movements in heels with the pole is an aspect that I am interested in. It's also that aspect of pole that allowed me to access a part of my selfhood that I may not have otherwise considered. For me, exploring sensual expression through pole dancing is empowering.
Pole also helped me trust my body a bit more. I talked about knowing when to push and knowing when to stop. Sometimes, what holds us back from, say, a trick is not our physical limitations but fear. And I feel fear comes from a place of distrust. If you know that you've put in the work, you should trust your body because it's capable and it remembers.