These 10 full-throttled reasons catapult the two into a territory that toes the line between food and fitness
By Eric Nicole Salta | Photos by Jilson Tiu courtesy of F&B Report | Collage by Lara Intong
It doesn't take much to comprehend that Erwan Heussaff and JP Anglo are the fittest men in food.
Just look at them. They've both become fitness icons as much as empowering figures in the food industry, thanks to a stellar variety of interests that make their physiques, self-discipline, and sense of ambition all the more delightful given the delicious environment they exist.
Heussaff built his career on aspiration: the once-fat kid grew up fending off personal demons and donuts to become the unsung hero of former fat kids. It clicked—resonating with a wave of fans and followers awed by the power of his transformation. Even if he has spread himself in different directions, he isn't unencumbered by all his experimentations; healthy living remains the core value of the Heussaff brand.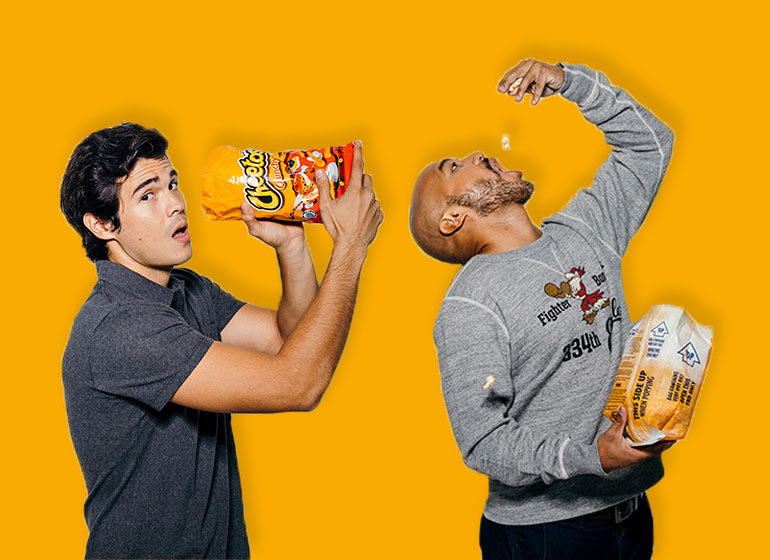 If Heussaff derived much of his energy from the promise of a fitter future, Anglo is more rooted in his affinity for familiar waters. On the surfboard, Anglo projects himself into wherever the waves will take him, and that includes a state where he finds himself comfortable in his own skin—ripped body, tattoos, and glossy tan included. Not that Anglo's eye-catching exterior is all that's worth celebrating, mind you.
In all, the way Heussaff and Anglo carry themselves speak volumes on how they each manage to confidently cope with working in food and staying in shape. But how exactly do they do it? Let's break down the benefits of the duo's hell of a fitness regimen.
1. Wall Balls
A popular CrossFit exercise, wall balls are one of the best functional exercises for strength conditioning. Lifts and squats are movements that are applied in everyday life, and one rep works a lot of muscles. What makes Anglo's wall ball more challenging? The balancing. 
https://www.instagram.com/p/BYw_4avhHGe/?hl=en&taken-by=chefjayps
2. Rope Climbs
Everyone, take note. Rope climbing not only strengthens your grip, arms, and back, but it's also a basic survival skill—to get out of harm's way and out of a life-threatening situation or just to hang for dear life, as morbid as it sounds.
https://www.instagram.com/p/BY2RsPQgYH4/?taken-by=erwan
3. Heart Rate Monitor
Wearable tech like heart rate monitors offer a wealth of information to streamline workouts. It detects how hard you're working out and if you need to exert more effort or pull back to prevent injuring yourself. How to know you're improving? A lower resting heart rate.
https://www.instagram.com/p/BYfsbwPg-43/?taken-by=erwan
4. Working Out with Friends
This one's a no-brainer. Why exercise with friends? Studies show that those who exercised with a buddy end up more motivated, committed to long-term progress, and have more fun owing to the possibilities of switching and sharing fitness routines.
https://www.instagram.com/p/BYh6TDNApYO/?taken-by=erwan
https://www.instagram.com/p/BWmMO9FgNuE/?taken-by=erwan
5. Surfing
All that paddling just to catch a wave? That's a good cardiovascular workout right there. The motion tones the arm and builds endurance. Once you're up, balancing atop the board requires a strong core and stamina. Beyond that, surfing also promotes inner peace.
https://www.instagram.com/p/BYX76o8hjVZ/?taken-by=chefjayps
https://www.instagram.com/p/BZLjJccAvwb/?taken-by=erwan
6. Hiking
Another key to Heussaff's impeccable fitness is just outside the door. Hiking is more fun to some people than running. Because it involves trails, hills, and natural paths, your heart is working harder while you're enjoying the natural scenery—and even engaging your core.
https://www.instagram.com/p/BY4v8I-gy1_/?hl=en&taken-by=erwan
7. Working Out While on Holiday
It's fine to take a break for a short period but say two weeks of inactivity? Bad move. "It's been shown in endurance athletes that by four weeks [of inactivity] there's a 20 percent decrease in VO2," saysTara Plusch, senior registered clinical exercise physiologist, to Self.
https://www.instagram.com/p/BWzEZnGgaEF/?taken-by=erwan
8. Seafood Boodle
You don't always need to gorge on a boodle but seafood, yes. A variety of seafood contains essential nutrients like vitamins A and D and omega-3 fatty acids that promote good heart health and improve memory. Did you know that seafood alleviates depression?
https://www.instagram.com/p/BZISyGzBtfb/?taken-by=chefjayps
9. 10-minute Brunch Bowl
Bowls are the new plates according to food trend forecasters. Smoothie bowls, grain bowls, poke bowls. The list is endless. And justly so. It's easy to make and you can experiment with exotic, healthy toppings like fermented foods, tahini sauce, or dragonfruit.
https://www.instagram.com/p/BXmNGGXBMuA/?taken-by=chefjayps
10. Low-carb Breakfast
Some argue that Heussaff doesn't deserve his foodie fame but when you can come up with a keto-friendly, low-carb pancake made with unsweetened almond milk, eggs, coconut flour, flax, and chia seeds, you don't need anyone's validation. Low-carb is life-altering.
https://www.instagram.com/p/BW_roRmAeWh/?taken-by=erwan